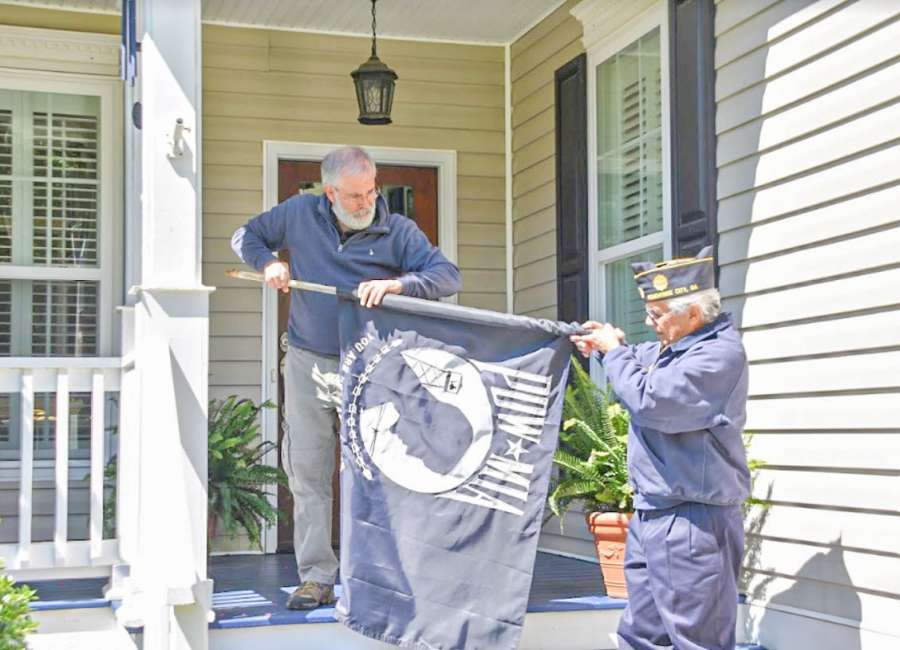 By Rachel Adams, news@newnan.com
A local man recently paid tribute to his late father who served as a soldier in World War II.
Chris Martin, a local photographer, took down the POW flag he hangs on his porch part of the year as a tribute to his late father, Walter "Wally" Martin.
May 9 commemorates the day Martin's father was liberated from a German prison camp. Saturday marked the 75th anniversary of his liberation.
Martin hangs the flag every year on December 19, which was the day his father, who was part of the United States Army's 106th Division, was captured during the Battle of the Bulge in 1944.
He takes the flag down every year on May 9, the anniversary of the date his father was liberated. Martin said his father had just turned 19 when he was captured.
Martin said his father was involved with a number of veteran organizations, including Veterans Affairs, American Legion, The Veterans of Foreign Wars of the U.S. and American Veterans.
"That kind of defined what his life was like and how much he cared," Martin said.
Walter Martin died in 2012 at age 86 and was buried in the Arlington National Cemetery in Virginia.
Chris Martin has many of his father's letters, which he wrote during his time as a POW, and other artifacts. He says he plans to scan and donate them to the National Prisoner of War Museum in Andersonville, Georgia.
Martin said he has obtained more artifacts and learned more information about his father over the years, as well as made new connections with veterans through the organizations he works with, including The Ride Home.
"It just gets more and more exciting," Martin said. "I've got a box full of things."
Martin said his father never really talked about his experiences while he was alive.
"Most former POWs don't talk about it," Martin said. "Unless you've gone through something like that, you just don't understand."
Martin does the photography for some of The Ride Home's events, including its events in 2012 and 2019.
"It's just my way of giving back," Martin said.
The Ride Home is a nonprofit organization that pays tribute to former American Prisoners of War and the families of those who are still Missing in Action. Every year, the organization hosts the Ride Home, which takes place in and around Warner Robins, Perry and Andersonville, Georgia.
The Ride Home event takes place during National POW/MIA Recognition Day, and former POWs and the next of kin of current MIA military persons are invited to share their stories and attend the event.
The Ride Home 2020 will be held at the Museum of Aviation in Robins AFB, Georgia.
National POW/MIA Recognition Day is on Sept. 18, 2020.