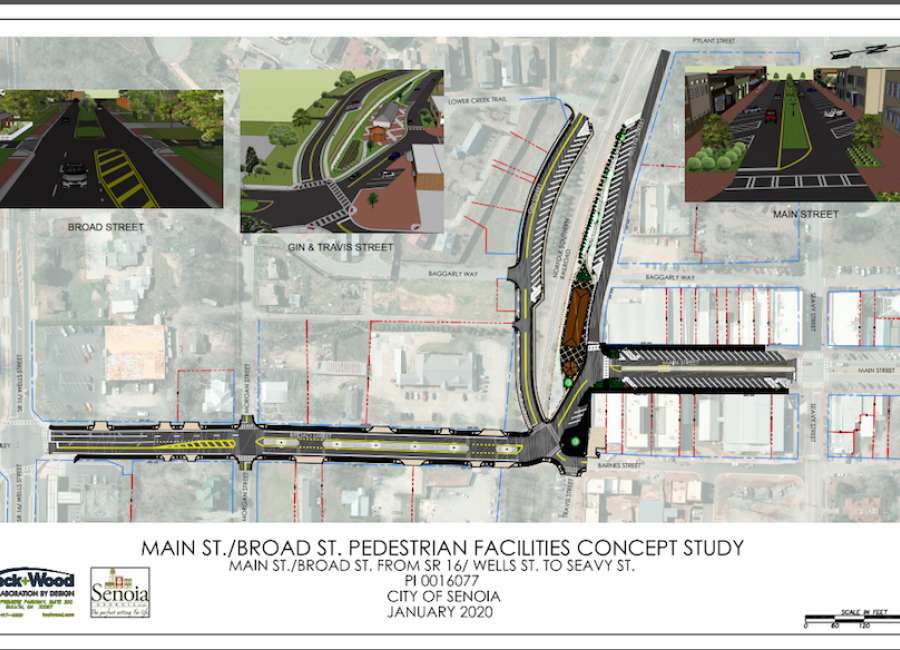 The city of Senoia is considering a new design for the south end of downtown.
COVID-19 has slowed down the process, and a public meeting on the proposal will be scheduled in the future, said City Manager Harold Simmons.
Engineers with Keck and Wood have put together a few different concepts for the downtown project, including one with a roundabout.
The project will add parking along Travis Street and Gin Street, and a "train depot" building which will include bathrooms and either a new home for the Senoia Welcome Center or a conference center. Norfolk Southern Railroad has already given its blessing to plans to add the depot building.
One decision yet to be made is whether or not the parking on Travis Street will be "back in" parking — where cars back into the parking spaces, and pull out of them — or standard parking where motorists back out of the parking spaces. Travis Street is a one-way street and will remain one-way.
A roundabout, if built, would reconfigure the current intersection of Travis, Board, Gin and Barnes streets. The other option would make less drastic changes to the intersection. Building the roundabout would require permission from the railroad.
The proposed concept also includes the construction of sidewalks and bike paths along Broad Street, from Main all the way to Highway 16. Currently, there is a section of Broad with no sidewalks.
The project grew out of a desire to get more downtown parking and a discussion of adding public restrooms for downtown.
The city received an $80,000 grant from the Atlanta Regional Commission for the concept study. Once the final concept is chosen, the city will apply for another grant to help fund construction.
The conceptual plans are available on the city's website, www.senoia.com , under "new streetscape plan proposal." Comments should be sent to Robert Renwick at Rrenwick@keckwood.com .
Residents can call city hall and speak to Simmons about the project as well, at 770-599-3679.