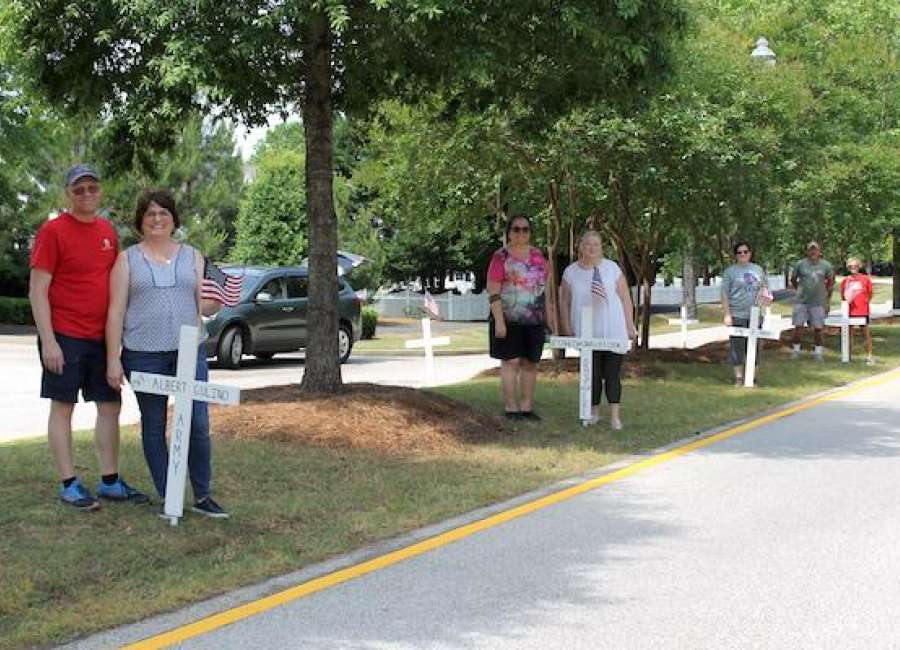 For the third year in a row, The Parks of Olmsted subdivision is honoring fallen members of the U.S. Armed Forces with crosses.
The neighborhood's social committee installed white wooden crosses in the median along Vanderbilt Parkway, the main road through the neighborhood, Friday.
Each cross has the name of a fallen soldier and is topped with an American flag. Neighbors placed about 50 crosses, and they will remain in place throughout the holiday weekend, said Jennifer Petrino, a member of the neighborhood social committee.
Petrino said a few years ago she was in north Georgia for Memorial Day weekend and saw a town that put out crosses for fallen members of the U.S. Armed Forces. She thought that would be a great idea to set up in the neighborhood.
Earlier this month, the social committee asked homeowners to submit the names of their loved ones who served in any branch of the U.S. Armed Forces and who have passed away.
"Some of these folks died in combat," Petrino said. "For me it's very moving and makes me very thankful. I know for their family members it makes them feel honored."
Nathan Hadden, a local carpenter, built the crosses for the third year in a row. The crosses were painted white and the names of the soldiers were added, as well as their rank and the military branch in which they served.
Lorraine DeLoach helped put the crosses up, including two in honor of her mother and father. DeLoach said her father, Frank Boulton, served in the Army and her mother Dorothy Boulton worked at the Pentagon for the Navy.
"I'm very proud of her," DeLoach said.
After the holiday, homeowners who submitted names will receive their crosses to hold for safekeeping until next Memorial Day, when they will again be put on display.