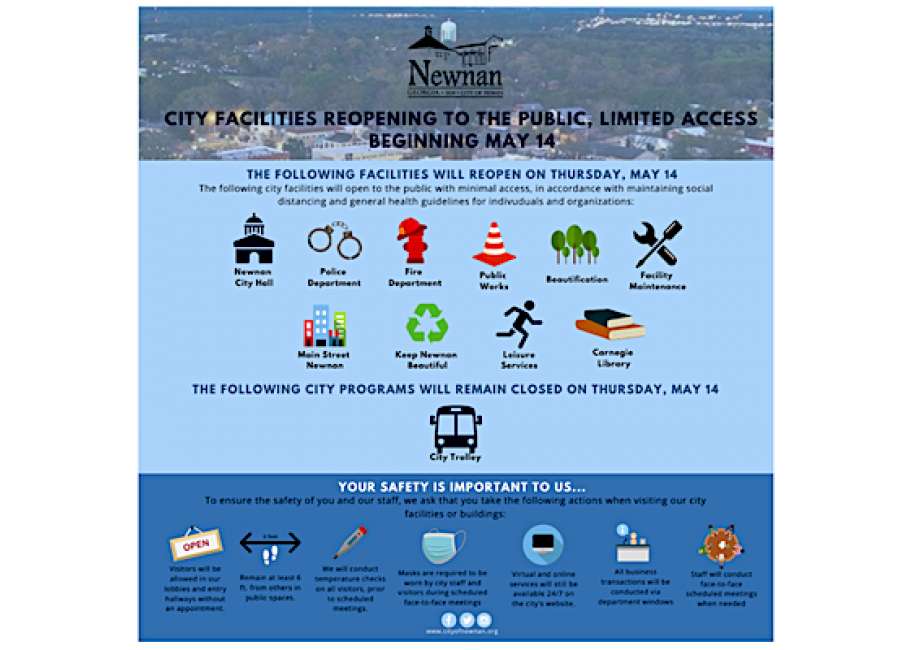 Newnan will restore limited public access on Thursday to facilities and services that have been shut down because of the COVID-19 outbreak.

That includes minimal access, in accordance with social distancing and general health guidelines for individuals and organizations, to the following:
• Newnan Police Department
• Newnan Fire Department
• Public Works
• Streets
• City Garage
• Cemetery
• Beautification
• Facility Maintenance
• Newnan City Hall
• Main Street Newnan
• Keep Newnan Beautiful
• Leisure Services
• Carnegie Library
Newnan Municipal Court will remain suspended until further notice.
For several weeks, the city has operated with a limited staff to allow employees to adhere to Gov. Brian Kemp's shelter-in-place order. Many of those staff members will return to work Thursday, according to a release issued by the city on Monday.
However, city officials are requesting that members of the public continue to help prevent the spread of the virus by conducting business with the city via phone and email whenever possible.
Residents can still visit the city's website at www.cityofnewnan.org for information on services, forms and other needed items.
City and administration staff will hold face-to-face meetings as scheduled. At Newnan City Hall, all visitors will be scheduled to meet in the 2nd Floor Conference Room. Masks will be required for employees and visitors during scheduled appointments, and temperature checks will be performed on visitors.
Public Safety: The city's public safety facilities will open to the public with minimal access through the main vestibule and entry hallways. All business interactions will be conducted through each facility's main entryways or window counters.
Newnan City Hall: The public will be allowed in the vestibule and entry hallways. All business transactions for Finance, Planning & Zoning, and Building departments will be conducted through the department's window counters. No groups larger than six people will be allowed in the conference rooms at City Hall.
Public Works, Streets, Garage, Cemetery, Beautification and Facility Maintenance will resume regular operations.
Leisure Services: Leisure Services will return to regularly scheduled with minimal operations. Public restrooms at the city's parks will be open with limited hours on Friday, Saturday and Sunday from 10 a.m. to 4 p.m. only.
Newnan Carnegie Library: The Carnegie Library will reopen on a limited basis with minimal operations from 10 a.m to 4 p.m. Visitors will be required to wear face coverings. Public restrooms will remain closed. No more than 10 people, including staff, will be allowed into the facility at a time. No programming or rentals of the facility will be permitted. The Children's Room will be closed. Books and DVDs will be available for check out.
City Trolley: The City Trolley will remain out of service.
"The city of Newnan is committed to the safety and well-being of citizens and visitors," the release stated. "The city will continue to re-evaluate these decisions. We continue to monitor the COVID-19 situation and encourage our citizens and visitors to abide by the CDC guidelines to prevent the illness from spreading."
Updated information will be available on the city's Facebook, Twitter, Instagram and Nextdoor pages.