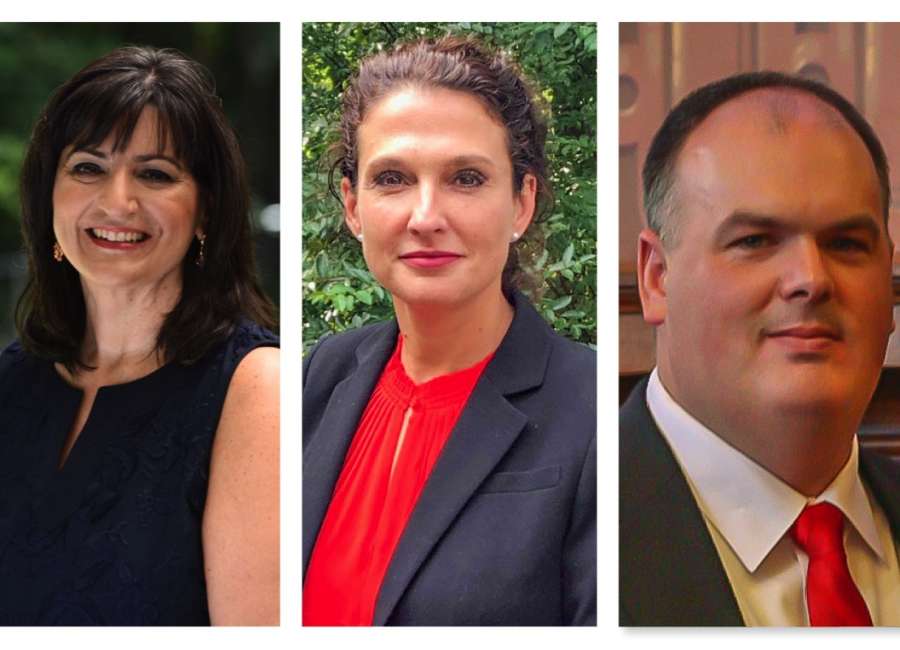 This story has been updated with the link to the audio of a recent candidate forum.
There are three candidates in the race to represent House District 71, which covers much of eastern Coweta County, in the Georgia House of Representatives.
Rep. Philip Singleton, R-Sharpsburg, was elected in a 2019 special election runoff to fill the unexpired term of Rep. David Stover, R-Palmetto.
Also in the special election were Republican Marcy Sakrison and Democrat Jill Prouty, both of whom are seeking the seat again. Prouty came in third in a four-way race, and Sakrison came in second, advancing to a runoff. Singleton has served as District 71 representative since October.
Singleton and Sakrison are on the Republican primary ballot for the June 9 election. The winner of that race will face Prouty in the November general election.
The Republican candidates recently participated in a Newnan-Coweta Chamber of Commerce candidate forum, held over Zoom. Audio of the forum is now available, though video hasn't been released. The forum can be listened to at https://bit.ly/2zKzVRn

The candidates were asked to talk about themselves, why they are running, what issues are important to them, and why people should vote for them. They are presented here in alphabetical order.

Jill Prouty is a 22-year resident of Coweta County and is the director of the Peachtree City Public Library. Prouty is also part owner, with two family members, of Jersey Mike's Subs, and moonlights as a freelance writer with various publications. She attended schools in Fayette County before her family moved to North Carolina. She returned to Georgia in 1998 to accept a position at the Peachtree City Public Library. "I've lived in seven states, but Georgia always felt like home," she said. Prouty holds a bachelor's degree and a master's degree in library science. She and her husband, Scott, have two teenage sons.
Prouty said her legislative priorities include public health, public education and economic growth.
"I like to call myself a Democratic Capitalist - a business person with a heart," she said.
Prouty is an advocate for issues related to mental health and suicide prevention. As a survivor of suicide (her mother's) Prouty said she understands the struggle of families whose loved ones suffer from mental illness.
With the possibility of across-the-board budget cuts because of revenue shortfalls from COVID-19, Prouty is especially concerned for the Department of Behavioral and Developmental Disabilities.
"We have to approach budget cuts with a scalpel, not an ax," she said. "Mental health and addiction services are already overburdened and underfunded in this state. We know that these services are going to be in higher demand due to the pandemic."
Medicaid expansion is another legislative priority, and expanding Medicaid would help plug holes for uncompensated care at a time when hospitals and doctor's offices have had to delay revenue-producing elective care and procedures, she said.
As a small business owner with extensive experience in local government, Prouty said she understands that recruiting businesses that would increase the average wage in the county is key to keeping the local economy healthy – and she thinks it can be done while retaining Coweta's rural character.
Prouty is pro-choice and opposed Georgia House Bill 481, which prohibits most abortions after fetal cardiac activity can be detected. Prouty said she questions why the law is necessary when abortion rates in the U.S. are at a historic low.
"Outlawing abortion does not stop abortion," Prouty said. "It just increases the chance of illegal abortions done under unsafe conditions. Comprehensive health education, access to contraception and quality health care for women are proven factors in reducing the number of abortions, she said – not bans.
Why should people vote for Prouty?
Prouty said she is interested in finding common ground with other legislators in the state House. "That's when great things can happen – when we work together to serve our constituents outside of the partisan rhetoric.
Marcy Sakrison
According to her campaign website, she is a full-time mom and teacher with three children, who volunteers at Southside Church and served as a White House aide under President George W. Bush.
She also worked for the Georgia Senate Research office helping draft legislation, and has worked as a flight attendant at Delta Air Lines. She is married to Coweta Superior Court Judge Travis Sakrison, and is the daughter of former Congressman Lynn Westmoreland.
Sakrison has lived in the area for over 30 years and said she is running because she cares deeply about local people and feels that they deserve better representation at the state capitol.
"I do not believe in politicians who represent their own interests or those of special interest groups. I want to represent the people of HD 71 and ensure that our community continues to be a place where our children wish to remain and raise their families for years to come," she said.
Sakrison said her top priority is getting Georgians back to work and supporting small businesses. She said she believes in fair tax incentives to help small businesses, and in increasing workforce development programs.
"I believe we need to support our students, invest in our infrastructure and have pro-small business tax policies and incentives," she said. "I believe in growing smart and keeping taxes low."
If elected, Sakrison said she would immediately introduce legislation to provide tax reimbursement for small businesses that did not receive pandemic assistance through the Paycheck Protection Program. She said she will push for the elimination of state income taxes and "work to keep Georgia red and support President Donald J. Trump."
Why should people vote for Sakrison?
"I am the only candidate in the race that is a lifelong Republican and that has only ever run for office as a Republican," she said. "I will represent House District 71 with integrity and I will not politicize the office nor the actions that I take. I will focus on doing what is best for Coweta and Fayette counties, not special interest groups from out of state."
Philip Singleton is a native Georgian who married his high school sweetheart, the former Julie Ruth Young of Senoia. They have four children, ranging in age from 9 to 16.
Singleton was originally pursuing a pre-med degree at Georgia State University, but joined the U.S. Army nine days after the Sept. 11 attacks.
After spending two years in the Georgia Army National Guard and completing a bachelor's degree in Middle Eastern history, he was commissioned as a second lieutenant.
Singleton spent 13 years as an active duty officer and helicopter pilot, served two tours in Afghanistan and one in Iraq, attained the rank of major and was awarded two bronze star medals and five air medals.
He spent seven years serving overseas, and he and his family have lived in several states as well as Germany and South Korea. Singleton also earned master's degrees in aeronautical science and international relations.
Singleton said he is a lifelong Republican and that he is running because he believes we deserve representation that serves the people and not the special interests, and understands the true cost of liberty and will fight to preserve it.
Singleton introduced and carried through committee legislation to end sanctuary policies in Georgia that protect criminal aliens, and voted for the largest tax cut in Georgia history. Singleton said he has voted "no" on every single tax increase or revenue bill and will oppose any attempt of the state government to grow in size or scope or infringe on the liberty of Georgians.
If reelected, Singleton said he will continue to represent the people and not the special interests that dominate Georgia politics.
"I will continue to be a taxpayer champion and will continue my voting record as one of the most conservative legislators in the General Assembly," he said. "I will also continue to work with other legislators like I did on sanctuary city legislation to get great bills passed, even if I have to do all the work but let a more senior legislator carry the bill. I have learned in my lifetime of service that it is amazing what you can accomplish if you are not worried about who will receive the credit. Legislation is no different."
Why should people vote for Singleton?
"If you want a servant leader who does not take special interest money, believes in individual choice and limited government, and will fight for the people, then I would be honored to have your vote and have the blessing of continuing to be your voice under the Gold Dome," he said.