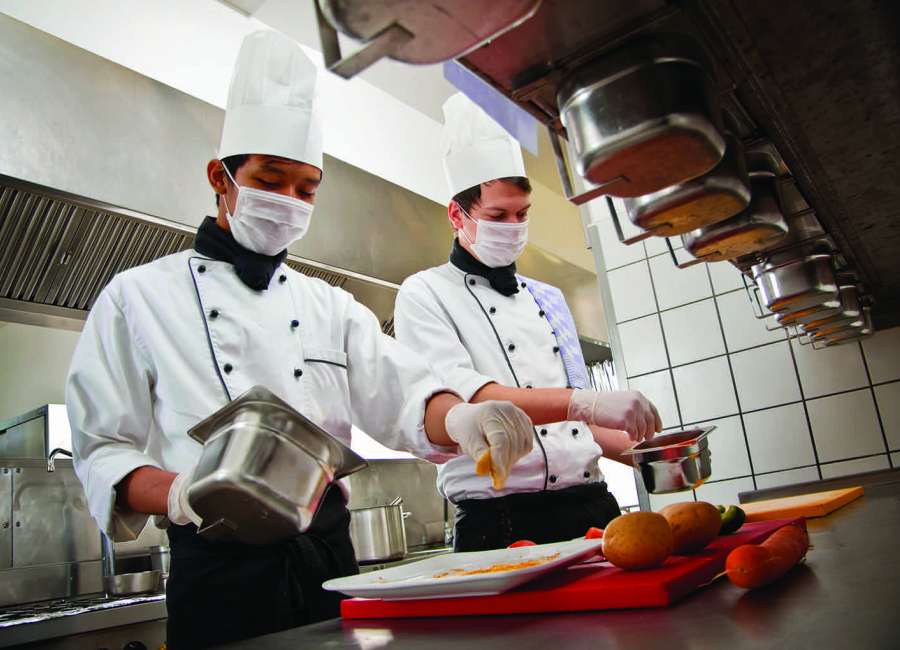 When Gov. Brian Kemp allowed restaurants to reopen for dine-in service on April 27, his order came with a long list of requirements.
The 39 requirements, which apply to all restaurants, whether or not they are open for dine-in service, include masks or face coverings – properly worn at all times – for all workers.
An informal survey of drive-thrus around Newnan found that following the mask regulations was the exception rather than the rule.
Wearing a mask properly means it must cover the mouth and nose at all times. They also must be replaced or washed daily, according to Melinda Knight, environmental health director for District 4 Public Health, which includes Coweta.
The Coweta Environmental Health Department performs safety inspections of restaurants and is also offering guidance to food service establishments on how to meet the current requirements.
Employees have been observed wearing masks that don't cover their noses or masks that are pulled down under the chin so that they don't cover the mouth or nose, and some not wearing them at all.
Others were seen touching their masks with gloved hands. Masks were not required before April 27, when dine-in services were allowed to resume. Many of the requirements refer to dine-in seating.
Other restaurants have made changes to improve safety – such as handing food out a drive-thru window on a tray, or erecting plastic barriers to cover the top part of drive-thru windows.
Restaurants in Coweta have begun reopening since the April 27 order. Some are still curbside or takeout only, while others have opened for dine-in service, under the significant restrictions.
Buffets and salad bars aren't allowed, unless they are being used to serve cafeteria-style, with employees serving the food.
Though there are no new glove requirements in the executive order, there are existing glove requirements under health codes, and many restaurants have expanded glove-wearing.
"Wearing masks and gloves is a new thing for establishments, and I expect there will be a lot of challenges for staff that will be brought to our attention," Knight said.
"We are constantly in touch with the public and the facilities to educate on the importance of proper mask wear and glove use," she said. "This will take some time, but we are diligently working on education daily."
Knight said she expects guidance from the state on the use of masks during this period.
"This will definitely be something we discuss in more detail in the coming days," she said. "But right now all facilities are required to have employees wearing masks – properly."
While face coverings are required by the governor's order, they're not a part of the current health inspection forms.
"When we visit a facility or get a complaint, we do address it immediately and educate on proper mask wear," she said. "I expect that there will be some guidance from the state on use of masks as we navigate our way through this process."
Glove misuse, however, is a violation on health forms. Handling money with gloves on, then handling food without changing gloves and washing hands, for example, is a violation.
"Gloves are only effective if hands are washed properly and gloves are changed out as needed," Knight said.
If inspectors were to see glove misuse, "we would mark them out of compliance on their inspection and educate them on proper use," Knight said. "Handwashing has always been a priority in our education process and has taken on even more emphasis with this pandemic."
Knight said most of the contact that environmental health has had with food service facilities has been from inquiries from the restaurants themselves, and from outreach in response to complaints.
"Fortunately all (restaurants) have been very responsive in correcting complaints immediately," she said.
Inspection staff switching gears
Routine restaurant health inspections have been suspended since March, Knight said.
The environmentalists in the local environmental health offices have shifted gears to helping with COVID-19 response, Knight said.
"Many of our staff members are assisting with testing sites, contact tracing of positive cases, inventory and shipment of supplies to county offices and hospitals, and anything else that comes up that we can assist with to help our public health partners during this pandemic," she said.
However, staff are responding to complaints about restaurants, and complaints may be made online or by phone.
Knight said the district is reaching out to restaurants that are operating to make sure they have read the governor's executive order and understand the 39 requirements necessary to operate.
Though routine restaurant inspections have been suspended, Knight said they are beginning to ramp back up on restaurant and swimming pool inspections. Gov. Brian Kemp issued an extension on the inspection requirement for all restaurants with a score of A, so many of those won't be inspected until September, Knight said.
"We still have staff that will continue to share duties with COVID-19 response efforts, but we are all doing our best to try and find the new normal and get back to regular inspection of both food service and tourist accommodation facilities," she said.
Complaints about restaurants not following rules can be made online at https://www.district4health.org/environmental-health/environmental-health-complaint-form/ or by calling Coweta Environmental Health at 770-683-7345.
* * *
Rules all restaurants must abide by include:
• Require all workers to wear face coverings at all times.

• Screen all workers who exhibit signs of illness.
• Require workers who exhibit signs of illness to not report to work or to seek medical attention. Workers who show signs of illness must be sent home. Workers with known or suspected COVID-19 must self-isolate for at least 10 days and end isolation only after the workers has been fever and/or symptom-free for at least three days without medication.
• Train all workers on the importance and expectation of increased handwashing and the use of hand sanitizers and provide clear instruction to avoid touching hands to face.
• Discourage workers from using other workers' phones, workstations, tools or equipment.
• Stagger workstations whenever possible; if not possible, consider options that include other mitigation efforts with increased cleaning and sanitizing.
• Prohibit handshaking and other unnecessary person-to-person constant and enforce social distancing of non-cohabiting persons.
• Increase physical space between workers and patrons.
• Limit contact between wait staff and patrons.
• Between every use, clean and sanitize condiments, tabletops, self-service areas, digital order devices and the like, and discard single-use items.
• Use rolled silverware and eliminate table presets.
• Remove items from self-serve drink utensil condiment and tableware stations whenever practicable.
• Use disposable paper menus or clean and sanitize menus between each use.
• Increase cleaning and sanitizing of back-of-house and restrooms.
• Update floor plans for dining areas, rearranging seating arrangements to ensure at least 6 feet of separation from seating to seating.
• Limit party size to no more than 10.
• Where practical, consider a reservation-only business model or call-ahead seating.
• Remind delivery drivers and suppliers of internal distancing requirements.
• Post entrance signs that no one with a fever or symptoms of COVID-19 is permitted within the facility.
• Where practicable, physical barriers such as partitions or Plexiglas at registers should be used.
• Use technological solutions where possible to reduce person-to-person interaction.
• Provide hand sanitizer for use by patrons.
• Do not allow patrons to congregate in waiting areas or bar areas, and design a process to ensure patron separation while waiting to be seated.
• Mark ingress/egress to and from restrooms to establish paths to mitigate proximity between people.
• If possible, use an exit separate from the entrance.
• Where practicable, takeout and curbside pick-up services should be prioritized over dine-in services.
• All restaurant playgrounds shall be closed.