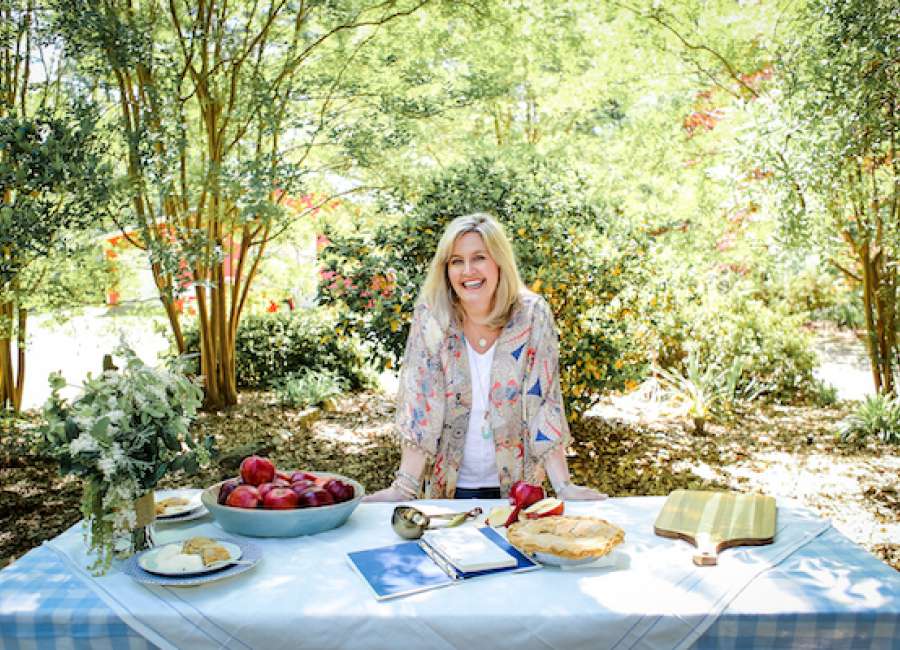 After Caroline Bowen survived a heart attack in 2019, she decided to chase her dream of starting her own pie business.

Bowen said her family always takes the week of Memorial Day off, and they head to their family lake house on Lake Rabun in north Georgia. Last year, they did the same as they do every year, and when the kids got out of school they packed up and headed off.
On May 26 of last year, her family was having a typical day at the lake. Bowen said they decided to take a really long boat ride that day. Her kids were skiing and tubing, and they all were swimming.
She said they had chicken salad sandwiches for lunch, and after eating Bowen said she had a weird feeling, like food was stuck in her throat.
"It was just the weirdest feeling," Bowen said. "It's not really painful, just an odd feeling."
Bowen said that feeling went on all day, and she told her mother-in-law and husband about it. They suggested she take some Aspirin since the feeling was in her chest.
"I kind of rolled my eyes at them and said, 'I'm fine, that's not it,'" Bowen said.
She took the Aspirin anyway, but it didn't help. Bowen said they went on with the rest of their day, even though she still had that feeling in her throat and chest.
By early evening, they were back at the lake house, and Bowen said she started preparing supper. She decided to take some over-the-counter medicine and thought if she did that and took a shower, she would feel better.
"I did not feel better," Bowen said. "At that moment, it just hit me hard. All the symptoms happened at one time."
She said she became extremely hot and sweaty and had terrible pain in her chest.
"It felt like someone was standing in front of me trying to push their foot from my chest out through my back," Bowen said.
She said her son Kirby had been following her around all day worried about her, and he asked if she was okay and if he needed to call 911.
Bowen said they called 911, and when the EMS arrived, they did two EKGs and neither of them showed that she was having a heart attack.
They decided to take her to the local hospital to make sure everything was okay. When she got to the hospital, they took another EKG that didn't show she was having a heart attack.
Bowen said the doctor decided to run an EKG just on the right side of her heart, and when he did, it showed that she was actively having a heart attack.
"He knew just what to do and moved so quickly that I do think he is the person that saved my life," she said.
Bowen was life-flighted to a hospital in Gainesville. She said the flight was 19 minutes, and she knew on that flight that she was dying.
"It was just the most surreal moment of my entire life," Bowen said. "You feel like you're having an out of body experience. You're standing outside watching yourself die. All I could think about was my children."
Bowen said she would flash between thinking about her son Kirby, 15 at the time, and her daughter Mary Martin, who was 9. Then, she said she would see grey clouds and she was looking for her baby, Burris, her second child who passed away when he was nine days old.
"I was looking for him, and I think it's because I knew I was dying," Bowen said.
She said the next thing she knew, she was at the hospital having a stent put in. Then, she was in the intensive care unit and it was all over.
"There are so many parts of this story where you can look back and see God," Bowen said. "I think God was with me at the lake when I took the Asprin, I think he was with me through Kirby, he was with me in the ambulance."
Bowen said she had a hard time recovering from the heart attack. She said some people spring right back, but she did not.
"I was so depressed after that heart attack, and I was mad," Bowen said. "I mean how does a healthy 50-year-old woman have a heart attack? How does that happen?"
During her recovery, she said she had lost all of her energy, finding it exhausting to take a shower or blow dry her hair.
"At that time, I could remember sitting on the sofa in my bedroom just in tears because I was so tired," Bowen said. "I remember thinking, 'There are so many things that I should have done by now.'"
"That's when I said to myself, 'If I ever get back to being Caroline again, I'm going to do all those things that I wanted to do.' That's when I decided to start my pie business," she added.
A piece of the pie
Bowen said she makes apple pies all the time and has always wanted to sell them. She said some days her husband would come home from work and there would be 15 pies on the counter.
"He would say, 'Why can't you just have two in the freezer?" Bowen said. "I said, 'If you're going to take the time to make one apple pie, why not make 15 apple pies.'"
She said anytime company comes over, she pulls out an apple pie, or she will take them to friends and to parties.
Bowen said she's always wanted to start her business, but she is a working mother and never felt like she had time.
"You're working, you have two children, and you're involved in church activities, school activities, kids activities — you just don't have time for it," Bowen said.
However, she had decided that when she got her energy back, she was going to go for it.
"After the heart attack and during that recovery my mindset just shifted," Bowen said. "It went from, 'I wish I had done this,' to, 'Do it, Caroline.'"
When the COVID-19 pandemic hit, Bowen said a friend called her and asked for an apple pie. Her friend told her that she was going to post about the pie on Facebook and that Bowen was going to start selling her pies.
"That's kind of how it started, and it started out with a bang," Bowen said. "Baking and cooking is something that I love to do, and food brings people together."
She said many people ordered her pies for Easter, Mother's Day and Memorial Day. Bowen said she already has orders for Father's Day and the Fourth of July.
Bowen said she's been working from home and bakes her pies at night or early in the morning.
"There's a lot of love baked in those pies," Amber Steele said. "Caroline is the picture of a southern lady. Her pies are a way for her to be at everyone's table."
Bowen learned how to make the pie recipe from her mother, Carol Kirby Burris, who lives in Darlington, South Carolina. Bowen said the apple pie recipe is a classic, and it's not too fancy.
Bowen said when she moved from Darlington to Atlanta, she didn't know how to cook, and her mom worried about her. When Bowen got married, her mom gave her a handwritten recipe book that contains their family recipes, including the apple pie recipe.
Although Bowen has changed a few things to make the recipe her own, the basics of the pie are from her mother.
She decided to name her business Sweet Kaki's after a childhood nickname. Bowen said her younger brother Lee could not say Caroline when he was learning how to talk.
Bowen said it would come out as "Kaki," and the name stuck. She said when she thought about her business, Sweet Kaki's was what she wanted it to be.
Bowen said she wants her business to grow, and eventually see Sweet Kaki's pies in all 50 states. She said she has plans to introduce other items in the future, but the apple pie will always be the centerpiece.
"I think this is what I'm supposed to be doing — I feel like it," Bowen said. "It makes me happy, it's been easy to do, and it makes people happy that buy the pies."
Bowen's story, social media accounts and ordering can be found at her website, www.sweetkakis.com .