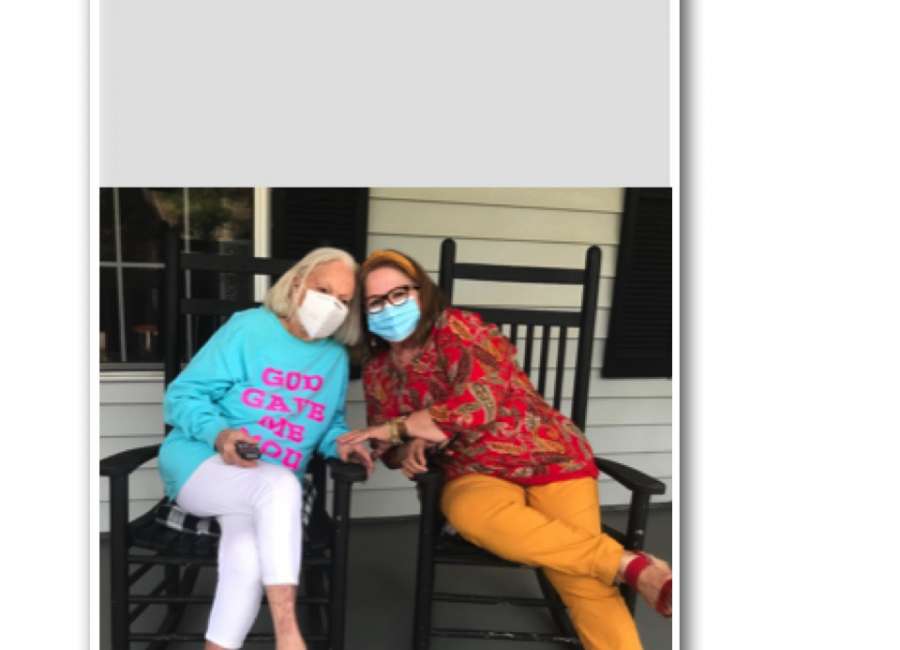 Dorothy Barrett Golden's 98th birthday looked different this year, but COVID-19 didn't stop the celebration.
Golden was born in Heard County on April 17, 1922. She has five children, 12 grandchildren and 24 great-grandchildren.
Golden's daughter, Cindy G. Brown, said although her mother missed having a birthday party with her family and friends, her mother enjoyed sitting in a rocking chair on the front porch with her friend Brenda Mitchell at Insignia, a senior living community in Newnan.
"We usually have a big family party or go on a trip," Brown said. "She loved Hawaii most of all, with the tropical flowers and amazing food, but this year we could only send cards that someone had to read to her because her eye-sight is not what it used to be, but she loved the flower arrangements and small gifts and cupcakes for all – made by her great-granddaughter."
Brown said she and her sister were able to visit their mother's window at Insignia.
Brown said her mom said, "Life is still great at 98."
"Mother attributes her longevity to her exercise routine for 30 years and eating healthy and living clean," Brown said. "She says she is never alone and that God is always with her and holds her hand."
Brown said her mother used to bake quite often.
"Her fresh coconut cakes and fried apple pies were extraordinarily good and huge family and friend favorites," Brown said. "No one could do those like mother."
Brown said her mother was also an avid gardener and loved the outdoors.
"She took great pride in creating a beautiful yard and plants," Brown said. "One of her saddest days was when her doctor told her she couldn't mow the lawn anymore. Many cherished memories were made poolside in her backyard."
Brown said her mother taught her and her siblings many lessons they still refer to today.
"Mother taught us that cleanliness was next to godliness – she was a great housekeeper," Brown said. "She also taught us that anything worth doing is worth doing right. Most of all she taught us to love and care for others. I am so blessed God gave me her."
Brown said her mother wants to remind everyone to wear their masks and not to forget to appreciate the flowers and beauty around us.
According to www.Statista.com , an online statistics, market research and business intelligence portal, the average life expectancy of a woman born in the U.S. is 81.1 years.