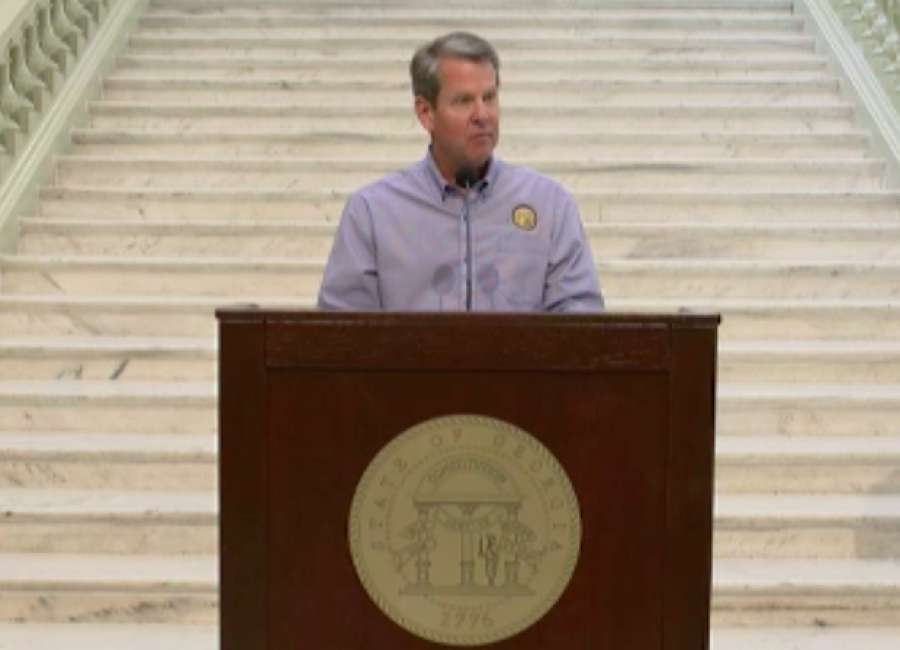 Gov. Brian Kemp has extended Georgia's public health state of emergency through July 12, and extended restrictions on businesses put in place to help slow the spread of COVID-19 through June 15. The business restrictions were set to expire May 31.
Kemp made the announcement at Thursday's press briefing.
Though existing restrictions will be extended, Kemp announced that sports, both amateur and professional, can begin to resume, overnight summer camps can begin operation, and bars and nightclubs can reopen – under strict sanitization and social distancing rules.
Kemp also issued guidance for summer school, with 12 recommendations. Amusement parks, water parks, carnivals and temporary amusement rides will be able to open June 12, under 33 mandatory requirements which are in addition to current requirements for noncritical businesses.
And public gatherings of up to 25 people – instead of the previous limit of 10 – will be allowed starting June 1. Larger gatherings are allowed if everyone is at least 6 feet apart at all times. "Small weddings, recreational sports and similar events will be able to resume with a little more flexibility, but we are continuing to ask everyone to remain vigilant," Kemp said.
Second wave not inevitable
"Please continue to follow the public health advice as you engage in these activities. Wash your hands, keep your distance, wear a mask if possible and let's continue to protect the medically fragile and the elderly."
Kemp said Georgia is fighting two battles – the battle against the coronavirus and the battle to reopen the economy.
"I want to make sure people know we are still fighting both battles. We can't forget all of the things that got us to where we are," he said.
Kemp referenced recent statements by Dr. Anthony Fauci, head of the National Institute of Allergy and Infectious Disease, that a "second wave" of COVID-19 infections isn't inevitable.
"If people will continue to follow the guidelines, we don't have to necessarily have a second wave," Kemp said. "So we can keep mitigating, mitigating, mitigating, to where the risk is so low it allows us to continue opening up things even more than we have. That is what I'm asking people to do."
Masks strongly urged
Georgians cannot rest on their laurels, Kemp said, and he is strongly encouraging all Georgians and visitors to wear face coverings in public to prevent viral spread.
During the question and answer session of the briefing, Kemp was asked to talk about masks in more detail.
The state doesn't have a mandate on masks, but it is public health guidance. "Wearing a mask helps prevent you or me from spreading the virus if we happen to have it, especially if we are asymptomatic," he said.
"If you are wearing a mask, you are protecting other people. Not everybody is doing that. We're asking them to do that," he said. "I feel like I've been asking them to do that in a reasonable way, by doing it when it makes sense."
If someone is going out for a run, where they keep moving and avoid other people, "you don't necessarily need a mask," he said. But if you're going to the grocery store, paying for your gas at a convenience store, going into a pharmacy, or something similar, "it's a good idea to wear a mask," Kemp said.
If you see someone in a store who isn't wearing a mask, "it's a good idea to social distance yourself" from that person.
Kemp said it does seem that even those who don't wear masks understand social distancing.
Over the Memorial Day weekend, there were some reports of large gatherings taking place, and a reporter asked Kemp to comment.
"We realize a lot of the things are not easy," Kemp said. However, it seems like around 90 percent of people have been trying to comply with the guidelines.
For those who aren't, state and local law enforcement can issue verbal warnings, and will take stronger action if necessary.
"We're not going to put up with Georgians putting Georgians' health in jeopardy," Kemp said. "What we will do is try to help people be in compliance, mitigate the risk and get back to where we can continue to operate in this new normal we're in."
To reopen, bars and nightclubs must meet 39 measures, including limiting the number of people inside buildings to 25 people or 35 percent of occupancy; only serving drinks to seated patrons or those in designated areas, limiting party size to six and preventing patrons from congregating.
Private banquet facilities and event venues will be held to the same restrictions as dine-in restaurants.
Kemp addressed churches, which are beginning to hold in-person services. Georgia never required churches to close, but encouraged congregations to hold online, or drive-in services to reduce the spread of COVID-19.
"We ask that Georgians continue to heed the public health advice if they decide to attend in person," Kemp said, including social distancing and hand washing, and helping to protect the elderly and medically fragile. "And continue to prioritize your health," he said.
"I want to thank all the faith leaders who, time and time again, have answered the call and held remote services as we battled the spread of COVID-19," he said. "That was a tough decision, but your leadership has literally saved lives."
Don't postpone medical care
Kemp also urged Georgians not to hold off on important medical care.
"I cannot stress this enough, and I've said it all week long – do not risk a bad health care outcome by postponing a necessary checkup, screening or procedure," he said. "Health care systems are literally having to furlough workers in the middle of a pandemic … because of this decreased demand for traditional services. Please get these appointments on your calendar and help us get our health care providers back to work."