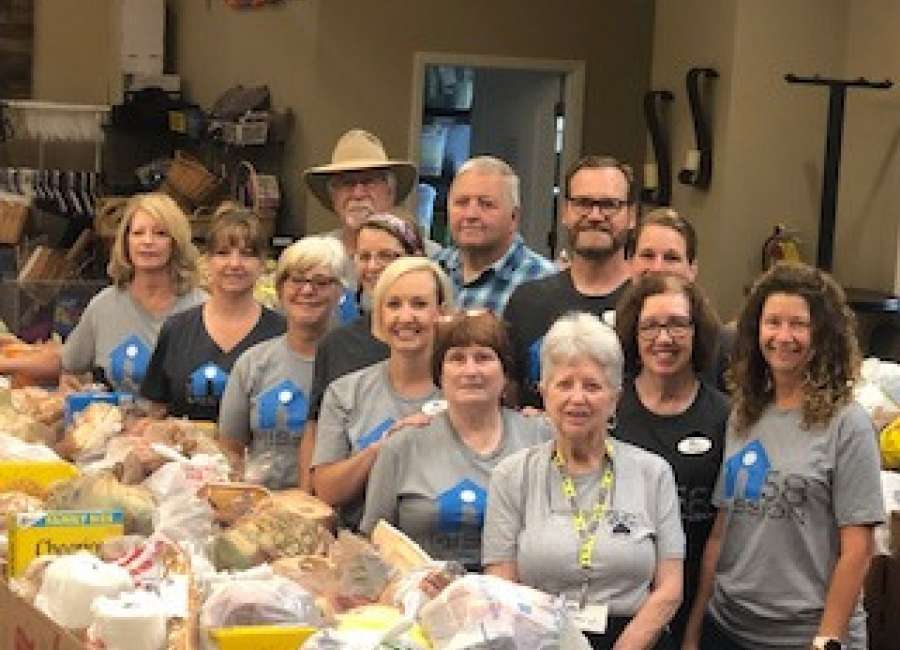 The I-58 Mission, a nonprofit in Senoia, and Cornerstone UMC are hosting a drive-thru drop off Saturday, June 13, to collect items to stock its food pantry and to help with the growing needs of the community.

The nonprofit provides household goods, appliances, furniture, clothing and food to those in need, according to its website.
Maria Pereli, who works with the I-58 Mission and is a member of Cornerstone UMC, said she is part of the church's missions committee and sees the growing needs of the community.
"With so many people losing their jobs, our (I-58 Mission's) number of clients has doubled from around 70 families a week to 140 families a week," Roth said.
Roth said the community has been generous, but donations have started to decline over the last two months.
"Our mission has been blessed with help from the community," Roth said. "I-58 completely depends on churches and families to supply our mission."
Roth said prayerfully the drive-thru will also help to restore other items besides food.
"We need hygiene, children's clothing and household goods," Roth said. "Big and small donations are greatly appreciated."
Monetary donations will also be accepted at the drive-thru or can be mailed to The I-58 Mission Inc., P.O. Box 155, Senoia, GA 30276.
Helping neighbors
Dr. Scott Pickering, lead pastor of Cornerstone UMC, said the church "has been increasing its participation with I-58 ministries over the past several years."
"I-58 Ministries is completely funded by volunteers and churches, so our relationship allows them to be engaged in addressing needs within our county that were either neglected or overlooked," Pickering said. "We are glad to be one of a team of churches and volunteers reaching out to help our neighbors in need."
Pickering said the church decided quickly to host the project. He said the location of the church off Highway 54 in Newnan may be beneficial.
"Countless vehicles cross the intersection every day," Pickering said. "We hope our location will be a major asset for the mission drive."
Pickering said church members and guests are all concerned in helping others get through the pandemic.
"At the start of the pandemic, Methodists were reminded of John Wesley's 'Three Rules of a Methodist,'" Pickering said.
The three rules are do no harm, do good and stay in love with God, according to Pickering.
"Since the beginning of the original shelter-in-place restrictions, Cornerstone has continued to address needs within our community," Pickering said. "We have participated in distributing lunches to school children, feeding over 400 homeless men at the Trinity Table in Atlanta, and holding food drives for I-58 Ministries and One Roof."
Pickering said O'Rourke Ministries, an affiliate mission group of Cornerstone UMC, has also provided several monetary donations for I-58 Ministries' food pantry, as well as mattresses, another need of the mission.
"All of these activities help us to honor and fulfill Wesley's third rule to 'stay in love with God and neighbor,'" Pickering said.
Cornerstone UMC is located at 2956 Sharpsburg-McCollum Road, Newnan. Hours for the drop-off are 10:00 a.m. until noon.
Needed clothing/household items:
New girls' underwear in sizes 4T, 8, 14 and 16
New women's underwear in sizes four through nine (for teens)
Girls' tops and shorts in sizes 14 and 18
Girls' junior shorts in sizes one, three, five and seven
Women's 2X tops for teens
Women's shorts in sizes two and four for teens
Boys' tops and shorts in sizes 3T, 10 and 12
Men's t shirts in sizes small, medium and large (for teens)
Men's shorts in sizes 32, 34 and 36 (for teens)
Toilet paper/toiletries
Appliances