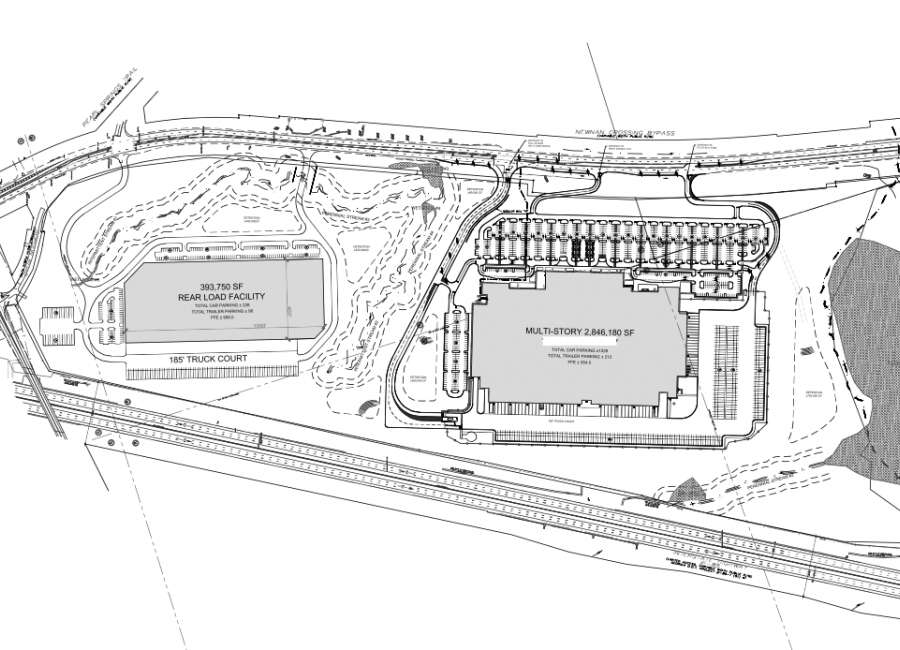 A rezoning application for a 100-foot-tall robotics fulfillment center near the intersection of Newnan Crossing Bypass and Georgia Highway 16 East was withdrawn Tuesday night after the applicants asked to delay the public hearing on the rezoning.
At the start of the public hearing, Assistant Community Development Director Angela White told the commissioners that the department had received a request to postpone action on the application to rezone the 155-acre site to M-Industrial. A decision on a variance request to allow the building to be 100 feet tall, instead of 34 feet, 11 inches, was also on the agenda.
District 2 Commissioner Tim Lassetter, who represents the area, said that because the public hearing was advertised and there might be people at the meeting who are planning to speak, they should be allowed to. That's typical practice when an applicant asks for a delay – the public hearing is opened, people are allowed to speak, and it's continued to a future meeting.
"I think it's only fair that we allow them the opportunity to speak, if they planned accordingly," Lassetter said. After everyone who wishes to speak has spoken, the applicants speak, the commissioners ask questions and hear the specific reasons for delaying, then the commissioners could decide on whether or not to delay action, Lassetter said.
"I think it would be more appropriate for us to do all that, and fair to those who may be here tonight to speak and didn't know that this was being asked to be delayed," he said.
As White began to give the Community Development presentation on the rezoning application, attorney Melissa Griffis, representing the applicants, Seefried Industrial Properties, stated that they would like to go ahead and withdraw the application if the commissioners weren't going to postpone it. She passed out a letter with the withdrawal request, and no further discussion was held.
A withdrawn application can be resubmitted at any time.
The proposed development, known as Project Catfish, went through review as a Development of Regional Impact. If the project is resubmitted and there are no substantive changes, the project won't have to go through DRI review again, White said after the meeting.