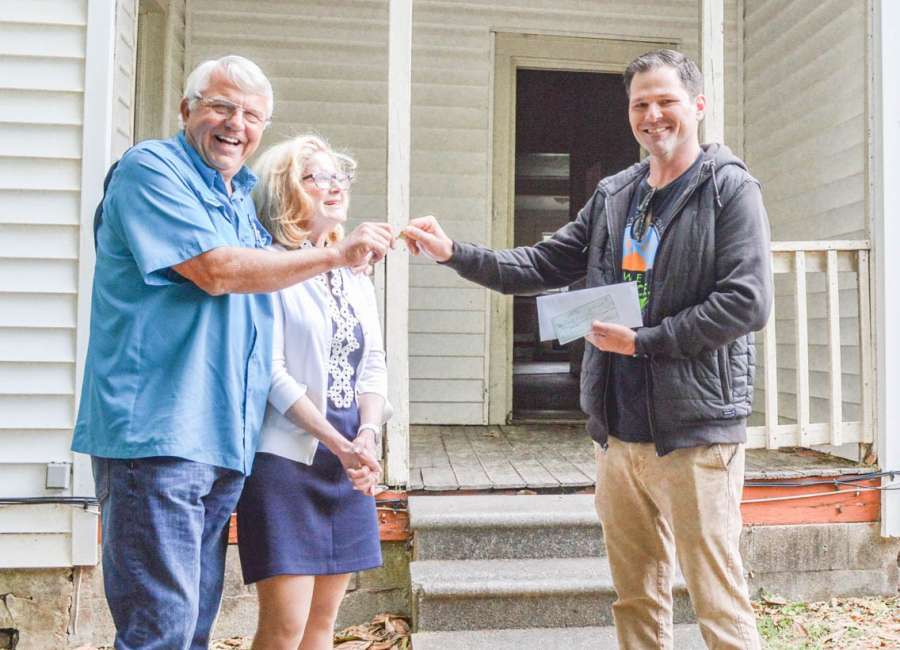 Coweta FORCE is now the proud owner of a house that the organization will use to help further its mission of recovery from substance abuse.
Coweta Friends of Recovery for Community Empowerment is the local recovery community organization.
Jim Sells of Hope Property Management officially donated the house, located on Burch Avenue, to the organization on Friday – which happened to be both Sells and Coweta FORCE Executive Director Hank Arnold's birthday.
Sells and his wife Lisa surprised Arnold by bringing more than just the deed to the house and presented a check for $5,000 to the organization.
"Here is what Lisa and I know – and this is what brought me to converse with you in the first place – drug addiction is harming the individual, the entire family and the entire community," Sells said to Arnold. "To help you, we're helping the community. You're doing the heavy lifting, and we want to help you do that. You're helping put individuals back together, which puts families back together, which helps the community.
"What you're doing is a wonderful thing and we want to help you," Sells said.
The four-bedroom, two-bath house is only a few blocks away from Coweta FORCE's offices on East Washington Street. It needs some renovations, and Arnold said he's ready to get a contractor on-site and get moving on the work.
Arnold said he's wanted a house for Coweta FORCE for a long time.
"About six weeks after our grand opening, I started talking to my wife about it, and she thought I'd lost my whole mind," he said.
He got serious and started looking a few months ago, but found that prices were extremely high.
Sells didn't know Coweta FORCE wanted a house when he went to visit with Arnold and talk about the organization's mission.
"I know several people that go to Coweta FORCE," he said. And he had met the Coweta FORCE team last year when he was looking for organizations to take over the former Community Welcome House property.
Sells said decided he wanted to make a donation to the organization and went to talk with Arnold. Then Arnold told him how he was looking for a house.
"I asked him, 'Do you want one you've got to renovate?'" Sells said. "He said, 'What do you want for it,'" and I said, 'How's a dollar sound?'"
"It's just the timing and God's grace," Sells said.
As for exactly how the house will be used, "I think it's a little too early to tell what it is going to be," Arnold said. "It's going to be a resource for the recovery community. We're going to use it to further our mission."
Arnold said the home will be utilized to further serve the community and reconnect families.
"We're going to be an asset and a total benefit to our community," he said.
Arnold said he hasn't had an opportunity to reach out to city officials to find out what regulations affect how the house can be used. "We're going to do things within the guidelines of what the city allows and hopefully in partnership with our city," he said.
The home hasn't been a very good renter for his company, Sells said, and is a lot bigger than most houses he likes to rent.
"It helps us, and it helps them," he said. "Everyone, at this point, knows somebody that has a drug addiction, or knows someone that has had to deal with drug addiction or has seen the harm that it does," Sells said.
People don't always see the things that can come with recovery from addiction, Sells said, but with the work of organizations like Coweta FORCE, hopefully more of those stories will be told.
For more information about Coweta FORCE, visit www.cowetaforce.org or call 678-633-5688.