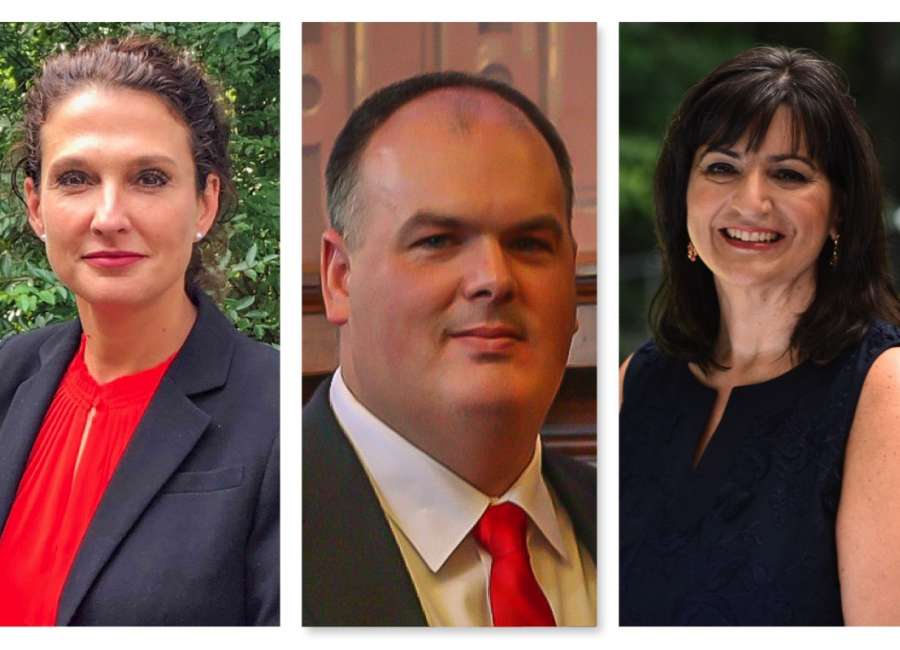 Editor's Note: This story has been updated to clarify that Prouty's in-kind payments for website hosting and post cards were in-kind expenditures and were not reimbursed.
Candidates for Georgia House District 71 have submitted their campaign finance reports in advance of the June 9 primary election. The report covers contributions made before April 30.
Candidates also have to report any contributions of $1,000 or more within two business days.
Incumbent Rep. Phillip Singleton, who was elected in a special election runoff in October of 2019, has been unable to accept campaign donations since the start of the 2020 Georgia General Assembly session, which began Jan. 13.
Sitting members of the general assembly are always prohibited from accepting campaign contributions during the session, but the session typically ends in late March or early April, providing plenty of campaign time.
However, the 2020 session was suspended March 14, and will resume June 11, meaning no sitting members will be able to fundraise for this election.
Singleton reported $3,787 in itemized expenditures and $1,225 in expenditures of $100 or less for the reporting period, and cash on hand of $943.
Itemized expenditures were $500 to the committee to elect Lenn Wood, $1,181 in Facebook ads to provide information to constituents on COVID-19, $500 to the Family Policy Alliance of Georgia, $200 in caucus dues, $400 for his qualifying fee and $1,005 to Operation Face Mask for face masks for Coweta first responders.
Between the Oct. 1 runoff and the April report, Singleton reported the following itemized contributions: Georgia Third District GOP Chairman Michael Crane, Newnan, $1,000, Oct. 2; First Liberty Capital, Newnan, $2,500, Dec. 31; Edwin Brant Frost, Newnan, $2,500, Dec. 31; and Friends of Marc Morris, Cumming, $125, Jan. 7.
Marcy Sakrison, Republican, reported $19,795 in contributions in addition to $21,942 previously reported, plus an additional $3,500 after April 30, and $8,279 in expenditures, in addition to $21,900 in previous expenditures in the report for the period ending April 30.
Itemized contributions were as follows: Acton PAC, Sharpsburg, $1,800; Acton PAC, Sharpsburg, $1,000; Committee to Elect Richard Smith, Columbus, $2,500 (Smith was appointed by House Speaker David Ralston in December as chairman of the House Rules Committee, following the death of former Chairman Jay Powell); Jessica Crisler, Dothan, Alabama, $250; Earl Earhart, Powder Springs, $200 (Earhart is a retired state representative and husband of Rep. Ginny Earhart); Georgia Wins Inc., Atlanta, $2,800; Georgia Wins Inc., Atlanta, $2,200; Point PAC, Atlanta, $2,000; Randy Robertson, Cataula, $250; Brent Scarbrough, Fayetteville, $2,800; Tina Scarbrough, Fayetteville, $2,800; Beth Smith, Newnan, $50; Jay Walker, Perry, $1,000.
Candidates are required to report contributions of $1,000 or greater within two business days. Following the April 30 cutoff, Sakrison reported contributions of $1,000 from the Committee to Elect Dale Washburn, Macon; $1,500 from William Parr III, Lanett, Alabama; and $1,000 from Arthur "Skin" Edge IV.
Expenditures were $2,663 for campaign videos, $125 for direct mail, $2,000 for campaign management and consulting; $490 for postage, $2,000 for online advertising, and $900 for compliance consulting.
Sakrison also reported contributions between the Oct. 1, 2019 runoff, in which she lost to Singleton, and the January reporting period.
Contributions made since the runoff were $1,000 from Acton PAC, Sharpsburg; $1,000 from Alan Powell Campaign Committee, Hartwell, Oct. 9; $750 from Citizens for Rick Jasperse, Jasper; $250 from William Dudley, Fortson.
• Jill Prouty, Democrat, reported $1,083 in contributions for the April 30 period, in addition to $6,118 previously reported. Contributions were $125 from Stephe Koontz, Doraville; an in-kind donation for $846 from M.M. Lafleur, New York, and $112 in small, non-itemized contributions. Expenditures included $400 for a qualifying fee, and in-kind expenditures by Prouty of $450 for website hosting and $191 for postcards.
Previous contributions between the Sept. 4 special election and the April 30 report included $250 from Adele Klingshirn, Peachtree City, $250 from David Worley, Peachtree City, and $820 in smaller, non-itemized contributions.
Prouty has no opposition in the Democratic primary and will face the winner of the June 9 Republican primary in November.