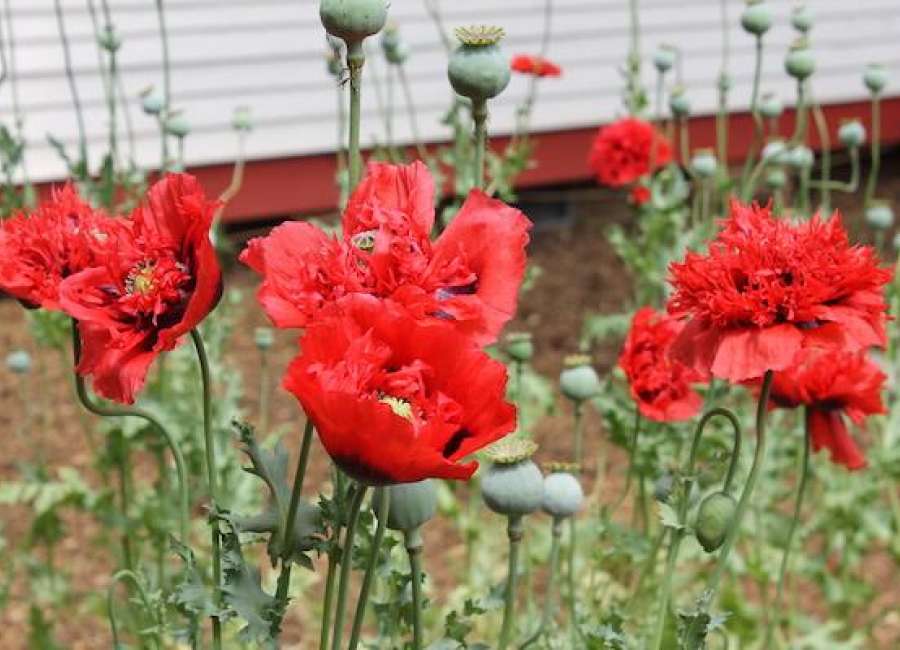 Former Newnan artist-in-residence, Jane Ingram Allen, installed a "Living Quilt" in 2017, which is now blooming with red poppies.
The quilt was installed on Aug. 29, 2017, at the end of Allen's three-week stay in Newnan as part of the ArtRez program. It was made from handmade paper with wildflower seeds, so when the paper dissolved into mulch, the seeds sprouted and grew.
Allen also constructed a flower "bed" to go with her quilt, complete with a headboard and a footboard.
"I wanted to make art that changed over time and came back as living plants," Allen said. "It used all-natural and biodegradable materials to work with nature as a partner instead of vainly trying for permanency and using materials and processes that harm the environment."
Allen's stay in Newnan was extra special, as she was able to reconnect with distant relatives.
She was born and raised in Alabama, though she has connections to Newnan through both her mother and father.
Allen is related to Thomas Cole, who is buried in Oak Hill Cemetery, on her father's side. She is related to James Hutcheson, her great-great-grandfather, on her mother's side.
She decided to make the living quilt for Newnan a house quilt since Newnan is "The City of Homes." Allen based the design for the quilt on the Hutcheson family home, which was built by her great-great-grandfather in the 1870s.
"It was because of my family connections to Newnan that I decided to apply for the artist-in-residency program in Newnan, a place I had never visited but just heard about from my mother and other relatives," Allen said.
Pick Parks of Newnan and Allen are both great-great-grandchildren of Hutcheson, and they were able to meet during her stay.
Parks gave Allen some red poppy seeds for the quilt that he had stored in his freezer. He said his dad, Howard Parks, got the seeds for the poppies off Mount Carmel Road.
Parks said his dad stopped in the Smith family's driveway to admire the flowers, and they became friends and gave him some poppy seeds to grow. "He was notorious for stopping and meeting people," Parks said.
Parks said his dad would plant them in a garden bed every year and would harvest the seeds and save them. When his mom passed away, Parks said he was cleaning out his parent's house and found more seeds in the freezer.
"I didn't know if they would come up," Parks said. "Isn't that amazing that three years later, they've bloomed."
Allen said when Parks gave her the flower seeds, she didn't know if they would germinate or not, but she put them in the red part of the quilt. This year, the red poppies are in full bloom.
Parks said he went by to look at the poppies, and they look just like the ones his father grew.
"It is a wonderful sign for these difficult virus times that the special vintage poppy seeds from Pick Parks' daddy are now growing and blooming again in Newnan," Allen said. "Those bright red poppies look so beautiful there blooming in the 'bed' next to the children's museum building with its red window trim."
The papermaking for the quilt was done at Gray Cottage, where Newnan ArtRez participants stay while they are in town. Allen used local plants, including magnolia, mulberry, crepe myrtle, cedar, wisteria and Oriental paper bush, for some of the handmade paper in the quilt.
Allen said many community members helped her make the paper and brought in branches to create the headboard and footboard for the flower bed.
Most of the seeds for the quilt were a southeastern mix of red, yellow, blue and white that she ordered. Allen said when she was in town for the residency, she had family members visit and help make paper for the quilt.
They decided the area next to the children's museum would be an ideal place to install the quilt, and Allen said it's great that it has remained and that it continues to bloom each year.
"In some places where I have done similar installations, they decide to take it up after a year or so, and I don't get this unexpected pleasure of something happening like the red poppies in Newnan," Allen said.