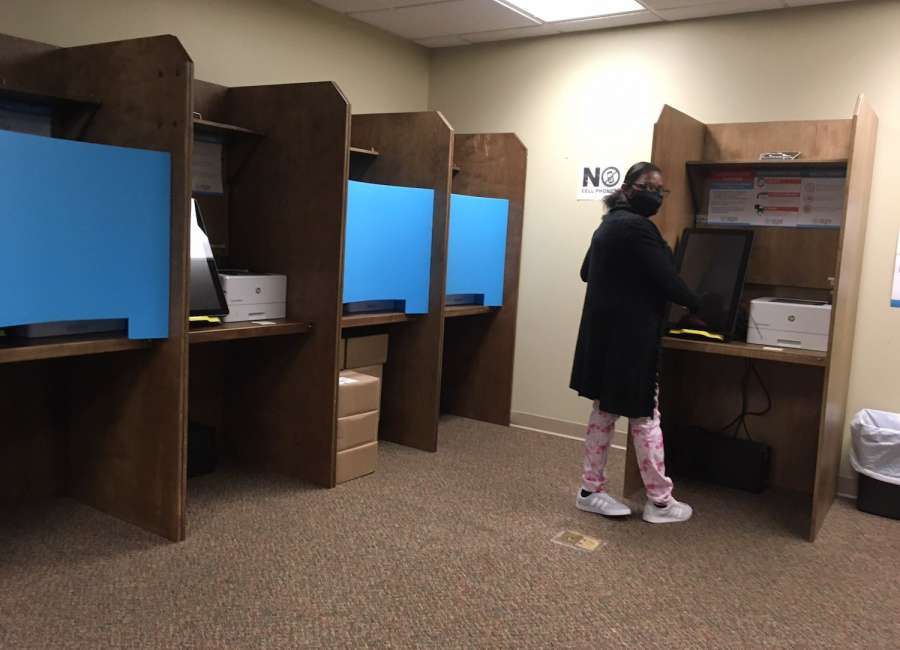 Early voting began Monday throughout Georgia for the June 9 state primary and nonpartisan election, and turnout was heavier than expected in Coweta.
The election was originally set for May 19 before being postponed, and the March 24 presidential preference primary has been rolled into the June 9 election.
Those who didn't vote in the presidential preference primary before it was postponed will get a chance to vote in that race during the current election.
Early voting is held at two locations: the Coweta Voter Registration Office, 22 E. Broad St., Newnan, and the Central Community Center, 65 Literary Lane, Newnan.
Hours are 8:30 a.m. to 4:30 p.m., Monday through Friday through June 5. Early voting will also be held Saturday, May 30, from 9 a.m. to 4 p.m.
Because of COVID-19, the Georgia Secretary of State's Office sent out absentee ballot request forms to every active registered voter, and thousands of Coweta voters have already received absentee ballots in the mail – including many of those who showed up to vote in person.
Approximately 25 percent of the voters who came in by noon Tuesday had already received their absentee ballots. Those ballots must be brought in to be cancelled before voters can vote on the electronic voting machines, and that is holding up the line.
Voters who need to cancel a ballot should expect the cancellation process to take a minimum of 15 minutes, said Assistant Elections Director Ashley Gay.
The Secretary of State's Office has put out guidance saying that Georgians who have requested and received a ballot in the mail "should make every effort to vote and return it."
Ballots can be sent through the mail with one first class stamp, though the Post Office will deliver them without postage, and there is a secure ballot drop box outside the voter registration office.
Cowetans who have requested a ballot and haven't received it can call the office to check on the status of their ballot.
For early voting, Coweta election officials are putting in place strict social distancing protocols to enhance safety.
The voting machine stations are set up to keep voters at least 6 feet from each other, and hand sanitizer will be provided. Employees will be wearing masks and "we're hoping people voting will wear a mask," said Coweta Elections Director Jane Scoggins. In addition, "we're doing everything we can to sanitize the equipment."
Voters will typically fill out their paperwork outside, and everyone will have to stay 6 feet apart. There are markings on the floor to let people know where to stand when they are in line waiting to vote.
The state isn't the only entity sending out absentee ballot request forms, Scoggins said.
The Republican Party of Georgia has been sending out forms, and Scoggins said she's also receiving preprinted forms sent to voters by an unknown organization. Those forms refer to the June 9 election, while the state forms refer to the May 19 election. But they are the same election, regardless of date, and only one form is needed.
She urges voters not to send in duplicate forms, especially if they have already received their absentee ballot. If you've sent in the state form but haven't received your ballot, and receive another request form, Scoggins asks that you call before sending it in.
Her office has begun receiving a lot of the additional request forms. "So far, every one of them is a duplicate," she said. "We're having to process them and it's taking so long. A lot of people think it's a different election," she said.
The office is processing an "overwhelming" number of ballot requests.
It's also seeing problems with the ballot instructions that the state sent out. Typically, Georgia absentee ballots are sent with an inner envelope for the completed ballot, which is then placed in an outer envelope for mailing.
But that state's vendor instead sent ballot packages with a "sleeve" – a piece of paper that should be folded – instead of the inner envelope. Secretary of State Brad Raffensperger said that the sleeve could become an envelope if taped, but using tape has proven problematic.
Scoggins has spoken to several voters who used tape and then ended up tearing their ballots. The ballots then had to be canceled and reissued.
"Just put your ballot into the folded piece of paper," Scoggins said. "There is no reason to tape it." And if voters have misplaced that sheet of paper, they can still put the ballot in the outer yellow envelope.
Voters should make sure to sign the oath of the elector on the ballot before submitting it.
For more information, contact the Coweta Voter Registration Office at 770-254-2615 or visit the Georgia Secretary of State's My Voter Page at mvp.sos.ga.gov