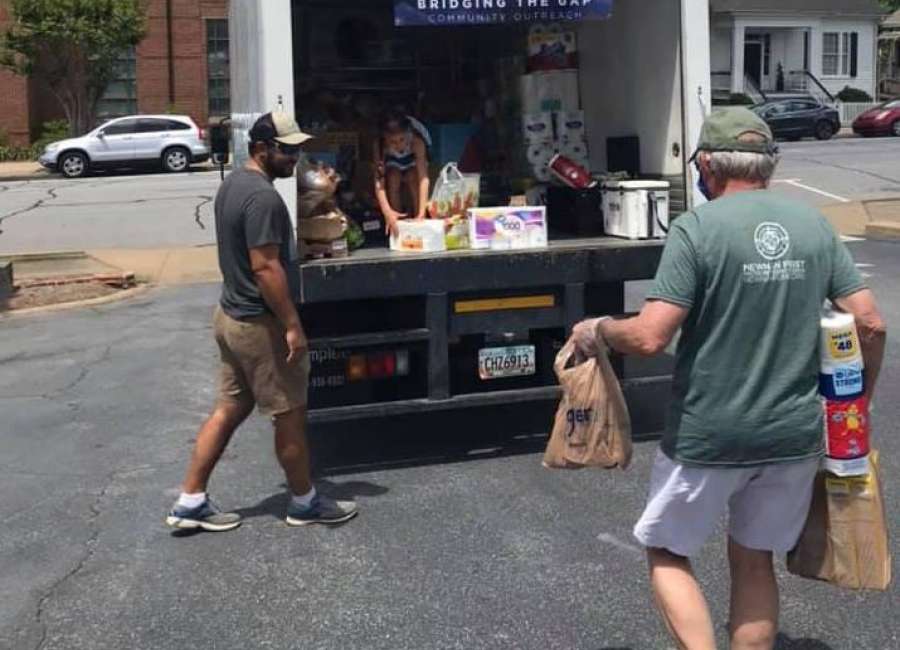 Last week's "drive-up food drive" for Bridging the Gap was a tremendous success, collecting nearly 3,000 pounds of food and $1,620 for the local ministry.
The food drive was organized by the missions committee at Newnan First United Methodist Church, and church members donned masks and gloves to unload donations from vehicles.
"There were a good number of people that were very generous, and through the kindness of their hearts donated food and essential supplies, and some even donated money," said Greg Oothoudt, missions committee chairperson for Newnan FUMC. The donations weighed in at 2,870 pounds.
"It was very gratifying to see — for the church, for the community, and especially for an organization like Bridging the Gap — to be able to support them and to be able to provide resources for them to help the community," Oothoudt said.
The event officially began at noon, but people started bringing items at about 11:30 a.m., Oothoudt said.
Oothoudt said volunteers really stepped up and made the event happen. "My hat is off to them – I just can't thank them enough," he said.
They are already thinking about doing the food drive again in a month or two, possibly in partnership with another church.
It was nice to be back on the church grounds and to see fellow church members, Oothoudt said. "You could see the smiles in the eyes, even if you couldn't see the smiles themselves," because people were wearing masks.
"It was a blessed time, it really was," he said. "It's really uplifting, there is no doubt about that."