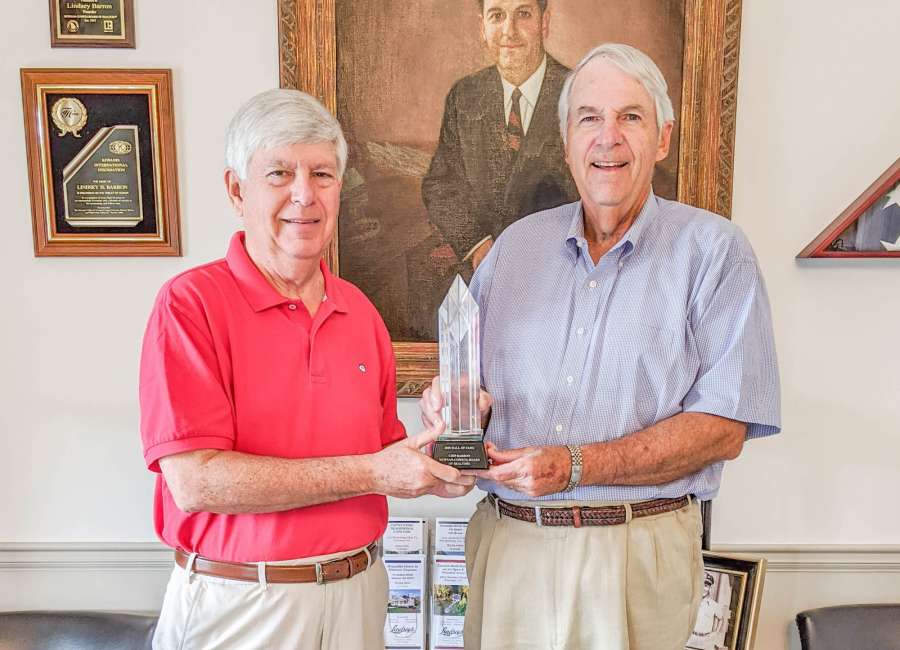 Local realtor and lifelong Cowetan, Chip Barron, recently received the Hall of Fame Award from the Newnan-Coweta Board of Realtors.
Barron became a Realtor in 1968, a member of the Georgia Bar in 1974, and then a broker in 1978. Along with his brother Frank, the 2019 Hall of Fame Recipient, the two have been co-owner of Lindsey's Inc. for over 40 years.
Chip said he was "surprised, humbled and honored" to receive the award and thanked his family for the support throughout the years.
"I am so happy to be in a family business with not only, Frank, but also my son, Tom Barron, and my nephew, Jess Barron," Chip said. "I am also very grateful to our office staff and all of our sales associates through all the years at Lindsey's."
Chip said it's been an honor to follow in his father's footsteps, Lindsey Barron, who taught his sons to run the business according to the Golden Rule.
"We strive to reach that goal every day," Chip said. "My mother, Genet Barron, and my dad taught Frank and me to get involved in our church and in the civic groups in our community so that we could give back to and help the people living here with us. The Lord has blessed us and watched over us through everything, both the good times and the difficult times."
"It has been a very fun ride that has never been boring, for sure," he continued. "Every day is a new adventure, and I look forward to many more years of service."