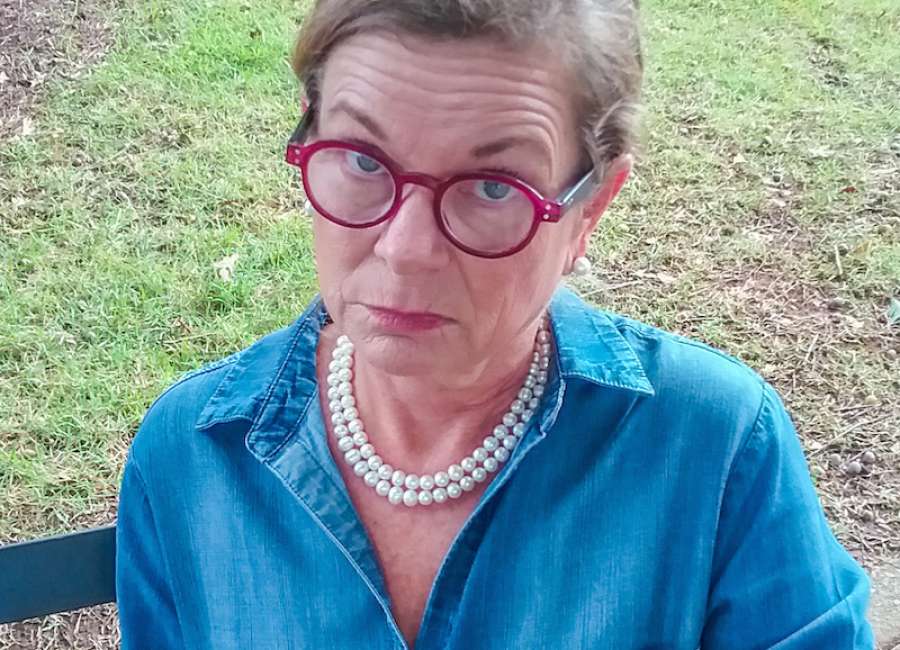 Dear Miss Pearl,
My Aunt Deitsi loved her red lipstick and I can't remember ever seeing her without it on. When she passed away, I jokingly told my Uncle that he should have a tube of lipstick etched on her headstone. Well dang if he didn't do it and now my Mama is put out with me!
I think it was a fabulous suggestion, and your Uncle obviously thought so, too. I would say that everyone who visits your Aunt's grave for years to come will smile when they see the lipstick. Your Mama is probably upset because she was thinking this would be a great idea but she was afraid to suggest it. Or maybe she is upset because she collects roosters. You might want to reassure her that you will NOT have a rooster carved on her headstone, but don't make any promises about not giving her some cemetery yard art!
Dear Miss Pearl,
I have had two phone interviews with a large construction company, and next week I have a video interview with the company's vice president and a project manager. Can I wear a golf shirt or should I wear a button down shirt?
Young man (or lady), you need to wear a business suit! You only get one chance to make a good first impression and you don't want to blow this opportunity by not looking professional. It doesn't matter if the two people interviewing you have on gym clothes — they already have a job! You need to let them know that you are taking this interview seriously, and I guarantee you they will appreciate your effort in dressing appropriately. Wearing the correct business attire will also tell them something very important; you were raised right! I bet your Mama told you to wear a suit, didn't she?
And Another Thing:
I feel badly that the graduates of 2020 are missing out on some exceptional commencement speeches, so I think it is my duty to share a few pearls of wisdom with them: 1) When you are out somewhere acting the fool, just know that your Mama WILL find out. 2) Don't be afraid to ask for help. You aren't expected to know everything, so don't act like you do. 3) If you borrow something from someone (car, money, clothes, fake ID, hammer, etc.), you need to return it before they have to ask you to. 4) Moisturize and exercise! 5) Your "privates" are not intended to be seen in public. Dress appropriately at all times. Yes, your Mama WILL find out if you are showing too much. 6) Using your manners IS important; regardless of what your friend group might think. 7) Old people are not nearly as lame as you think they are. 8) Don't be ashamed of your family — EVERYONE, and I mean EVERYONE, has crazy in theirs! 9) Be kind TO and thoughtful OF others. 10) There are only two kinds of people in this world: those who return their buggies and those who don't. Please don't make me call you out!
"Miss Pearl," aka Colleen Sprayberry, is one of Newnan's leading authorities on modern etiquette. She gladly lends her advice to everyone whether they want it or not, because, "After all, it's all about the children and setting a good example for them." Her videos are available on her Facebook page and YouTube channel. She can be reached at misspearl678@gmail.com .