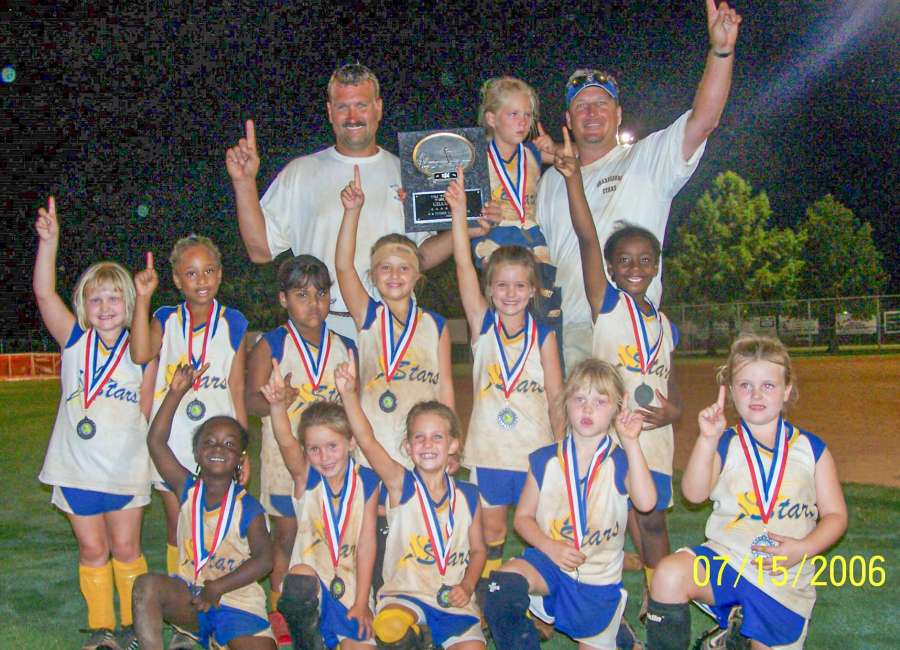 BY Rob Grubbs, special to The Newnan Times-Herald

The best sports stories are those that resonate with memories, they eloquently capture a moment and define excellence. On occasion, greatness redefines itself over time and the story grows, but that does not take away from the moment.
Such a story began July 15, 2006 on a sweltering evening in Cullman, Alabama. A girls' softball team from Sharpsburg, Georgia, was competing in a World Series tournament for 5- and 6-year-olds against a rival from North Alabama.
After a long day of competition in the summer heat, tempers were short and the girls were tired, but the tiny team from Sharpsburg prevailed and celebrated by falling asleep almost immediately afterward on their ride home.
That team originated from a friendship between Todd Scarbrough and Steve Lynch. Scarbrough grew up in Palmetto where he starred on the high school football team before going on to play at Georgia Southern, while Lynch had settled in McDonough and started selling big Caterpillar tractors after getting married.
Each had recently moved to the area and had young daughters; seeds were sown for a softball adventure and a lifetime bond between the two. The Sharpsburg Heat was born; no one knew this little group included some of the best female athletes in the country.
Fastpitch Comes of Age in Coweta County
Youth softball in Coweta County was on the rise. The players who roamed the youth softball diamonds in 2006 were like a who's who of collegiate stars for the years to come. Alison Owen, who is now the pitching coach at Georgia Tech, graduated from East Coweta in 2009 and went on to pitch for Georgia and Mississippi State. She ushered in the first wave that also included Northgate's Ansley Smith who ended up at Kentucky.
They were followed by Ebonee Echols from Northgate, Arden Jobe at Newnan and Katey Lynch and Shemiah Sanchez from East Coweta, all who went on to play big-time college softball. High school was still a long way off for the Sharpsburg Heat, but greatness was just around the corner. After that fateful night in Alabama, the team brought on additional talent and started to make noise with the established programs in the state, like the Georgia Impact, East Cobb Bullets and Atlanta Vipers.
The high-water mark came in 2010, when the little team from Sharpsburg knocked off those big-name programs to get the first berth to ASA Nationals that year, an almost unthinkable task.
The Unthinkable Happens
As usually happens in youth sports, a good thing does not last long as players go their own way. The Heat were no different as motives and aspirations changed, but the breakup was not filled with the usual drama. Even as the girls moved on, Scarbrough and Lynch kept the group closely connected. It was what they were best at.
However, no one could prepare for news that came in the fall of 2011. Steve Lynch was diagnosed with cancer and after a gallant fight, passed away in March 2012. He left behind his wife, Jan and two daughters, Katey and Kelley. Lynch was almost larger than life, a dedicated husband, father and friend who could defuse any situation and leave everyone laughing. His passing left a huge void.
Lynch's Legacy Continues to this Day
In his final days, Lynch's message to all the players was simple and profound: "Be a leader and not a follower." The girls took his words to heart and became leaders in high school and in their community, and they continue to do so to this day.
Hannah Scarbrough, Todd's daughter, went on to star at Newnan High School, where she graduated in 2017 and earned Coweta County offensive softball player of the year. She is currently a junior at West Georgia where she was named All-Gulf South Conference at the end of the 2019 season.
Chasidhe Godfrey switched over to basketball, where she made the All-County Team her senior year at Northgate High School. She is currently a junior on the Huntingdon College basketball team in Alabama.
The Groover twins, Kara and Karlee went into other sports as well after graduating from the Heritage School in 2017. Kara is a junior on the North Georgia basketball team and was just named to the conference all-tournament team.
Karlee is a defensive specialist on the Kennesaw State volleyball team, where she just finished the season ranked fifth in the conference in total digs.
Charla Echols graduated from Northgate in 2018 and just finished her sophomore year at the University of Florida where she led the Gators in batting average, home runs and RBI.
Kelley Lynch graduated from East Coweta in 2019 where she was named the Gatorade National Softball Player of the Year. She was named PAC-12 Freshman of the Week three times this season and was the first Husky player to ever hit multiple walk-off home runs in one season.
But the most incredible fact is that when USA softball named their 2019 Junior Team, two players from the Sharpsburg Heat made the roster, Echols and Lynch.
Statistics show that around 6 million girls play softball growing up, so the odds of making the U.S. National team are minuscule, but for two players from the same local youth team to make it would need a slide rule to calculate.
For his part, Scarbrough takes it all in stride. "Steve and I let the girls know early on that no matter what, we were there for them. Even to this day, if one of them called me and needed something, I would be right there for them. The bond that team had and still has is special."
Before the NCAA season was cruelly cut short this year, Florida and Washington had two of the best teams in the country. There could have potentially been a Sharpsburg Heat reunion on ESPN when Lynch and Echols faced each other on the biggest stage.
It could still happen in the next couple of years, and Scarbrough will be there, just like he was from the very beginning.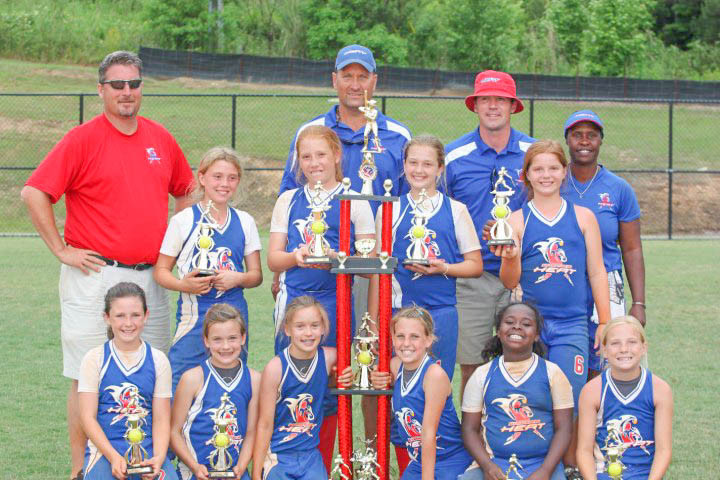 Karlee Groover 2nd on front row, Kara Groover 3rd on front row, Hannah Scarbrough 4th on front row, Charla Echols 5th on front row and Kelley Lynch last on front row. Coached by Steve Lynch, Todd Scarbrough, Ron Groover and Neicy Echols