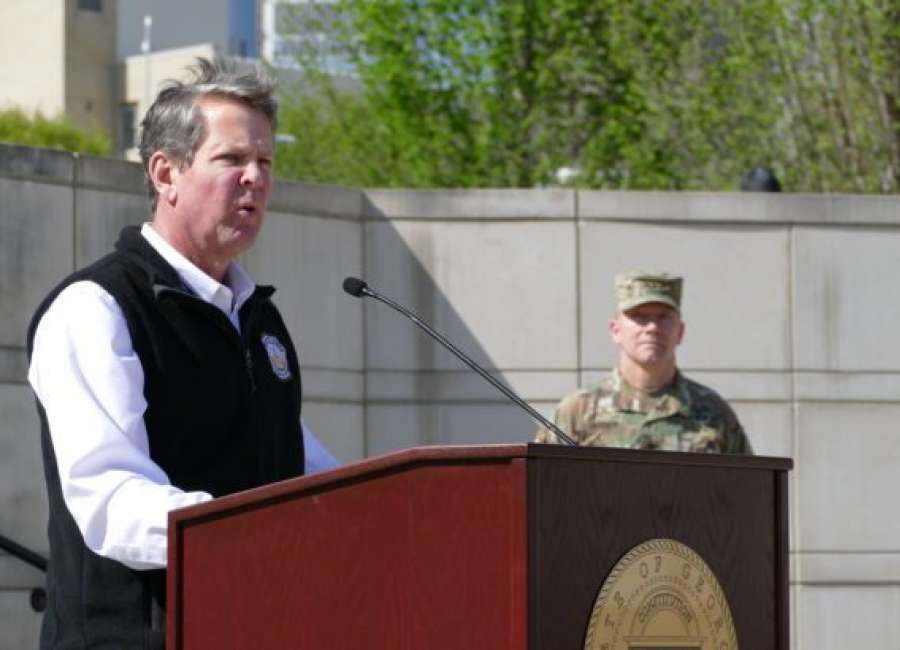 Georgia's shelter-in-place order, officially issued Thursday evening, will take effect at 6 p.m. Friday and last through 11:59 p.m. April 13, unless extended.

The order takes away the power of local governments to enforce their own ordinances to respond to COVID-19 if they vary in any way from the governor's order. It also rescinds an order issued March 23 that requires certain people at high risk to quarantine or shelter in place.
In short, the governor's order temporarily suspends all local ordinances.
That date coincides with the 30 day public health state of emergency issued by Gov. Brian Kemp. The Georgia General Assembly is set to meet April 14 to decide whether or not to extend Kemp's emergency powers.
Though the order allows most businesses to stay open, it does put in some requirements that businesses have to meet when it comes to the health and safety of their employees and customers.
Violation of the order is a misdemeanor, though the order states that officials enforcing the order "should take reasonable steps to provide notice prior to issuing a citation or making an arrest."
According to the guidance issued Thursday, only state law enforcement, such as the Georgia State Patrol, is currently authorized to enforce the order, though local law enforcement could be deputized to enforce it.
The order states that Georgia residents are required to shelter in place in their homes and take "every possible precaution to limit social interaction to prevent the spread or infection of COVID-19 to themselves or any other persons" unless they are: participating in essential services, performing necessary travel, engaged in or traveling to or from the performance of minimum basic operations for a business, nonprofit, or organization not classified as critical infrastructure, or are part of the workforce for critical infrastructure and are working or traveling to and from work.
Essential services are limited to obtaining necessary supplies and services for family and household members, engaging in activities essential for the health and safety of family or household members such as seeking medical, behavioral health or emergency services, and engaging in outdoor exercise activities as long as a minimum distance of 6 feet is maintained between all persons who are not occupants of the same household.
When obtaining essential services, it states preference should be given to online ordering, home delivery and curbside pickup services wherever possible as opposed to in-store shopping.
The order states that necessary travel is limited to travel required to conduct or participate in essential services, minimum basic operations or critical infrastructure.
Georgians required to shelter in place shall not receive visitors unless visitors are providing medical services, providing help or support to the person for activities of daily living, providing food and supplies, or visiting during end-of-life circumstances.
To the extent practical, visitors shall maintain a minimum distance of 6 feet. Visitors who are just delivering medication, supplies or other goods shall, to the extent practical, deliver items in a manner that does not require in-person contact.
Nothing in the order or guidance addresses child custody visitation. Friday morning, a spokesperson for the governor's office said that there are no explicit directives around child custody arrangements as long as everyone is abiding by social distancing. "They should of course comply with court directives," said Cody Hall.
Though the order says people should remain "within their homes or places of residence," that includes being outside on their own property, Hall said.
No business, corporation, organization or government shall allow more than 10 people to gather at a single location if they are required to be within 6 feet of each other, though that doesn't apply to critical infrastructure.
Guidance from the governor's office says that the operation of "critical infrastructure" shall not be impeded by county, municipal or local ordinance, but that any business or organization engaging in critical infrastructure shall "implement measures which mitigate the exposure and spread of COVID-19 among its workforce."
The guidance gives examples of 16 measures to do this, such as screening and evaluating workers who exhibit signs of illness, requiring workers who exhibit signs of illness to not report to work, providing personal protective equipment as appropriate, prohibiting group gatherings during working hours, permitting workers to take breaks in places where social distance is attainable, implementing teleworking for all possible workers, implementing staggered shifts, prohibiting handshaking and other unnecessary person-to-person contact, increasing sanitation, providing for alternative points of sale such as curb-side pickup or delivery, and suspending the use of PIN pads, credit card signature requirements, and the like.
Other businesses not specifically closed can carry on minimum basic operations, which the order states are limited to "the minimum necessary activities to maintain the value" of a business or organization, provide services, manage inventory, ensure security, process payroll and employee benefits, and related functions. That includes remaining open to the public, according to the order.
They also include the minimum necessary activities to allow employees or volunteers to work remotely or members or patrons being able to participate remotely, and instances where employees are working outdoors without regular contact with other persons, such as delivery services, contractors, landscape businesses and agriculture industry services.
Non-critical businesses carrying on minimum basic operations are required to take 20 measures to mitigate exposure and spread of COVID-19, including screening all workers who evaluate signs of illness, requiring those with signs of illness to not report to work, implementing teleworking and staggered shifts for "all possible workers," holding all meetings and conferences virtually wherever possible, providing personal protective equipment when appropriate, discouraging workers from using each other's tools, offices and the like, increasing physical space between workers and customers and increasing physical space between workers' worksites to at least 6 feet.
The Georgia Department of Economic Development is authorized to issue guidance to businesses, organizations or trade groups regarding their status as critical infrastructure.
The order requires all restaurants and private social clubs to cease providing dine-in services, and closes all gyms, fitness centers, bowling alleys, theaters, performance venues, amusement rides, body art studios, estheticians, hair designers and any other beauty shop or salon, including home beautify shops, massage therapists, and bars. The order doesn't mention nail salons, a business that was closed by local ordinances.
The federal list of what qualifies as critical infrastructure is extensive and includes a number of industries:
• Healthcare and public health personnel, those who manufacture health-related products including personal protective equipment, pharmacies and other health and medical-related industries, including transportation and logistics to support their supply chain.
• Law enforcement, public safety and military.
• Food and agriculture including grocery stores, convenience stores and carry-out restaurants, farms, food processing and their associated supply chains.
• Energy-related industries and utilities including gasoline, electricity, petroleum and natural gas, water and wastewater, dam operation, telecommunications, information technology and public works, solid waste handling and animal shelters.
• Mass transit and other forms of transportation such as taxis, transportation supporting critical infrastructure, automotive repair and maintenance, airlines, and vehicle leasing.
• Warehouse operations critical for business operations, communications, data centers, workers to ensure continuity of building functions.
• Critical manufacturing including chemicals, mining, wood products, and metals.
• Government operations including elections officials, those supporting the court system, the Census, customs and immigration, educators.
• Property management, rentals, social services for needy groups, banks and financial services
• News and media, weather forecasting.
• Laundry facilities, dry cleaning, and workers who produce hygiene products.

A handout from the DPH has been prepared to clarify what will be allowed to continue during the shelter-in-place period.

A complete listing of critical infrastructure can be found at https://www.cisa.gov/identifyi...
You can view the complete executive order, as well as other executive orders, at https://gov.georgia.gov/execut...