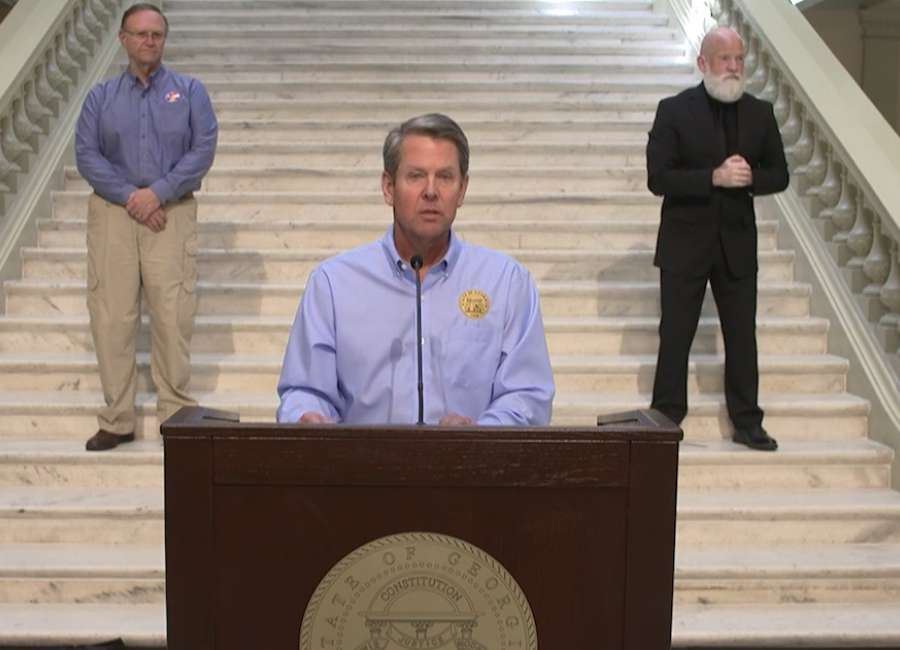 Georgia's shelter-in-place order has been extended through the end of April, and the public health state of emergency will be extended another month, to May 13.
Gov. Brian Kemp, along with Lt. Gov. Geoff Duncan and Speaker of the House David Ralston, announced the extensions Wednesday.
The current public health state of emergency and statewide shelter-in-place order were both set to expire April 13.
A statewide judicial emergency, which was also set to expire April 13, was extended by Chief Justice Harold Melton on Monday.
Kemp also imposed new restrictions on senior care facilities. Visitors and non-essential workers are prohibited except in compassionate care situations, Kemp said. All facilities must provide in-room dining and all activities must be canceled.
Kemp also announced a ban on short-term vacation rentals through April 30.
The governor's issuance of a shelter-in-place order last week reopened Georgia beaches, which had been closed by local authorities.
Kemp said he has heard concerns from local leaders and others who "fear that our state is becoming a vacation destination." The order doesn't affect hotels, campgrounds or purely commercial transactions, but primarily affects rentals through platforms such as Air BnB and VRBO. It doesn't apply to rentals to be used as someone's primary residence.
Last month, Kemp called the Georgia General Assembly to a special session to approve legislation on emergency powers, and the legislation passed gave the legislature the power to limit his emergency powers. A tentative date of April 15 was set for the legislature to meet again.
But, according to the Wednesday morning press release, that won't be happening. It states that Speaker of the House David Ralston and Lt. Gov. Geoff Duncan, who serves as president of the Senate, agree that the public health emergency should be renewed and won't be requesting the legislative session.
State Rep. Philip Singleton, R-Sharpsburg, said he has some concerns about the special session being canceled.
"There is no question we are in an unprecedented time in Georgia history and the opinions on how to best respond to the pandemic are as varied as the lives that are being forever changed in its wake," Singleton said. "There is no doubt that I am concerned by the lack of constitutional balance here in Georgia as the leadership of the Senate and House have canceled the special session on April 15 and thereby granted the governor unchecked ability to renew his own emergency powers.
"It is the proper role of the general assembly to provide a check to executive power," Singleton said. "That being said, I am proud to live in a state with such strong conservative leaders who are working every day to balance the general welfare of its citizens and the blessings of liberty. I believe that Gov. Kemp is taking a principled and measured approach to combating this pandemic, and I will continue to do everything I possibly can to help my neighbors here in Coweta and Fayette counties as we weather this storm."
While having the General Assembly gather together at the capitol wouldn't be a safe proposition, Singleton said that there are other options to allow legislators to vote, such as voting remotely via Skype, going to the capitol in small groups or voting over the phone.
"We expect Georgians to adapt, yet we failed to do our job in a manner that would protect your constitutional government," he said. Singleton said he has no doubt the legislature would have voted to extend the emergency powers, but "it is still wrong that we failed to keep the authority in the hands of the people's house."
State Rep. Bob Trammell, D-Luthersville, is the House Minority Leader.
"The state of emergency extension reflects the seriousness of the COVID-19 situation that we continue to face here in Georgia," Trammell said. "I would continue to urge people to follow the directives of the Governor's executive order, stay at home and limit travel in order to combat the spread of this virus as aggressively as possible. Doing so will save lives."