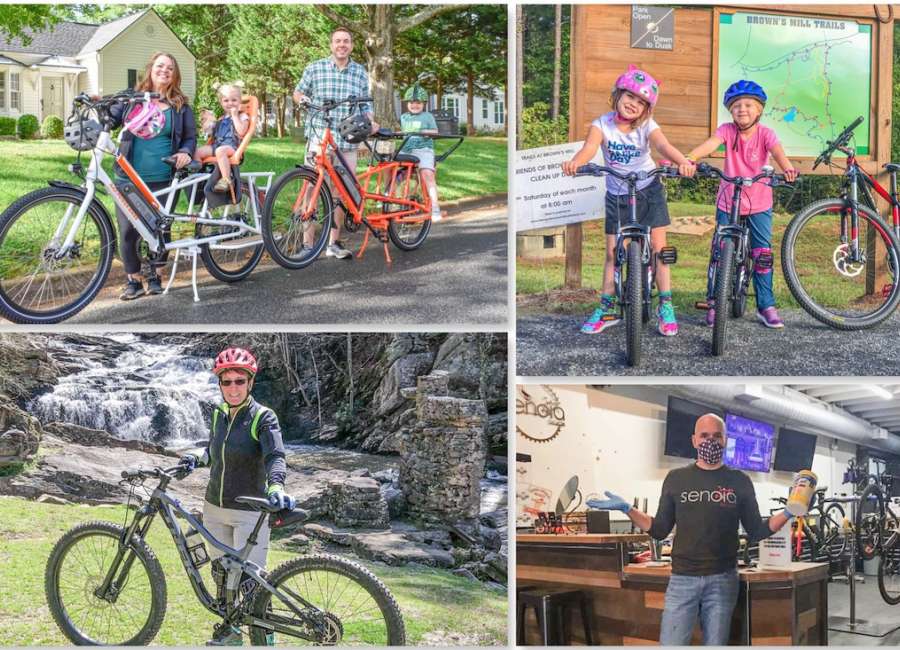 In an attempt to beat the blues during the quarantine spring, Cowetans are turning to the bike as a way to get some fresh air and exercise.
Many have been visiting local bike shops to get their old bikes tuned up, or purchase new ones.
Chris Doane, president of Bike Coweta, said the COVID-19 virus had had a positive effect on local cycling and getting people outside, citing the increased use of bike trails at Brown's Mill and the LINC.
"With idle time on hand, the number of Cowetans enjoying local streets, sidewalks and trails is on the increase," Doane said. "Perhaps some folks are feeling it safer to ride on the road as well, given the decrease in auto traffic. It's a great thing to see."
Good for Business
Despite the adverse conditions for retail downtown, Ian Buchanan of Atlanta Trek Newnan said his shop has been "crazy busy" recently as people look for something to do during the COVID-19 pandemic.
He said they have been especially busy with repairs. Buchanan said March and April are usually a busy time of year as people start biking again in the spring.
Buchanan said the store is busier this spring than it was last spring, and they've mainly had families interested in purchasing bikes.
Trek Newnan is still open, but they are taking measures to limit contact and practice social distancing. The store is scheduling appointments for those who want to go in and try a bike, Buchanan said.
"Buying a bike is like buying a car," Buchanan said. "You want to buy it in person and be able to talk to someone about it."
For repairs, Trek Newnan is operating a drive-thru format in their parking lot, where people can drop off and pick up their bikes without having to enter the store.
Across the county, Senoia Bike Shop is operating similarly, and they are utilizing a no-contact policy for people who need to drop off and pick up bikes to be repaired. They are still letting people try bikes, but only one at a time.
Carter Schmeck of the Senoia Bike Shop said at the beginning of the COVID-19 pandemic, many people brought their bikes in to be fixed. He said customers wanted to get ahead of a possible stay-at-home order.
When the schools started closing, Schmeck said they then had a lot of parents coming in to buy and have kids' bikes repaired.
Schmeck said spring is their busy season, and they prepared for it all winter, including moving shop locations and expanding their product line for the spring push.
While the volume of business at the Senoia Bike Shop has increased, Schmeck said they've had more repairs than sales. He said he can tell that people are more careful about spending money, and they're opting to get older bikes fixed instead of buying new ones.
"What I've found is that people need to exercise, and they need to do it now," he said. "We're working extra to cover the load so people can get their bikes."
Good for People
While thoughts of cycling may conjure up images of men and women in spandex navigating the back roads of Coweta, the pursuit is one open to all ages and demographics.
Throughout Newnan neighborhoods, kids can be seen riding their bikes through the streets while others are heading off the beaten path to fulfill their need for adventure.
At age 7, Bella and Presleigh Hand may be some of the youngest cyclists you might see riding the trails of several local parks.
Their father, Brandon, said he got them started riding bikes less than a year ago. After practicing in a nearby parking lot, the girls and their dad would spend evenings riding around downtown. One of their favorite activities, according to Brandon, was riding their bikes to dinner at the Redneck Gourmet on the Court Square.
And now that Brandon's parents have moved into town, his family finds itself riding bikes over to their house most evenings.
After hearing about the riding trails at Brown's Mill Battlefield, the Hand family immediately fell in love with trail riding. Not only does it provide good fun and exercise, but it also serves as a great bonding experience.
Bella likes riding at Chattahoochee Bend, while Presleigh prefers Brown's Mill, but they both love the hilly terrain that allows for lots of up and down riding.
"If we see something while riding like a bug, leaf or rock, we'll stop and talk about it," Brandon said. "We may venture into the woods or play in the creek. Personally, I believe Brown's Mill is a very underutilized resource we have outside of town. It's a great space to get out, enjoy the woods and explore."
Another Cowetan you may see on the trail is Jane Brady, who after moving to the United States from England in 2000, was given a new mountain bike by her husband, Mark.
For a while, the pair traveled to Peachtree City to ride the paths, but Jane said she didn't immediately fall in love with cycling.
"I did it for exercise, but never really enjoyed it and only did it for about a year," she said.
But after a bike ride through Callaway Gardens, she found a new love for cycling and soon the couple began riding the trails of Chattahoochee Bend and Cochran Mill.
With a full-suspension mountain bike, Jane said she's finally discovered her true passion.
"I love trail riding," she said. "I'm so excited about the addition of trails at Brown's Mill and the LINC Rollercoaster."
Like many families, Kevin and Kathryn Allen suddenly found themselves with time on their hands and a desire to keep active during the quarantine.
"We've wanted bikes for years, but with a 2- and a 5-year-old, it's been a challenge," Kathryn said. "We've always been an active family, but we wanted to try something new."
The Allen's purchased two e-bikes several weeks ago after seeing how much Kathryn's father has enjoyed his. The Allens specifically chose an electric cargo bike, which allows their kids to accompany them across town, "and hopefully in August when school starts back," Kathryn said.
As someone battling POTS disease, Kathryn said the e-bike has proven to be a very special thing for her.
POTS is a malfunction of the autonomic nervous system, which controls the involuntary functions of the body, such as heart rate, blood pressure, digestion, breathing, blinking and urination. When a person typically stands up, their heart rate goes up by 10 to 15 beats per minute to increase blood pressure and blood flow before stabilizing.
With POTS, the heart rate jumps up by 30 beats per minute, sometimes by as much as 60 bpm, and the brain jumps in to attempt to shut it down, which makes the person feel faint. Kathryn has been working with a naturopath and says the e-bike has also allowed her the ability to exercise without worry.
"It's been a crazy journey, but this is something I can do that allows me to control my heart rate," she said.
Getting out there
There are plenty of local opportunities to go on a bike ride for those who are looking to get out of the house.
Although all of the parks, playgrounds and dog parks in Newnan's city limits are closed, sidewalk and path systems, including the LINC, are still open as long as people comply with social distancing.
The LINC, a 12-foot-wide paved path, is a venue for walking, running, bicycling and other non-motorized use.
The second phase of the LINC is already underway, which will connect the current terminus of Phase 1 to downtown Newnan, adding 3.4 miles to the current 1.4 miles of trail, and includes the bridge over Interstate 85.
"This is a pivotal addition to the LINC," said Kim Learnard, director of Friends of LINC, Inc. "The bridge over I-85 will connect east and west hemispheres, and lend visibility and excitement to the entire project."
Several other state parks, including Chattahoochee Bend State Park, remain open as well. Visitor's centers and museums at the parks are closed, and users must maintain social distancing, according to gastateparks.org .
For ambitious riders, Bike Coweta has maps of different cycling routes in the county on its website, bikecoweta.com .