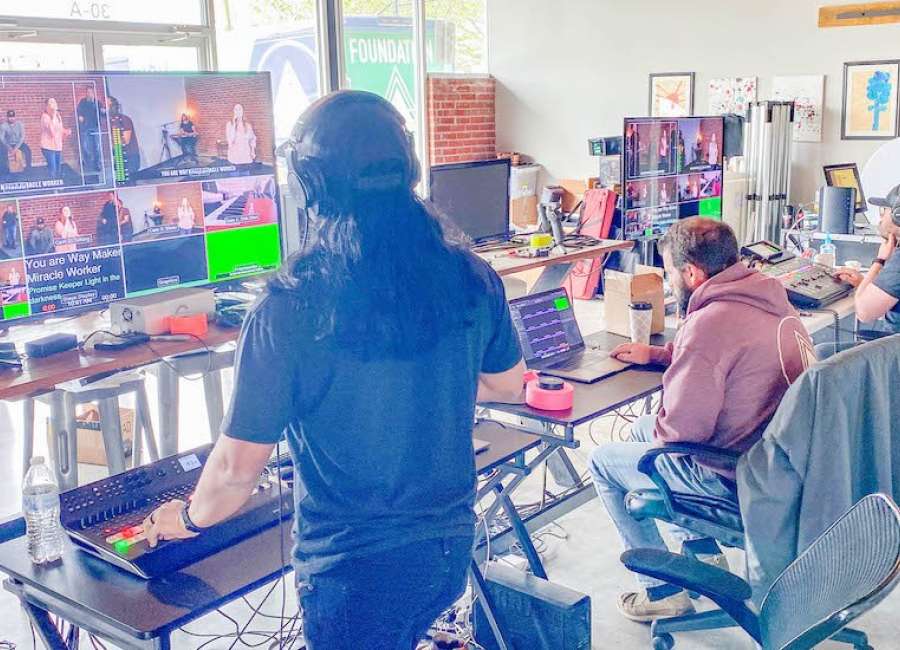 As Coweta grows accustomed to social distancing and quarantining during the COVID-19 pandemic, churches are continuing to evolve in order to serve their congregations.

With Holy Week in full swing and Easter fast approaching, many pastors are bearing the brunt of not only preparing their sermons for an online-only audience, but continuing to deal with the day-to-day business of their churches.
Most local churches have learned to adapt fast in order to reach their flock – live streaming Sunday services and social media interactions have helped keep members connected.
Dr. Jimmy Patterson, the pastor of First Baptist Newnan, said the process has been challenging and rewarding. By live streaming worship services, Patterson said it's helped expand his normal audience.
"Based on the report we get from our online provider, we have had over 1,200 people worship with us in a single service," he said. "On one Sunday, we had viewers all the way from the state of Washington to Florida, from Los Angeles to North Carolina, from Texas to Mississippi, and from Kentucky to numerous places around Georgia."
Patterson said a major challenge is not having the human touch with their people, but told online worshippers that their virtual presence reminds him of Paul's heartfelt words to the Colossian believers: "For though I am absent in the flesh, yet I am with you in spirit…"
"There are people who would never step foot in our church, but would engage us behind the 'safety' of their own computer screen or TV," Patterson said. "That may open the door for them to be with us when this crisis has passed."
For the congregation of Foundation Church, they're used to doing things a little differently. However, they also had to make the technological leap to reach their congregation. In the past, the church would video its Sunday message and release it several days later.
On Friday, March 13, Pastor Clint Nolder and the church made the decision to figure out live streaming before their Sunday service.
"Christian Alexander (production and media director for the church) led the team and did an incredible job," Nolder said. "We went from taking 48 hours to put together a pre-recorded message to live-streaming and creating content for kids for Monday through Thursday."
Nolder said one of the main responsibilities of their church is to serve the community and those looking for hope in an upside-down world.
"Though we are restricted in how we would normally accomplish this, the people in our city haven't gone anywhere, so our responsibility remains the same," he said. "It is our burden to continue to discover ways to truly serve."
Technological leaps aside, many leaders also expressed the stress of leading a congregation during such a turbulent period.
As the U.S. hasn't grappled with such a situation in nearly 100 years, pastors are working to keep members at peace while maintaining their own personal well-being.
Pastor Matt Sapp from Central Baptist Church said the biggest role the church ministry is facing is managing the anxiety of the congregation and the community.
"It's okay to be anxious or afraid … it's okay to feel distracted and take a break from constant productivity," he said. "Everyone else is feeling the same things you are feeling."
Like most churches, Central Baptist is utilizing online resources to keep the connection.

Central features three church-wide opportunities for virtual connection each week: including mid-week music from the sanctuary, a Wednesday video devotional and traditional Sunday virtual worship.
Online Bible studies and email communications for adult ministries and online group activities for children and youth are being utilized, while Sapp maintains phone contact for the day-to-day business of the church, which includes checking in with people who might be having a hard time.
Sapp said he's found himself working to control his own anxiety about what's happening while reassuring church members that they will emerge from the other side intact.
"If there's ever been a time for ministers to encourage our congregations to slow down and focus on the most important things — family, the good of the community, love of God, love of neighbor — it's now."
At Newnan Presbyterian, David Jones says the congregation has risen to the challenge. Like other churches, Jones said it was a matter of scrambling, adapting and proceeding. But the emotions of leading a church in crisis are taking a toll.
"This is the most stressed I've ever been in my calling as a minister," he said. "But Christian hope is a sense of expectant waiting – not a wish. We know God holds our future. We may not know what it is, but knowing that he holds it, it's how we move forward."
After attending an online conference with other pastors from around the country, Jones cited Dr. Dan Bagby from River Church Road in Richmond, Virginia, who passed on some advice that hit home.
"He said, 'Ministers are the stewards of other people's anxieties right now.' While I have my own, my role is to help others navigate through this," Jones said.