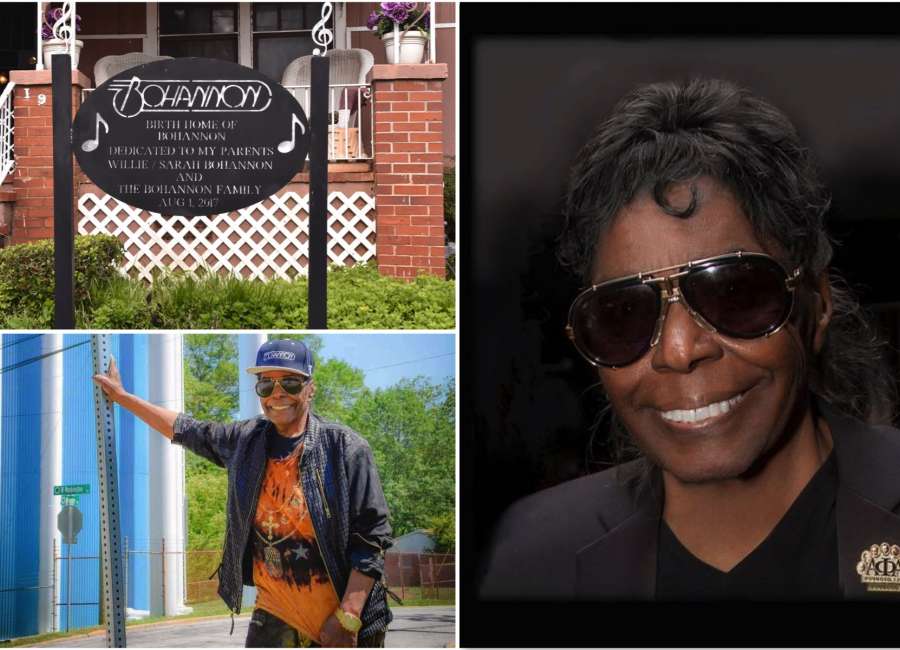 Hamilton Bohannon, the man whose drum style changed the face of dance music around the world, passed away Friday at the age of 78.

No official cause of death has been released and a public celebration will be scheduled in the future, according to family members.
He is survived by son Bohannon II and daughter April, born to his late wife Andrea.
In a discography ranging from 1973 to 1990, Bohannon nearly two dozen albums. As a pioneer of disco and funk, his sounds have been sampled by the likes of Jay Z, Snoop Dogg, Craig Mack and Kool G Rap.
In February 2020, Bohannon released his last single – "Bohannon Combination Gumbo Mix".
In 2019, Bohannon appeared on the soundtrack of "Just Mercy" – an award-winning film which tells the true story of Walter McMillian who appeals his murder conviction with the help of young defense attorney, Bryan Stevenson.
Bohannon's 1973 track "Save Their Souls" sets the scene for a shot of Foxx inside his prison cell. The song, recorded in Chicago, features the same background singers used by Jackie Wilson and Chi-Lites.
Last spring, Bohannon performed his last public concert at Morehouse College with his band and Ray Parker Jr. All proceeds went to Clark Atlanta and Morehouse students. Only a few days later, his daughter, April, was married.
Representatives from the National Museum of African American Music in Nashville, Tennessee, will be introducing several personal items from Bohannon's collection as they prepare to open this summer.
The 56,000-square-foot facility aims to share the history of more than 50 music genres and subgenres and aims to tell a unique narrative through the lens of black music.
Bohannon was also named an honorary Atlanta Chapter board member of the National Black Radio Hall of Fame and will also appear in an upcoming documentary this summer about Ray Parker Jr.. set to coincide with the release of "Ghostbusters 2020."
And almost 5,000 miles from home, The "Bohannon Soul Club" has opened in Berlin. The club's playlist features rare groove, funk, hip-hop, reggae, disco, house and everything in between.
"I have no idea how that came about," Bohannon laughed. "It just does. If they want to find you, they find you."
In 2017, Bohannon was honored by the city of Newnan when they renamed the quarter-mile stretch of road where he grew up "Hamilton Bohannon Drive."
Rocky Hill was the neighborhood where a young Bohannon found the formative experiences that shaped him into a globetrotting musical pioneer who helped shape the sound of soul, funk and R&B for over 50 years.
Growing Up
Although Bohannon moved from Newnan at an early age, the lessons he learned as a young boy stayed with him for his entire life.
In a 2017 interview, Bohannon recalled living across the street from an elderly woman who was entirely unable to take care of herself.
The woman had hands "like claws" that were permanently clamped shut, and Bohannon's daily routine included lighting a lamp for her before she went to bed and blowing it out the next morning.
On his way to school, he stopped by to feed her and move her from her bed to a chair where she sat all day, staring outside onto Peachtree Street.
When he came home from school, he stopped by to make sure she was fed and taken care of and would talk about the world outside.
"I did this for a number of years. It was all part of my day-to-day life as a child," he recalled. "But I enjoyed doing things like that. It was never a hassle. That sort of spirit came from God. I think that's where my desire to help people came from."
Growing up in Newnan in the late '40s and early '50s wasn't exactly a fertile ground for any aspiring musician. Bohannon's father, Willie, ran a barber shop that was adjacent to a small cafe also run by the family.
Bohannon said music was never a staple of their household, but at the cafe, the sounds coming from the radio would hypnotize the young boy and planted the seeds for his calling.
"I would put my ear to the speaker and dance, dance, dance," he said.
The sounds coming from WAOK in Atlanta fed Bohannon's passion for music with the latest hits from Johnny Ace, Etta James, Ray Charles and The Clovers.
In a town the size of Newnan in the 1950s, there were few working musicians that Bohannon could look to for inspiration or guidance, so he began cutting his own path at an early age.
Bohannon fell in love with drums after watching The Bobcats – a Dixieland jazz group with members from the Bob Crosby Orchestra – on television.
"The way that he played the drums, that was it for me," he said. "That's what I wanted to do."
In the afternoons, young Bohannon watched soap operas with his mother. When it was time to get dinner ready, she asked her son to keep watching and let her know how things ended up.
As soon as she left the room, Bohannon took out his handmade drum sticks and set up a makeshift drum kit composed of books on a dresser. When she returned to the room, Bohannon had to explain the new dents in the wood.
"I told her I had no idea what she was talking about," he laughed.
Despite the obvious repercussions of encouraging a young boy with a love for drumming on things, Bohannon said his family fed his passion for percussion. His father purchased a drum kit for his son and even allowed him to practice after hours inside the family barber shop.
His newfound love for drumming was not to be a passing fancy. While in elementary school, Bohannon soon found himself playing with the high school band.
By the time he was in seventh grade, he formed his own group – the Bob Dads. Dressed to the nines, the group looked as sharp as they sounded. Anything that came across the WAOK airwaves, the Bob Dads learned and performed for anyone willing to listen.
"If you wanted to hear hit records, that's what we did," he said. "On Friday night, we played for the white kids at the Carnegie, but Saturday nights were for the black kids at Pinson Street Elementary School on Savannah Street."
To Atlanta
After graduating from high school, things became a little more serious for the young musician. Heading to Clark College on a music scholarship, Bohannon eventually organized a band in Atlanta that played for colleges and local dances in the city.
Eventually, the group became the house band at The Royal Peacock – a venue that hosted a veritable "who's who" of American blues and R&B in the '50s and '60s.
Hank Moore, the former bandleader for the famous Hank Ballard and the Midnighters, became the bandleader at the club and hired Bohannon for his drummer. All of the top R&B artists performed at The Royal Peacock, such as Jackie Wilson, Sam Cooke, B.B. King, Dinah Washington, Little Richard, Jerry Butler, Patti LaBelle and the Blue Bells, and Gladys Knight and the Pips.
While working at The Peacock, Bohannon became friends with a young guitarist from Seattle – Jimi Hendrix. Hendrix was ending his tenure as a guitarist with the Isley Brothers and began working with Bohannon at the club.
Gorgeous George, the Atlanta disc jockey, was the emcee for most of the shows at the club and was allegedly the reason Hendrix wound up with Little Richard.
"Little Richard had a tour of England planned and was in search of a guitarist, so he came in the club, heard Jimi, and offered him the job on the spot," Bohannon recalled. "But Jimi didn't wanna go, he really didn't. But Little Richard implored George to talk him into going. Jimi eventually agreed, did that tour, and that's how the whole thing started."
After graduating from Clark Atlanta, Bohannon wound up teaching school in LaGrange, but kept playing five nights a week at The Peacock. Watching his son burning the candle at both ends, Willie told him to pick one or the other – teaching or drumming.
One morning while trying to get to work in a rush, Bohannon was involved in a serious car crash that destroyed his right foot.
"I'll never forget – there was this guy, he was white, and he put me in his pickup truck and drove me to a hospital," he recalled. "He knew it was bad, and kept telling me to stay awake, even though it kept going black all around me."
The accident forced Bohannon to take some time off and also changed the way he played drums. While right-handed drummers use their right foot for the bass drum, Bohannon was now forced to use his left foot.
During the interim, he went on the road with Gorgeous George who was acting as the emcee on the Jackie Wilson Show tour. In Louisville, Kentucky, Bohannon recalled a young Stevie Wonder practicing his piano in the afternoon before the show that evening. The duo hit it off, and Bohannon became Wonder's full-time drummer.
When the tour ended, Bohannon was given a choice – to return to Detroit with Wonder, or head back home to his family in Newnan. He flew home, but didn't stay very long.
To Detroit
"As soon as I got home, the phone rang and it was Stevie," Bohannon recalled. "He begged me to come up there and play. My mom said you can either get back to teaching school, or get to Detroit. So I packed my bags and went north."
However, Bohannon needed a place to stay. Wonder promised Bohannon he could stay at his mother's house.
"I rolled up to his house in a taxi and his momma said, 'Who are you, why do you have that suitcase, and where is that cab going?'" he recalled. "She put me out the next day!"
Bohannon eventually found a place to stay with a nearby cousin and began his tenure with Motown Records, who put him on salary as a touring drummer.
When he wasn't on the road with Wonder, he spent his time touring with acts like Marvin Gaye, The Four Tops and the Marvelettes. After several years of being a road drummer, Bohannon went to Maurice King and asked to audition as band leader. King accepted the proposal and sent Bohannon scrambling.
"I got in my station wagon, went to Atlanta to pick up my group, which included two white soldiers who had to be back at Ft. Bragg in 48 hours," he said. "We drove to Detroit, passed the audition, then drove them back to Atlanta and then I drove back to Detroit."
From 1967 to 1972, Bohannon stayed on the road with Motown's top acts. Working with Diana Ross and the Supremes, Bohannon mused, "I've never been to heaven, but I bet that's pretty close."
When Berry Gordy moved Motown to Los Angeles in 1972, Bohannon remained in the Motor City and went back to school once again as a teacher. His routine was similar to his days in Atlanta, but now his evenings were spent at the legendary 20 Grand Club as the bandleader.
Playing in his group was a young Ray Parker Jr., who later went on to worldwide success with the "Ghostbusters" theme in 1984.
At Parker's house, a small four-track recording studio was set up that allowed Bohannon to put his musical ideas to tape. Once completed, he shopped the songs around until Brunswick picked him up as an artist in 1973, and eventually released his debut album, "Stop and Go."
It was a big leap from stage to studio, but Bohannon said the idea of being a solo artist and producer came from Renaldo "Obie" Benson from The Four Tops.
"He kept telling me that I was born to be a producer and kept on me about it," he recalled.
In the 1970s, many recording artists began using the recording studio almost as an instrument – spending hours upon hours exploring new sonic possibilities and sounds. For Bohannon, the recording studio was a place where things simply got done.
"It's already set in my mind, so once we get to the studio, there's no second-guessing – only action," he said. "We recorded the first album in just 13 hours."
Following the release of "South Africa Man" in 1974, Bohannon was well on his way as a successful solo artist. Bohannon said the idea behind the song came from his friend Marvin Gaye who inspired the lyrics.
"He talked about it all the time," he said. "Marvin was incredibly passionate about that sort of thing and it inspired me."
Many credit Bohannon with the advent of disco music. Even as a drummer surrounded by the likes of Elvin Smith and other trailblazers, Bohannon's vision for his own brand of music is predicated on the "four-on-the-floor" beat – his way of keeping the listener on point … and happy.
"There are two lanes of music, and the 'four-on-the-floor' is the line that keeps them together," he said. "They all explore different patterns, but the foundation is that beat. Even a deaf man can feel that vibration."
Coming Home
With his newfound success as a solo artist, Bohannon found himself in high demand on the road and in the studio. However, the need to create a balanced life for his own family found him going off the road permanently by the early 1980s.
"I didn't think it was fair for my wife to be home alone raising a family," he said. "I had my money from publishing and writing, so there was security in that."
In 1976, he paid cash for his house in College Park where he raised his family – son Bohannon II and daughter April. His wife, Andrea, passed away several years ago.
After being asked to do a demonstration about hip-hop at the Berklee College of Music in Boston, he raised the ante and arranged a successful meeting between the president of Clark Atlanta and Berklee.
"The idea being that the two schools would merge ideas," he said.
During his career, Bohannon kept his ear toward the needs of his community – purchasing Christmas gifts for low-income families, buying new sound equipment for his church and giving personal assistance to Cowetans in need and donations to local organizations.
"I've shared my blessings and I still do," he said. "Seventy-five percent of my earnings are shared, and that's the truth. To tithe means to give your treasure, talent and time. That's how I've lived my life."
To celebrate his 50th year in music in 2015, members of the city of Newnan began looking for a way to honor Bohannon.
"They asked about renaming the street, and I was blown away," he said. "But I give thanks to those who still live on that street and allowed this to happen. It means the world to me."
"The street where I was born, that same dirt street where my parents worked so hard for us – it's incredible. It's a very sacred thing."