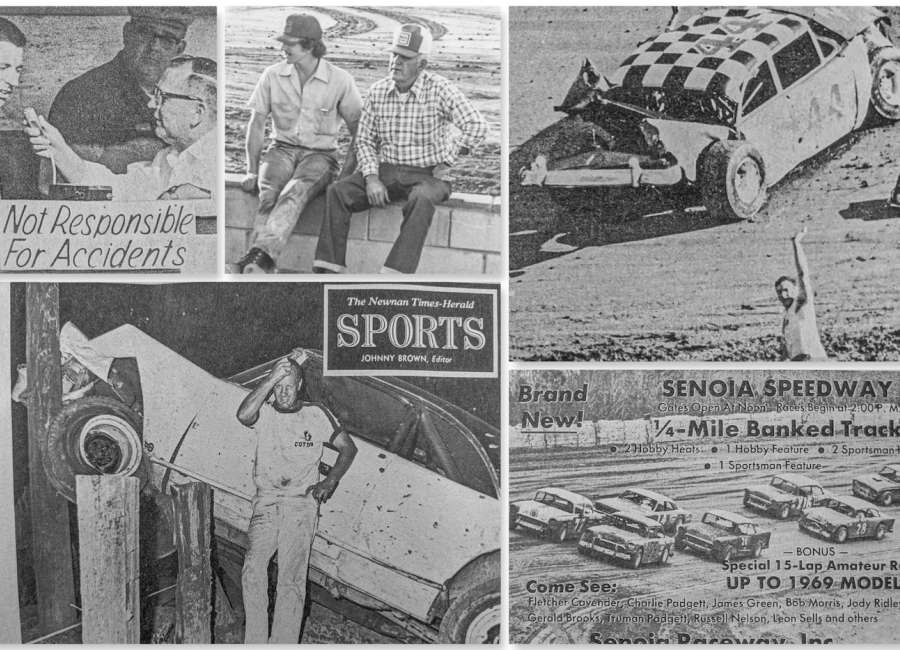 By Rob Grubbs - Special to The Newnan Times-Herald

Ever since the automobile started mass-production in 1913, cars became synonymous with control and freedom.
The open road invited a nation to journey out and experience the countryside as never before. Soon, the passion evolved into more than just where to go, but how fast we can get there.
Speed became a measuring tool and in 1948 when Bill France organized competition and founded the National Association for Stock Car Auto Racing, motorsport's preeminent stock-car racing organization.
Atlanta had a strong racing reputation; Lakewood Speedway opened 1915 and the Peach Bowl track in the downtown area was added in 1949. A generation of drivers developed loyal fan bases and the sport grew rapidly.
Dirt racetracks popped up across the state to welcome those crowds every weekend. Coweta Country joined in a big way with two facilities which produced a long list of hall-of-fame drivers and memories that get better over time.
Lee Lassetter puts Coweta on the racing map
In the mid-60s, the leadership of Coweta County searched for ways to generate tourism to the community. Dunaway Gardens was the top draw and still retains the same elegance today. But Lee Lassetter, who owned property off Corinth Road, had a bigger plan.
His vision for Coweta Raceway included fans coming to Newnan from all over Georgia on Saturday nights to witness hard-nosed racing firsthand. In 1964, he began the earthmoving process that formed a ¼ mile racing oval. His hard work paid dividends immediately.
In the track's first year of competition in 1966, crowds of 3,000 per night were normal, and on July 4, 1967, 6,500 showed up for Lassetter's masterpiece to celebrate the holiday.
Auto tags were observed that day from as far away Rome, Chattanooga, Columbus and Athens. Instead of the local drivers going to Anniston, Alabama to race, they now had a first-class facility right here in Newnan.
The early races were dominated by Newnan's own Fletcher Cavender, Bill Clanton from Riverdale and Bob Morris, who won the 1966 Late Model Championship. As the season progressed, Lasseter continued to dodge rainouts and tinker with the lighting.
The first night race was July 9, 1966, which Morris won after a late duel with Charles Stone and Truman Padgett. Night racing proved relief from the Georgia heat and also helped with the dust generated from the racing action.
Today, the track is designed for go-karts, but the original concrete seating area and all those memories still reside.
Hence Pollard doubles down
Just 18 miles east in Senoia, Hence Pollard decided to build his own racetrack in the pasture behind his house.
Pollard and his wife, Reba, built Coweta County's second top-notch racing facility with sweat, tears and hard work. When the track opened in 1969, schedules were designed so drivers could come to Newnan and get two racing events into the same weekend. The names that starred at Coweta Raceway were now dueling over in Senoia as well.
The Pollards were the ultimate ambassadors of the sport and the community. Hence promoted and ran the racetrack while Reba was the greeter and ran the concession stand, it was as if they were welcoming the fans into their home on a weekly basis.
Leon Sells from Mableton won the first ever Late Model Race at Senoia in 1969 and the names of racers over the years who competed there is a who's who of Georgia Racing Hall-of-Fame members.
Unfortunately, Mr. Pollard passed away in 1981 and the track was sold, but the sport and legacy continued. The Pollards' son, Sonny, who worked at the track, started a successful racing career. He passed that down to his son, Bubba, who is currently one of the best short track drivers in the country.
Over the years, a lot of talent came through the gates at Senoia Raceway.
Joey Logano, the 2018 NASCAR Cup Champion, got his start here when he was only 13 years old. He actually had a racing accident at the track and broke his arm on his 13th birthday.
Other drivers who won at NASCAR's highest level and at Senoia include Jody Ridley, David Ragan and Joe Nemechek. The racetrack even made Hollywood when the 1984 classic movie "Footloose" was remade and filmed there in 2011.
From the start, names like Ronnie Sanders, Nate Mincey, Roscoe Smith, Doug Kenimer and Leon Archer entertained the crowds with racing and sometimes provided activity off the track as well.
The track has changed; it was converted from dirt to asphalt and now back to dirt again, but the same feel comes over the crowd when those engines are fired.
The story continues
Racing, more so than any other sport, is a family affair that passes down generationally. Once in the blood, racing stays with you for life and things come full circle.
Such is the case at Senoia, when Sells won that first Late Model Race in 1969, his car was owned by Ed "Candy" Massey. Massey's son, Stan was inducted into the National Dirt Late Model Hall of Fame last year. Stan's first career win was at Senoia in 1972.
Ed's nephew, Bill Massey is currently one of the promoters at Senoia, along with his son Mayes Massey and Doug Stevens. He was there when it first opened in 1969 and was a race official at the track for 25 years.
On Thursday, he announced the racetrack is preparing to reopen. With Governor Kemp's stay-at-home restrictions set to expire on April 30, the track will conduct an open practice on May 2 and then host the Schaeffer's Oil Spring Nationals event on Saturday, May 16th.
"We have a lot of people that have been waiting for us to announce something, so we need to get the word out that we are racing in May," Massey said.
It's time for that history to restart and continue to be passed down to the next generation of Coweta race fans.
"We are proud of our heritage here in Senoia, and we thank the community for supporting us over the years," Massey said.
Massey encouraged fans to continue to monitor the track's website for the latest developments: www.senoiaraceway.com .