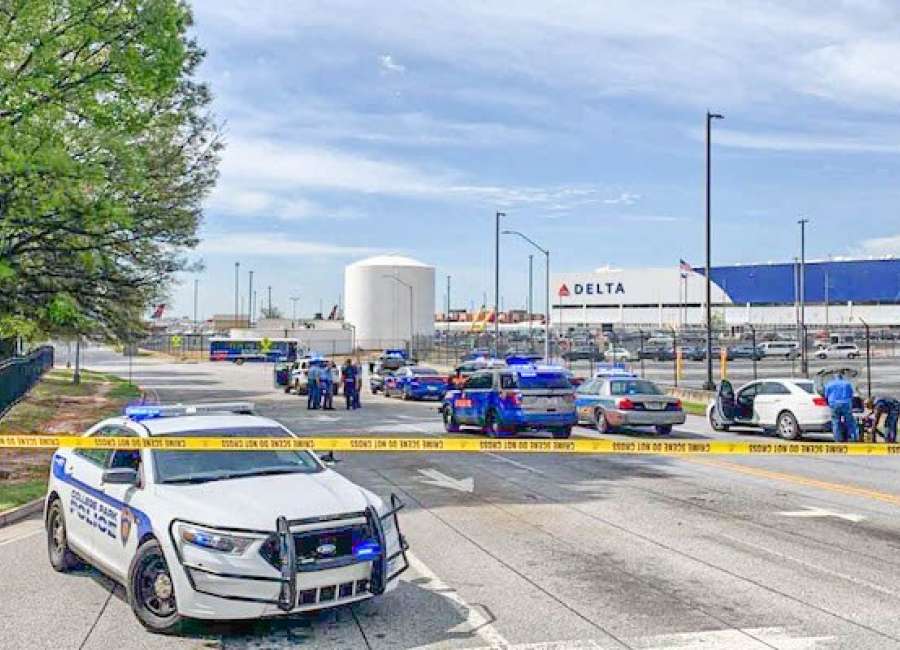 Newnan resident and College Park Police Department Sgt. Chuck Landrum was shot in the neck Saturday following a police chase.
Landrum is the commander of the traffic division for CPPD. He said around 10:40 a.m., he received a license plate reader alert on a vehicle that was stolen and used in a homicide Friday.
He and other officers of the CPPD started chasing the suspect, along with Georgia State Patrol troopers and officers of the Hapeville Police Department. The pursuit went through multiple jurisdictions, and shots were fired between the suspect and CPPD officers, according to a post on the CPPD's Facebook page.
The suspect wrecked the vehicle near the intersection of Toffie Terrace and North Inner Loop Road in East Point. Landrum said he rammed the suspect's car, and the suspect shot him through the windshield of his vehicle.
"As soon as I rammed him, I felt something tug on my neck," said Landrum. "I didn't know what it was, then I saw the hole in the windshield. That's when I thought, 'Man, that guy shot me.'"
The CPPD Facebook post said the bullet hit Landrum's bulletproof vest and deflected upward and lodged into his neck. However, Landrum said he thinks the bullet hit him directly in the neck.
Landrum said he applied pressure to the wound and called over the radio that he had been hit. CPPD officers Sgt. Steven Dunn and Lt. Cody Smith immediately took him to Atlanta Medical Center South.
"I was just breathing, and I was afraid to shut my eyes, even though I wanted to," said Landrum. "As soon as I realized I was hit, I swear I said, 'Protect me, Jesus,' and I felt him right next to me."
Landrum said the bullet was surgically removed from his neck, and he was able to leave the hospital Sunday night. He said the wound is very sore, but he will make a full recovery and is able to rest at home.
The CPPD posted that the suspect – Edward Lee Cherry, 32, of Jacksonville, Florida – was treated for a gunshot wound, released from the hospital and booked into the East Point Jail on numerous charges related to the incident, including aggravated assault on a police officer.
"The College Park PD would like to extend a huge thanks to all of our officers and the other agencies and their officers for all of your hard work and dedication," the post said. "We all stand strong for our communities."