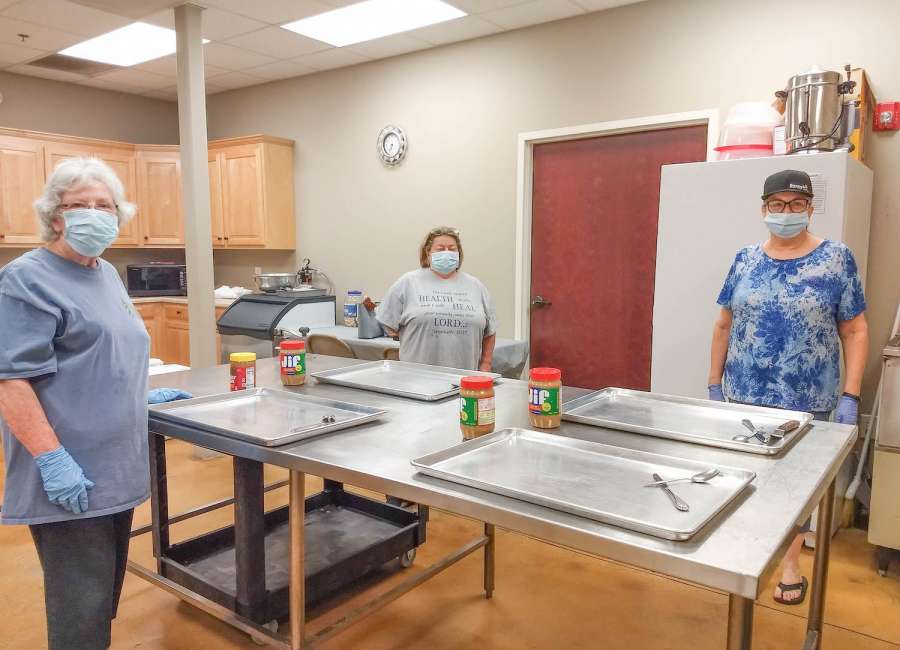 NEWNAN – When the word got out that the schools wouldn't be able to serve lunches over spring break, Coweta County churches stepped up to make sure the meals continued.

A group of churches sprang into action to make sure all of the school lunch pickup sites, which have been staffed by Coweta County School System personnel since schools shut down for COVID-19, were manned for the entire week.
Some larger churches were able to handle an entire week's worth of food prep and distribution themselves, while other churches joined together to get things done.
"It's such a beautiful, beautiful thing to see happen in a community – to see people come together like this and pull in the same direction for the benefit of those who are finding themselves in desperate need right now," said Kelli Yeager-Nelson of Bridging the Gap, which coordinated the spring break lunch distribution. It only took a few days to get all of the slots filled.
"It's a lot of moving pieces. When people are motivated to make sure the kids are getting fed, the results happen very quickly," Yeager-Nelson said.
"It's humbling to watch that happen."
Melanie Smith of Newnan Presbyterian Church said that when Yeager-Nelson contacted them to see if they would help, "we agreed immediately." The church manned Newnan High School's meal distribution point all week.
Smith said they had concerns about logistics and safety but after a Zoom meeting with the outreach ministry team "we were completely on board.
The meals met USDA nutrition guidelines, and volunteers took health and safety seriously with the threat of COVID-19.
Dr. Kay Crosby of Coweta Samaritan Clinic is a member of Newnan Presbyterian, and Smith said Crosby outlined some precautions they should follow.
"After the church kitchen got scrubbed down with industrial stretch cleaner, we all wore masks, gloves and hats as we prepared and distributed meals," Smith said. "We were careful to spread apart as we made sandwiches, filled the lunch bags and gave out the food."
Jason Walton, community outreach pastor at Foundation Christian Church, said participating was a no-brainer. The church already has a partnership with Ruth Hill Elementary School, and led the food distribution there, with help from Royal Baptist.
"Foundation is a serving church and this opportunity has given more than 25 families in our church the chance to serve the community while observing the current stay-at-home orders by making sandwiches from their house and leaving them for our staff team to pick up," Walton said.
SouthCrest Church got involved through its partnership with Backpack Buddies and Bridging the Gap, said Sandy Goodwin of SouthCrest.
"We were glad to be able to serve our community in a tangible way," Goodwin said. "I think nay people are willing to help meet needs, they just don't always know how to actually get involved."
Goodwin said they were handing out about 200 lunches east day at East Coweta High School, and sending 30 to 50 lunches to be delivered to families who can't get to the schools.
"Everyone seems to be very appreciative of the lunches and just generally happy to see people after having to stay home," Goodwin said. "We even received a handmade thank you card from one child. It was so sweet and really made our day."
A group of churches, including One Life Community Church, Kingdom Connected Ministries International, Ignite the Fire, Summit Church and Four Corners Church partnered to serve meals at Winston Dowdell Academy and deliver to surrounding neighborhoods.
Pastor Will Harless of One Life, which meets at WDA, said they are serving about 300 meals a day, but only about 40 of those were from people who came to the school. After the food was cooked and packed, it was loaded into the church's outreach truck and taken to various drop off points in the neighborhood.
Volunteers were wearing gloves and masks and trying to stay 6 feet from each other, though it can be hard sometimes – especially when folks want to come up and give you a hug, he said.
One day, in addition to the lunches, volunteers were able to give out bags of potatoes, sweet potatoes, onions and tomatoes to families, said Debra Harris of Ignite the Fire. That food came from Backpack Buddies, which is also active in giving out food bags on Fridays.
Harris said he was feeling God call her to do something but wasn't sure what she was supposed to be doing. When Yeager-Nelson called her, "I was like – God, that's it, right there," Harris said.
Food for the meals came from various locations, and much of it was challenged through Bridging the Gap. Some food was ordered through the commercial account at The Oink Joint.
Participants in the spring break lunches included Go Church, Sargent Baptist Church, Newnan Presbyterian, Crossroads Church, SouthCrest, Royal Baptist, Foundation, One Life, Ignite the Fire, Summit Church, Four Corners Church, Unity Baptist Church, Team Hungry from East Coweta High School, SonRise Baptist Church, Newnan First United Methodist Church, Cornerstone United Methodist Church, Newnan Chapel United Methodist Church and Southside Church. Providence Baptist Church has also been providing meals.
"So many people are coming forward to help, and there are a host of others who have come forward with funding," she said. "It's been an amazing journey."