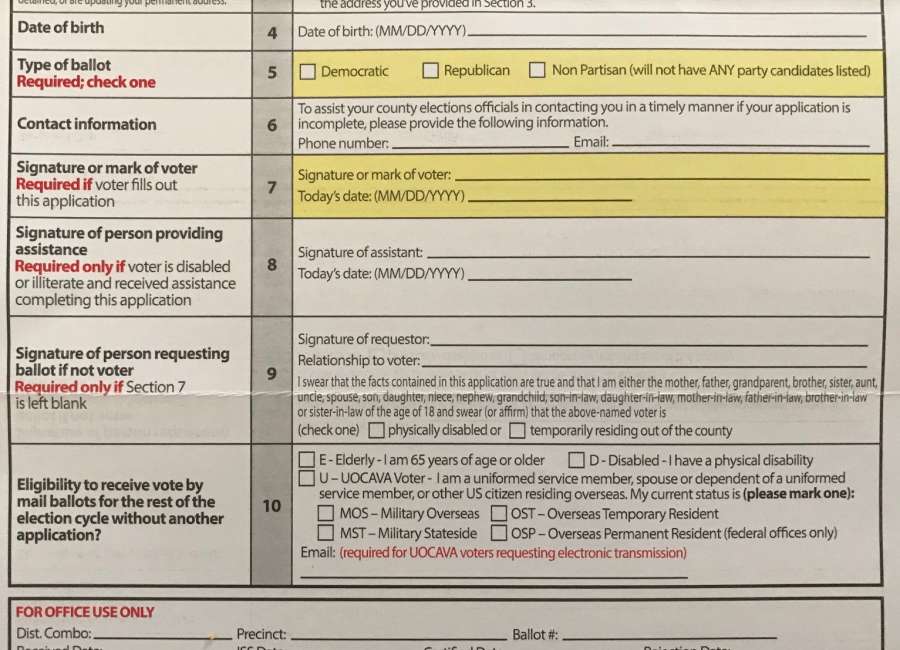 All of Georgia's active registered voters have begun receiving absentee ballot applications for the May 19 general primary and nonpartisan election – and many have already begun sending those ballot applications back in.

The applications can be mailed, faxed or emailed. To email, voters can scan the ballot or simply take a clear photo of their filled out and signed application.
The Coweta Elections Office received around 1,000 emailed applications over the weekend, and received three crates full of mailed-in applications Tuesday, said Elections Director Jane Scoggins.
Just like in any other election, all registered Georgia voters have the opportunity to vote absentee, which means having a paper ballot mailed to them. The ballot can then be mailed back in, or dropped off at the Coweta Voter Registration Office.
Because of the COVID-19 situation, the Georgia Secretary of State's office decided to mail out a ballot application to every active voter in the state to make non-contact voting easier.
Anyone who didn't receive a ballot application in the mail can request one from the Coweta Voter Registration Office.
Or you can make your own.
Simply take a piece of paper, write "absentee ballot application" at the top, write "May 19 primary," then write your name, address, birth date, the address where you are registered to vote, whether you want a Republican or Democratic ballot, and sign the application.
If you want your ballot to be sent to a different address than the address where you are registered, write down that address as well. Applicants should also add a telephone number or email address so that elections officials can quickly notify them in case there is a problem.
Election set to move forward – for now
No one is required to vote by paper ballot, and regular, in-person voting on election day and early voting is still scheduled.
However, there's talk of delaying the election.
In a statement issued April 1, Secretary of State Brad Raffensperger said that if the governor and Georgia General Assembly want to hold the election May 19, "we will support them and do our best to make it happen efficiently, safely and accurately."
However, if they want to move the election to June or July, Raffensperger said he will also support that.
Raffensperger has already delayed the March 24 presidential preference primary, and combined it with the May 19 state primaries. The delay wasn't announced until March 14, two weeks after early voting had begun.
Loss of choice for presidential primary
The change means that Georgia voters who didn't already vote early in the presidential primary have lost their ability to freely vote in the race of their choice. The Secretary of State's office has determined that Georgia voters can only vote either a Republican or Democratic ballot in the combined election.
Georgia has an open primary system, which means any voter can choose to vote a Republican or Democratic ballot, but a voter can't pick both.
When the presidential preference primary election was a separate election, a voter could, for instance, choose a Democratic presidential primary ballot and choose a Republican ballot for the May 19 primary.
Now that the election is combined, voters can no longer do that.
The Secretary of State's office has been asked for an on-the-record comment on this issue and why the decision was made, but there was no response as of press time.
Georgians who already voted for the presidential contest will have those votes counted, and can freely choose a general primary ballot, according to Scoggins.
Scoggins said there is nothing that can be done locally to allow people to choose a Democratic ballot in one contest and a Republican ballot in the other.
Normally, absentee ballots are mailed out by local offices, but this time, most of them will be mailed out by the state. And that's a big help – and a big savings, Scoggins said. Normally, it costs about 90 cents to mail out a ballot.
Mailing your absentee ballot back requires a stamp. However, there is also the option to drop the ballot off at the Voter Registration Office, Scoggins said.
Because the Coweta Administration Building is closed to the public, a drop slot will be constructed in the door to allow Coweta voters to drop their ballots off, Scoggins said.
The slot will be in the door that accesses the wheelchair ramp entrance to the office, on East Broad Street. Scoggins said she had wanted to erect a secure metal drop box outside, but the Secretary of State's Office would not allow that.
Early voting is set to start April 27, in two locations – the Coweta Voter Registration Office at 22 E Broad St. or the Central Community Center on Literary Lane.
Voters have to present a photo ID to vote, but Scoggins said that voters who are wearing protective masks won't be asked to remove them.
There are also plans to sanitize voting machinery regularly, and to sanitize the stylus that voters sign their voter certificate with between every voter. Everyone will be asked to abide by the 6-foot social distancing rule.
Proceeding – with caution
Scoggins said she and her staff are proceeding as if the election will take place May 19, though she said she hasn't received her database from the state – something that would normally already have happened. Employees are required to check their temperature every morning before coming into work, she said.
She's not bringing in any additional outside staff, though county employees from other departments are helping out – remotely.
For more information, call 770-254-2615. Email your ballot application to absenteevoter@coweta.ga.us , fax to 770-683-2800 or mail to the Coweta Voter Registration Office, 22 E Broad St., Newnan, GA 30263. The applications list a different email address, but the absenteevoter@coweta.ga.us address is preferred.