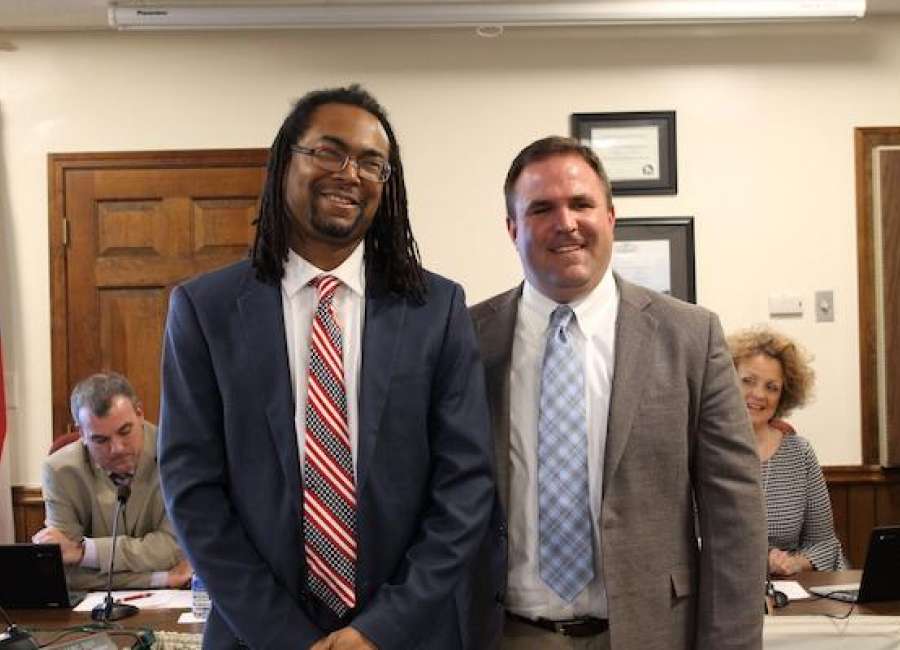 East Coweta High School social studies teacher Levi Young was honored at the Coweta County Board of Education meeting for being named VFW State High School Teacher of the Year.
Teachers whose curriculum focuses on citizenship education topics for at least half the school day can be nominated for the Veterans of Foreign Wars award, said Dean Jackson, public information officer for the school system.
EC Assistant Principal Hap Hines introduced Young to the board at their regular monthly meeting Tuesday.
"I have the distinct honor to recognize one of our most valued and enthusiastic teachers at East Coweta High School for his dedication to student learning and growth," Hines said.
Hines said Young teaches Advanced Placement U.S. history, European history and world history classes. He was nominated for the honor by VFW Post 2667 of Coweta.
"Mr. Young has been a staple at East Coweta High School, where he is in his 17th year of teaching, all being at EC," Hines said. "Mr. Young firmly believes that through teaching history to his students, he hopes they become proud of the country they live in by taking his classes."
Hines said Young is known for bringing in guest speakers, including veterans of World War II, the Korean War, the Vietnam War, Iraq and Afghanistan. Young had an officer from the New York Police Department, who responded on 9/11, speak to one of his classes.
Young also founded the History Club at EC and has taken students on trips to museums, including a visit to the William Breman Jewish Heritage Museum to hear from Holocaust survivors.
"As you can see, I'm talking about a gentleman who loves kids and what he gets to do every day, which is teach," Hines said. "Levi Young is as intertwined with the fabric that makes our school so special as anyone could be, and we are very proud of his accomplishment, which he has deservedly earned."
Young thanked VFW Post 2667 for nominating him for the award.
"I'm grateful for this award. I got back in January, and my mom had passed away, and I had to bury my mom over the holidays," Young said. "The first thing I got when I got back was this award. It was really encouraging, and I thought, 'I really wish my mom was here because she would be really proud.'"
Young said he thinks citizenship is taught at home, and he learned how to be a good citizen from his mom and his dad.
"I just teach what I was always taught," Young said. "My parents taught me to be a great citizen and serve your community and give back in as many ways as you can, so I'm just carrying on what they gave me."