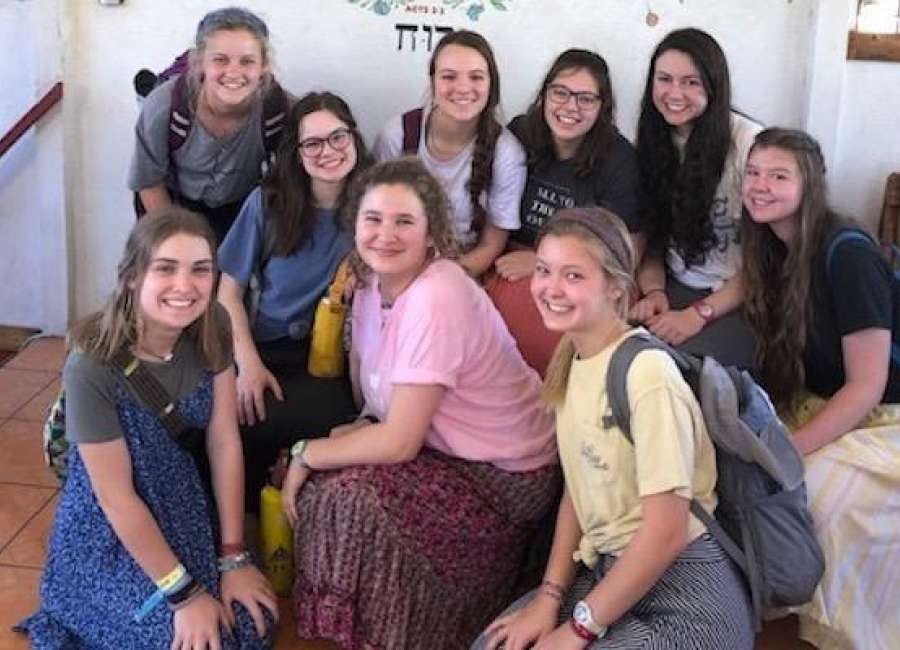 In what has become an annual tradition for Coweta high school students, Team Hungry visited a school in Nicaragua over winter break.

Team Hungry is a faith-based service club that encourages young people to find their gifts and talents and use them to make a difference, according to faculty sponsor Jeff Flavin of East Coweta High School.
The group of 17 locals included nine students from East Coweta High School. It is the seventh year Team Hungry has visited the school it supports at Las Parcelas, west of Managua.
"Our main purpose this year was to continue reinforcing our relationships with the children and the parents in the community," Flavin said.
This year, Team Hungry purchased a year's worth of school supplies for each student and packed them into 45 brand new backpacks. Participants then spent a day with the students at Ruby Ranch, a 500-acre adventure camp for children.
Work projects included adding another piece of playground equipment and helping finish a new bathhouse at the Ruby Ranch compound.
Becky Lanham, a fifth grade teacher at Poplar Road Elementary, presented an interactive science project with the Nicaraguan students. She talked about which animals create slime and the purpose of the substance. She then helped students make slime in their classroom.
It was Lanham's second visit to the school. After losing her husband in September of 2018, Lanham said she was in a "very dark place," feeling hopeless and angry at God as she boarded the plane for the 2019 trip.
"When I say that God 'showed up,' it is an understatement," Lanham said. "Landing in Nicaragua was the start of a change I would never have expected, especially so soon in this journey."
She said the people of Nicaragua are "amazing" and happy despite living in a country where circumstances are far more difficult than most Americans have ever experienced.
"The children are a walking example of God's love," she said. "School in a tiny, one-room, cinder block school and very little to call their own does not wipe the constant grins from their faces. The spirit these children carry with them is contagious and it was impossible to not see Jesus everywhere. God showed me that our hope is in Him, no matter our circumstances and if we will allow Him to, He will lead us out of the darkness."
Several of the student participants from ECHS also spoke about how they were affected by serving in Nicaragua.
Tory McClain: "This was my second year going to Nicaragua with Team Hungry and I can honestly say Nicaragua never disappoints. This trip never fails to amaze me. I am astonished by the love that these kids contain in their tiny hearts and never fail to show it to us and to one another. Nicaragua will always hold a special place in my heart. You go expecting this mission trip where you won't get to focus on you, but this trip isn't just about building a home or some kind of building. It's about the love. It's about the stillness and the ability to just sit and enjoy the peace of Nicaragua and the peace in God that is hard to find in our everyday lives at home sometimes."
Makaley Hurd: "This was my first year going to Nicaragua and I am beyond words about this trip. It truly transformed me in the way that I was able to see a new culture, experience the joy of the kids there, and to see life a whole different way. God impacted me in a way that I will never forget and I will cherish those precious moments for the rest of my life."
Evelyn Gamble: "There wasn't a moment in Nicaragua that birds weren't chirping, kids weren't laughing, or a peaceful presence wasn't within our hearts. Not even a language barrier could keep us from showing God's great love to those precious kids. Those priceless moments each day were documented in my journal to reflect on until I return. I am forever grateful to my supporters and God's grace for allowing me to spread the love of his heart."
Sarah Whitehead: "I immediately fell in love with Nicaraga and all of the people there on my trip last year so I was beyond excited to be able to go back again. I love that we (Team Hungry) prioritize building relationships and investing in people more than just completing service projects. In Nicaragua, we spend most of our time on Ruby Ranch. With the prevalent poverty in Nicaragua, kids are frequently forced to grow up fast and don't get to spend much time just being kids. When they come to Ruby Ranch, they get to play and just be loved on with nothing being asked of them in return. It touched my heart to see how excited the kids were over things that would seem trivial to us. I have very little knowledge of Spanish, but the children proved to me that a language barrier isn't a friendship barrier. They reminded me of the unconditional love of Christ as they only offered me grace as I stumbled to make a sentence. These kids reminded me of what it means to have a childlike faith and find joy in the Lord despite our circumstances. I will be forever impacted by my trip to Nicaraga and the people I met there."
Sabrina Antrim: "Nicaragua was an incredible trip that really showed me how to find joy in the little things. I loved playing with all the children and seeing the huge smiles on their faces every time they saw us. Nicaragua really helped me tune in and listen to what God was trying to show me. I felt that this trip has shown me a new perspective of what showing the love of Jesus really is."
Lily Jones: "Nicaragua was a life-changing experience. Going there and experiencing the people and the culture was such an amazing thing. I felt that I had something heavy on my heart and Nicaragua helped to lift that weight off my shoulders. So many amazing memories and connections were made because of this trip and I am so grateful for it. Nicaragua is such a beautiful country and I will never forget it."
In addition to Team Hungry's work in the community, the organization also is selling coffee from Nicaragua that uses the business model of keeping all of the work in the community.
"Our goal is to one day open a coffee house in the East Coweta community," Flavin said.