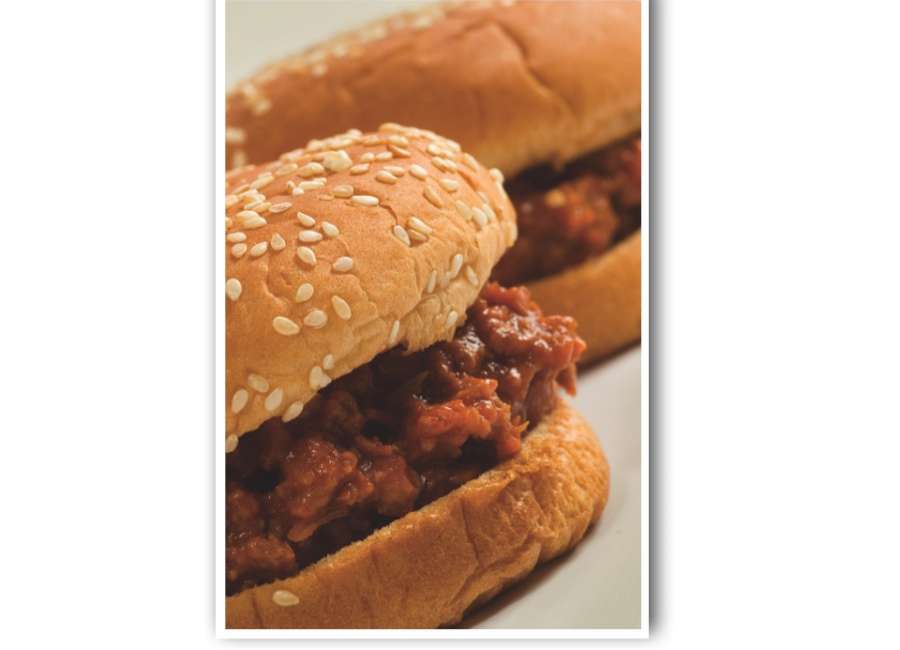 BY DAVID HAMMOND

Special to the NTH
Behold the sloppy joe, browned beef, glistening with tangy red sauce that sinks into the spongy bun, rendering the bread much more delicious. It's a mess to eat, and the enjoyment of the sloppy joe depends a lot upon the quality of the sauce. But even if you go beyond Manwich for the sauce (and you really should), the sloppy joe is an unabashedly unpretentious sandwich.
The sloppy joe is in line of descent from loose meat sandwiches sold at places like the Iowa-based Maid-Rite chain, and the sloppy joe may also have its origin in Iowa. According to some accounts, "…a cook named Joe at Floyd Angell's Café in Sioux City, Iowa, added tomato sauce to his 'loose meat' sandwiches and the 'sloppy joe' sandwich was born."
There is a competing origin story that the sloppy joe sandwich is named after one or more bars called sloppy joe's in Havana and Tampa. According to this genealogy, the sloppy joe sandwich descended from ropa vieja, a traditional Cuban dish of beef and tomato sauce.
Whatever their origin, sloppy joes are quintessential all-American comfort food, simple, tasty, and almost never found outside the home. The Dictionary of American Slang defines the sloppy joe not as a food but as a "restaurant or lunch counter serving cheap food quickly." A lunch counter or diner seems like the right place to look for sloppy joes.
Recently, we (meaning Carolyn) made a batch of sloppy joes using a homemade sauce (ketchup, mustard, Worcestershire sauce, chili powder, garlic, black pepper and brown sugar) and 85 percent lean ground beef. You can use lean meat with sloppy joes and still have a moist and delicious sandwich thanks to the sauce. We used a brioche bun, which proved the appropriately soft and absorbent delivery system for the deliciously messy meat.
Like many classic dishes, the sloppy joe is open to infinite variation. Uses of different proteins and sauces is one way to vary the standard through personal preference. As I was researching this article, I came across a recipe for a casserole of sloppy joe meat and sauce topped with Tater Tots. That sounds like a warm and wonderful dish I'd like to eat while it's still cold outside.
Celebrate National Sloppy Joe today.
Sloppy joes recipe
Ingredients
1 Tbsp butter
1 tsp olive oil
1 lb. ground beef
1/3 green bell pepper, minced
1/2 large yellow onion, minced
3 cloves garlic, minced
1 Tbsp tomato paste
2/3 cup ketchup
1/3 cup water
1 Tbsp brown sugar
1 tsp yellow mustard
3/4 tsp chili powder
1/2 tsp Worcestershire sauce
1/2 tsp kosher salt
1/4 tsp red pepper flakes (optional)
1/4 tsp black pepper
dash of hot sauce (optional)
Instructions
Heat butter and oil in a large skillet over medium/high heat.
Add beef and brown, breaking apart into crumbles as it cooks, about five minutes. Transfer to colander to drain.
Add onion and bell pepper to the same skillet and cook 2-3 minutes, until soft. Add garlic and cook for 30 seconds or so, until fragrant. Add beef back to the skillet and add tomato paste. Stir well.
Add ketchup, water, brown sugar, mustard, chili powder, Worcestershire sauce, salt, red pepper flakes (if using), and black pepper. Stir well to combine.
Cook over medium heat for 10-15 minutes, until mixture has thickened to your liking.
Remove from heat and serve over toasted buns.
Recipe courtesy of www.thechunkychef.com.