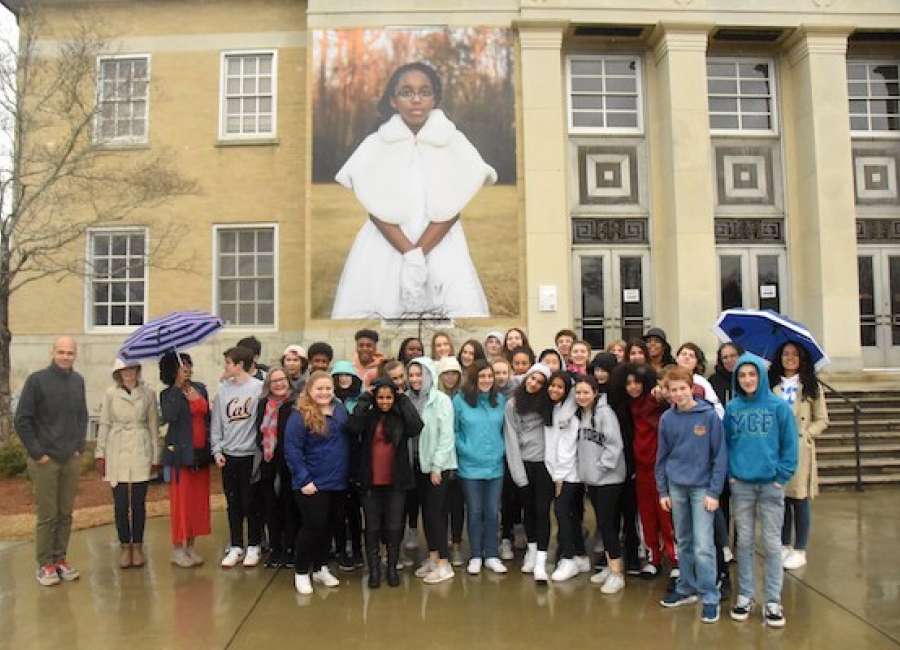 Eighth grade students from the Gordon School visited Newnan to view the Seeing Newnan portraits as part of their civil rights tour of the South.
The Seeing Newnan project was the work of Mary Beth Meehan, a photographer from Massachusetts. Her larger-than-life portraits featured people of all races and ages who live in Newnan and sparked controversy in the community.
Meehan's children attend the Gordon School in East Providence, Rhode Island, and she joined the students who traveled to Newnan to see the portraits.
Dr. Noni Thomas Lopez, head of school at the Gordon School, said that the eighth grade students have been taking the civil rights trip for 19 years.
The four-day tour started in Newnan, where they could discuss the impact the portraits had on the community. The students then traveled to Montgomery and Selma, Alabama.
Lopez said the students cover American history in the eighth grade, and civil rights history is a big part of that. She said it's important for the students to see living history.
"We're really proud to be here and doing the work," she said.
Lopez said when the students get home, they will continue their learning by participating in service-learning projects with nonprofits in their community.
After touring Newnan to see all the portraits, the students were able to hear from a few community members featured in the portraits. Helen Berry, Monique Bentley, Dr. Jimmy Patterson and Brittany Cook were there to answer questions from the students.
One of the students asked the panel what it was like to have their photos up in town, to which Berry replied, "Oh, it's wonderful. People ask how I got my picture up, and I say, 'I don't know, I just lived.'"
Several of the students asked what the people in the portraits learned from the controversy surrounding them.
Bentley said she didn't receive any backlash from her specific portrait, but that most of it came from the portrait of the Shaw sisters. Zahraw and Aatika Shah are wearing hijabs in their portrait.
Bentley said she had an opportunity to meet the Shaw sisters, and she wanted to be there to support them.
One student from the Gordon School said she thought the portraits were a great idea.
"It really shows the differences between people who live in the community," Sofia Sa-ab said.
Another student said it was cool for her to see these portraits because Meehan had done a similar portrait project in Rhode Island that she had seen.
"It's fascinating to compare the portraits here with the ones in Rhode Island. I feel like they're similar and different," Natasha Connoly said. "It's really interesting to hear about the history."