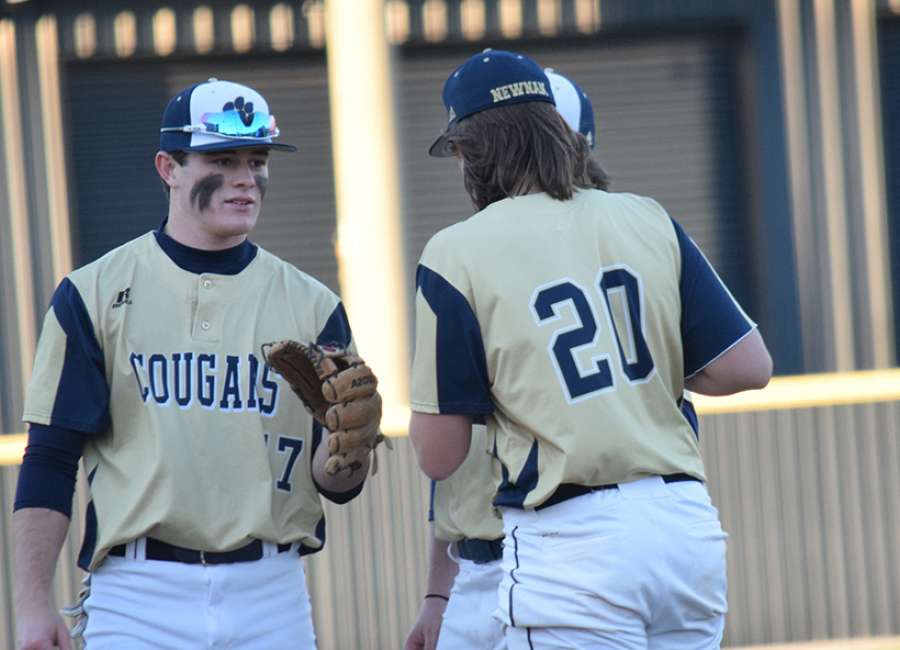 After almost a week of rain, the Newnan baseball team was finally able to return to action Friday night for a Region 2 7A contest against visiting Westlake.
The long layoff didn't seem to bother the Cougars.
Newnan scored once in the bottom of first and once in the third and held the Lions to just three hits en route to 2-0 region victory.
Newnan head coach Marc Gimore was pleased with the way the Cougars performed after the long delay, especially since they haven't had an on-the-field practice since February 13.
"It still feels like it is early in the season, and we are still trying to figure out what we can do," Gilmore said. "We just haven't practiced much. When we have had a dry day, we are playing games, so there are things we need to work on, but I thought we played really well."
The rain didn't just force games to be rescheduled, it also messed up the team's practice schedule.
It also forced Gilmore to come up with creative ways to keep the team's mind on baseball.
"Everybody is dealing with the same thing and nobody feels sorry for anybody," he said. "It's frustrating for parents. It's frustrating for players because you can't get into a rhythm. So we just go inside the gym and do drills. It's hard because we have 55 guys in our program, so some days our varsity will go home and our younger guys will practice. It just hurts with consistency."
Friday, the Cougars sent two pitchers to the mound on the cold and windy night.
Cashen Cash picked up the win, pitching six innings and striking out five.
Jett Lovett took care of any thoughts Westlake had about a seventh-inning rally with three strikeouts to earn the save.
Lovett's first two strikeouts came when the Westlake batters watched the ball sail past them for the first two outs of the game.
The third and final strikeout came when the Westlake batter went down swinging to end the contest.
"Pitching was the biggest question heading into the season, but so far, our pitchers have answered the bell," Gimore said.
With the win, Newnan improved to 7-4 overall and 2-1 in Region 2 7A action.
Newnan scored the first run of the game when Michael Maginnis reached on a base hit.
One batter later, Maginnis scored when Yates Kelleher connected with an RBI double.
Maginnis bat stayed hot two innings later when he drove in Lovett with the second and final run of the game.
Kelleher and Maginnis each finished with two base hits.