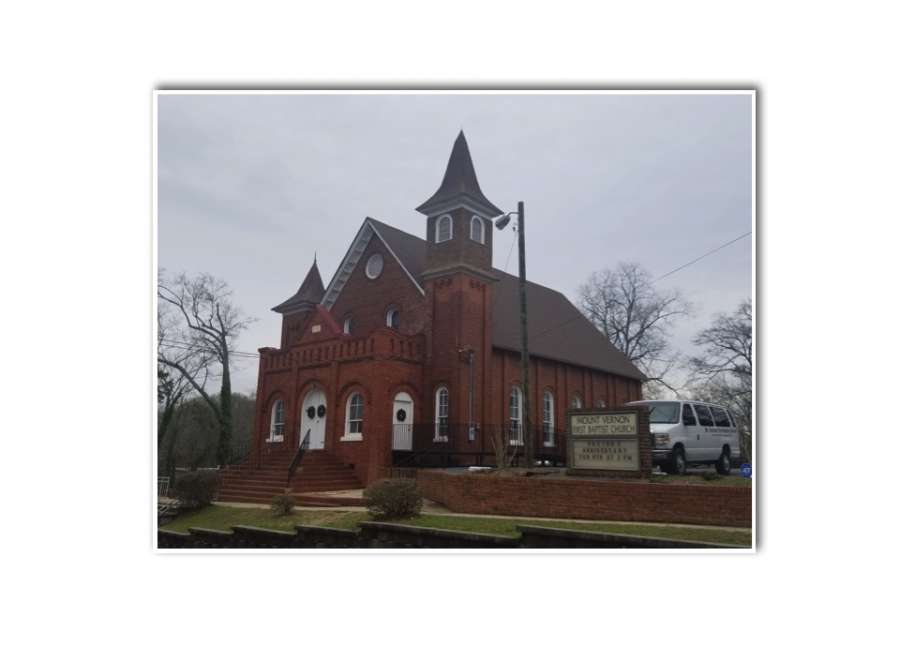 Newnan Chapel UMC and Mount Vernon Baptist Church in Newnan are believed to be the oldest African American congregations in Coweta, according to local historian Dianne Wood and historical documents.

Newnan Chapel UMC
According to Newnan Chapel's website, a contract for a plot of land was drawn in April 1840 to build a Methodist church, and on Sept. 2 of the same year, $1 was given as payment for the property. The same day, a deed for the property was recorded.
Rev. George Standing of Steneg Sussex, England was the first minister to serve the church, according to Wood and the church's website. The church was furnished with furniture brought from England with Standing. His ministry officially began Aug. 22, 1842, and the church was officially named Newnan Chapel Episcopal Church.
There was also a brook that ran through church property, and water from the brook was mixed with sand by the men building the church to form bricks. According to the church's website, most of the work was done at night because the people who built it had to work during the day. Women and children also assisted with construction.
Black students attended school at the church with three teachers, and since there was no community facility for large gatherings for people of color, Newnan Chapel Methodist church provided the facility for educational, cultural and recreational activities for the community, according to the church's website.
Pastor Terrilyn D. Lemons, church pastor, was appointed as senior pastor in 2015. Lemons said she is the third pastor to serve at least five years at the historic church.
"It is a blessing to serve at a church that focuses on the great commandment to love others and the great commission to share the love of Jesus Christ," Lemons said. "It is an honor and a privilege to serve as the fourth female pastor at the Historic Newnan Chapel United Methodist Church."
Mount Vernon Baptist Church
Mount Vernon Baptist Church began in 1863 under a brush arbor on Robinson Street, and was the first African American church in Newnan, according to Woods. The early organizers desired their own church. A log cabin was built on the corner of Robinson and Savannah streets, which was constructed out of sweetgum and pine trees from the property of Jenny Leigh and Charlotte Williams.
By 1869, the first deacons were ordained in the new structure: James Reid, Abner R. Burch, Alfred Armstrong, William Armstrong and Moses Armstrong.
Rev. Charles Scott, the first pastor, was probably from Spalding County. Under his administration, a wooden building was erected with the aid of six white citizens, George Rainey, Rev. James H. Hall, William Scott, John E. Robinson, Mr. Scroggins and Mrs. Emma Robinson. Scroggins provided the land and Emma Robinson funded construction of the structure on the present site.
One of the most remembered and exciting times was when Rev. Alfred Daniel "A. D." Williams King was installed as pastor April 12, 1959. Rev. Martin L. King, Sr., Mrs. Alberta W. King, Rev. Martin L. King, Jr., Coretta Scott King and members of Salem Baptist Church in Alabama came to support their brother and son. For the Sunday morning service, Mrs. King played an organ and piano special, Farris sang a song and King, Sr. gave the sermon. For the evening service, King, Jr. gave the sermon, and Coretta Scott King sang a special song. Rev. M. L, Sr. and Rev. M. L., Jr. preached for A. D. at Mt. Vernon at least twice during A. D.'s tenure.
A. D. was pastor for three years — 1959 to 1961. During his tenure, the church programs and deacon's board were reorganized. A tennis court was established on the south side of the church, with a space for croquet and other games to promote fellowship and recreation. He promoted community-wide recreation during the picnics held at Reese's Woods. Many times Newnan Chapel, Zion Hill and Mt. Vernon joined together in fellowship.
Pastor Jerome Spence, the current pastor, said he is honored to pastor a church with a rich history.
"Even though Mount Vernon First Baptist Church is not the largest black church in Coweta County, it is the oldest black baptist church in the county," Spence said. "I feel privileged and blessed to pastor a church where MLK installed his brother as the official pastor of this church."
Both Mount Vernon Baptist and Newnan Chapel Methodist served the residents by having different events at their respective churches. Mount Vernon held many of the
health conferences during the 1930s to the 1960s. Verona Rosser's Community Center was next door and they provided volunteers to help keep children out of trouble.
During the decades of slavery in America, slave associations were a constant source of concern to slave owners, according to the African American Registry. For many members of white society, black religious meetings symbolized the ultimate threat to white existence. Religious exercises of slaves were closely watched to detect plans for escape or insurrection.
Nevertheless, African slaves established and relied heavily on their churches; religion offered a means of catharsis. They retained their faith in God and found refuge in their churches.