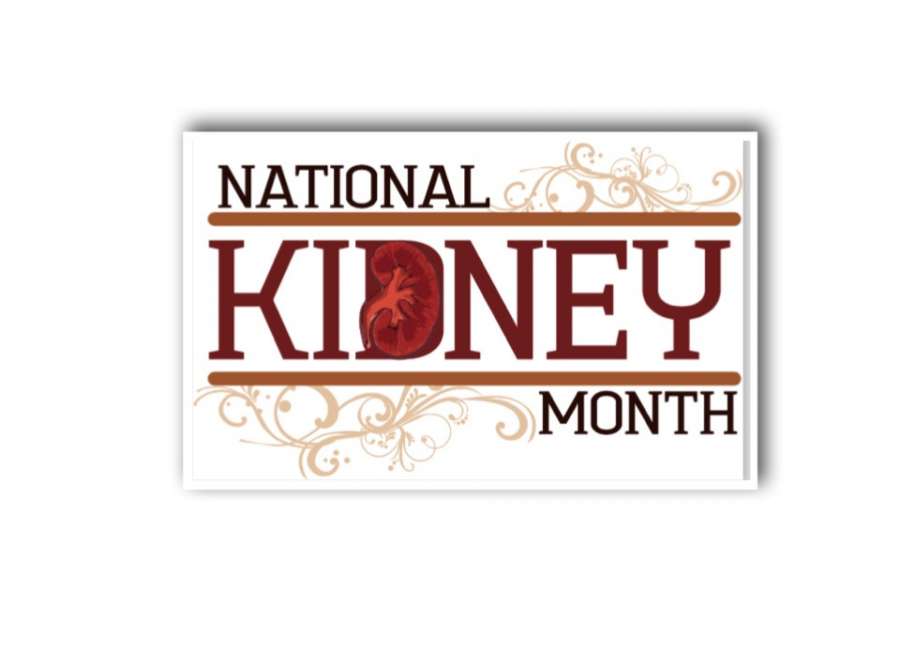 BY WILLIAM J. POOLE
Special to the NTH
Each year March is designated National Kidney Month to raise awareness about the prevention and early detection of kidney disease. The National Kidney Foundation is calling on all Americans to take five healthy steps for their kidneys.
The kidneys are the body's chemical filters, filtering waste and performing functions that control things like red blood cell production and blood pressure. But over time the kidneys can become damaged with little or no physical symptoms to warn you that your kidneys are in trouble.
With chronic kidney disease, kidneys become damaged over time or cannot clean the blood as well as healthy kidneys. When the kidneys don't work well, wastes and extra water builds up in the body and may cause other health problems, including heart disease and high blood pressure. However, people with CKD and people at risk for CKD can take steps to protect their kidneys.
"Of the 15 percent of U.S. adults, 37 million are estimated to have kidney disease — most don't know they have it," said Dr. Joseph Vassalotti, National Kidney Foundation chief medical officer. "That's why taking care of your kidneys, especially if you are at risk for kidney disease, is vital. There are a few simple things people can do to keep their kidneys healthy and strong."
The take five for your kidneys
1. Get tested
Ask your doctor for an ACR urine test or a GER blood test annually if you have diabetes, high blood pressure, are over age 60, or have a family history of kidney failure. Get screened for free through the National Kidney Foundation's "Keep Healthy" program by visiting www.kidney.org/keephealthy .
2. Reduce NSAIDs
Over-the-counter pain medicines, such as nonsteroidal anti-inflammatory drugs may alleviate your aches and pains, but they can harm the kidneys, especially if you already have kidney disease. Reduce your regular use of NSAIDs and never go over the recommended dosage.
3. Cut the processed foods
Processed foods can be a significant source of sodium, nitrates and phosphates, and have been linked to cancer, heart disease and kidney disease. Try adopting the DASH diet to guide your healthy eating habits.
4. Exercise regularly
Your kidneys like it when you exercise. Regular exercise will keep your bones, muscles, blood vessels, heart and kidneys healthy. Getting active for at least 30 minutes a day can also help you control blood pressure and lower blood sugar, which is vital to kidney health.
5. Control blood pressure and diabetes
High blood pressure and diabetes are the leading causes of kidney disease and kidney failure. Managing high blood pressure and strict control of blood sugar levels can slow the progression of kidney disease. Speak with your doctor if you are having trouble managing diabetes or high blood pressure.
Throughout National Kidney Month, the National Kidney Foundation is offering free health screenings near you, or to learn more about the kidneys and risk factors for kidney disease visit www.kidney.org/KEEPHealthy .
Quick kidney facts
1 in 3 American adults is at high risk for developing kidney disease today.
Most (9 in 10) adults with CKD do not know they have it.
1 in 2 people with very low kidney function who are not on dialysis do not know they have CKD.
15 percent of U.S. adults – 37 million people – are estimated to have CKD.
According to current estimates….
CKD is more common in people over the age of 65 (38 percent) than people aged 45–64 years (13 percent ) or 18–44 years (7 percent).
CKD is more common in women (15 percent) than men (12 percent).
CKD is more common in non-Hispanic blacks (16 percent) than in
non-Hispanic whites (13 percent) or non-Hispanic Asians (12 percent).
About 14 percent of Hispanics have CKD.
References:
Kidney Disease: Improving Global Outcome CKD Work Group
KDIGO-2012.
National Institute of Health 2018 USRDS Annual Data Report.
Center for Disease Control and Prevention: www.cdc.gov/kidneydisease .
William J. Poole is the DaVita Patient Advocate for Coweta and Fayette Counties.
He can be reached at cotton1310@gmail.com .