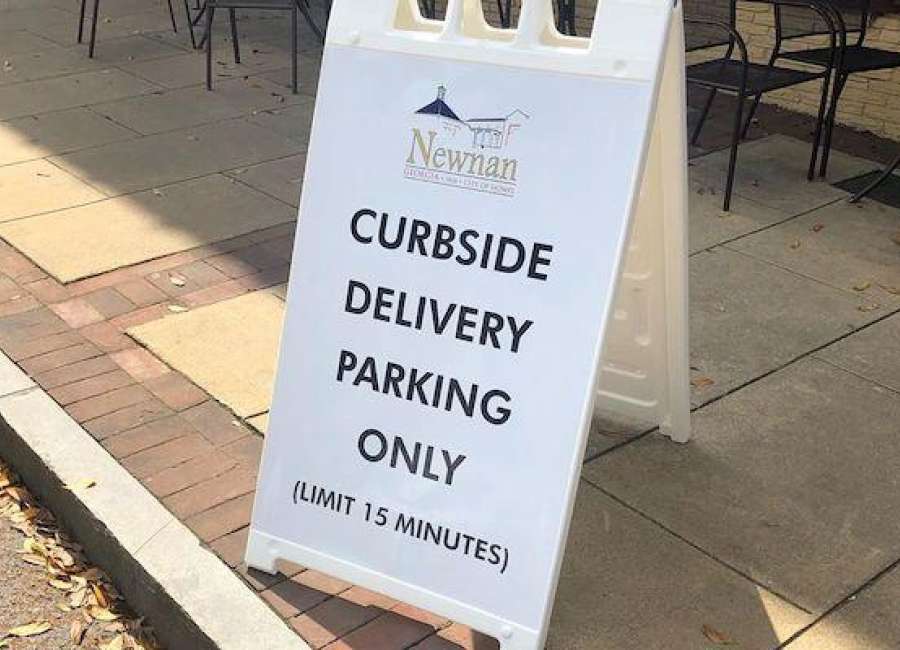 In the last couple of weeks, downtown businesses have had to rethink how they do business because of COVID-19.

While many stores have remained open with fewer employees and shortened hours, some businesses have had to close entirely.
This has been true for Grit & Grace in Newnan, which mainly caters to local dancers. Owner Stephanie Carney said when the schools began closing March 13, the dance studios followed.
Carney said without dance classes or the end of year recitals there currently isn't a demand for her products. However, she has been offering free shipping, private pointe shoe fittings and a $10 coupon with phone orders for those who can shop during this time.
She said she has been offering giveaways on social media, not to drive business, but to support dancers during this time.
"Dancers, like other athletes, are devastated that they aren't able to dance," Carney said. "I hope we as a community can help these kids; their craft is just as important."
Carney said she is planning to pay her employees through the end of the month, and those that feel comfortable coming into the store are working on projects. She said she wants to be overly prepared when things get back to normal.
"We have an awesome customer base," Carney said. "I'm not worried about the store. We will be here when we are able to open."
As for Murphey Florist, owner Hutch Murphey said that they are taking more precautions than normal, and encouraging customers to order online.
He said as of March 16, the store was closed to walk-in customers, and they were taking orders online or over the phone. However, employees are still making flower deliveries because it doesn't require any contact.
Murphey said they are doing the best they can to fulfill orders, and he hasn't had a problem getting flowers yet. He said he's going to keep his employees on for as long as possible.
However, he said several weddings have been canceled, and he isn't sure if prom orders will be canceled as well.
"We'll be here for as long as we need to be here for," he said.
Jason Kanner, owner of Ace Beer Growlers, said his store is still open, but they are limiting the number of people who can be in the store.
He said they are encouraging curbside pickups and taking all the recommended precautions.
Kanner said right now, the most challenging thing his business is facing is the uncertainty of what's to come.
"If I wasn't selling food, I would not be here," he said.
Newnan Mercantile and Gillyweeds are still open to walk-in customers, and both are offering curbside pickup and shipping.
Newnan Mercantile is open for walk-in customers from 11 a.m. to 3 p.m. However, owner Rachel Kuehl said most of the people that have stopped in are dropping off items for medical workers at Piedmont Newnan Hospital.
Kuehl has coordinated efforts with Kayla Duffey Photography to take PNH employees snacks, drinks, gift cards and meals. Kuehl has a sign-up sheet on Newnan Mercantile's Facebook page for donations.
She said she's letting her employees choose if they want to come into work or not. She's keeping customers up-to-date by posting videos on Newnan Mercantile's social media channels.
Kuehl said one of the biggest challenges she's facing right now is many of her suppliers have closed their factories and warehouses. She expects she will be short on inventory in the next month.
Gillyweeds owner Valerie Dumas is also working to adapt and keep her business open during this time. She said she has cut store hours to 11 a.m. to 3 p.m. and is taking curbside pickup and online orders.
Dumas said she hasn't had employees come in since March 16, and has been running the store on her own. She said most of her employees are students who work part time and are able to stay home with their families.
Although the lack of walk-in customers is a big challenge her business is facing, she said learning to adapt is a good thing.
"It's a good way for stores like mine to change," she said. "I'm having to think outside of the box and try new things. We can't get used to the same old thing."
Dumas said she also feels that the community has been supportive during this time. She's had several people buy gift cards to use when things get back to normal, and she has a customer who calls her every day to tell her a joke, just to make her smile.
"I think as a community, we tend to stick together," she said.