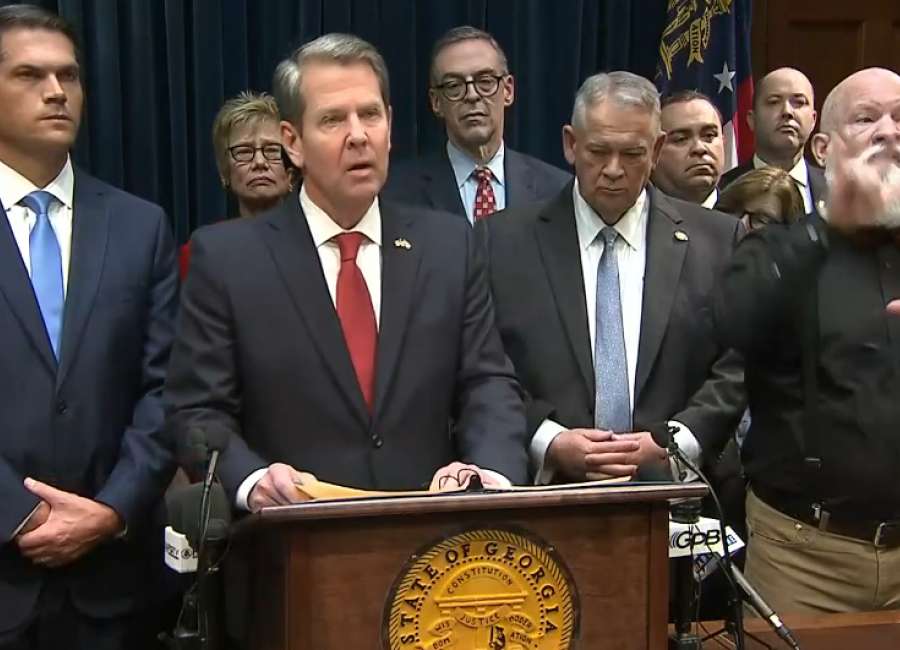 ATLANTA - Gov. Brian Kemp urged Georgia residents to "come up with a game plan" for protecting their elderly loved ones and those with chronic health issues as concerns mount over a potential outbreak of coronavirus in the state.
The governor's advice came as public schools and universities closed across the state and the Georgia General Assembly was set to press pause in the middle of the ongoing legislative session.
New cases have been confirmed in several counties including Lee, Floyd, Barton, Lowndes, DeKalb and Cobb counties. Two people in Lowndes County may have contracted the virus at a local church, Kemp said.
On Thursday, the governor and other state leaders working to curb the virus' spread emphasized the need for people most vulnerable to the virus – those over age 60 and chronically ill – to avoid contact with crowds and prepare to remain in their homes in the event of an outbreak.
"There is no need for people to panic," Kemp said. "But we're also not going to sugar-coat it."
Concerns heightened at the State Capitol in Atlanta Thursday following confirmation of the first death in Georgia traced to the respiratory virus, which has swelled to 31 confirmed or presumptive cases statewide in recent days. A 67-year-old man who had an "underlying medical condition" died after being hospitalized for COVID-19 at WellStar Kennestone Hospital in Marietta last Saturday.
The novel strain of coronavirus is thought to spread largely by "respiratory droplets" when someone coughs or sneezes after symptoms are present, according to the federal Centers for Disease Control and Prevention. Symptoms appear within two to 14 days of contraction and include fever, coughing and shortness of breath.
Dr. Kathleen Toomey, the state public health commissioner, said the state lab has been testing about 50 people a day for the virus and expects to increase that rate to 100 a day with the arrival of more testing equipment. She expects more private companies like LabCorp will start offering their own coronavirus tests to help supplement state efforts.
Toomey, speaking Thursday, urged people experiencing symptoms of nausea and malaise associated with the common cold to call their medical providers first, instead of going straight to a hospital for testing. She also said people with those symptoms should stay home.
"Please don't go out if you are ill," Toomey said. "We have seen cases of people known to be ill who have gone out into the community."
For now, Kemp said he is not ordering public schools, universities and technical colleges to close as concerns grown over a potential outbreak. He said he will support any decisions by local school districts, day cares, colleges and businesses that choose to shut down.
"At this point, we believe local decision-making is the right action," Kemp said.
Classes at the University of Georgia, Georgia Southern, Georgia State and all other schools in the University System of Georgia will be cancelled for two weeks starting Monday. Atlanta Public Schools will also be closed for at least two weeks. State government employees will also begin largely working from home next week on orders from the governor.
The General Assembly will wrap up work Thursday and Friday, then break until "a future date to be determined," according to a joint statement from Lt. Gov. Geoff Duncan and House Speaker David Ralston.
Speaking from the Senate floor, Duncan said he and Ralston will decide when to resume the session after lawmakers have completed work on Friday, Day 30 of the 40-day session.
"This decision was made out of an abundance of caution," Duncan said. "We will resume the people's work once we determine a way to move forward."
A handful of bills have passed out of the legislature so far this session, but the vast majority await consideration from one legislative chamber or the other. The fiscal year 2021 budget also has not been settled yet by both chambers. The General Assembly's only legal requirement is to pass a budget each year.
"Our hope and prayer is we are overreacting," Ralston said from the House floor. "But I'd rather do it this way than under-react."
***
By Beau Evans, Staff Writer – Capitol Beat News Service