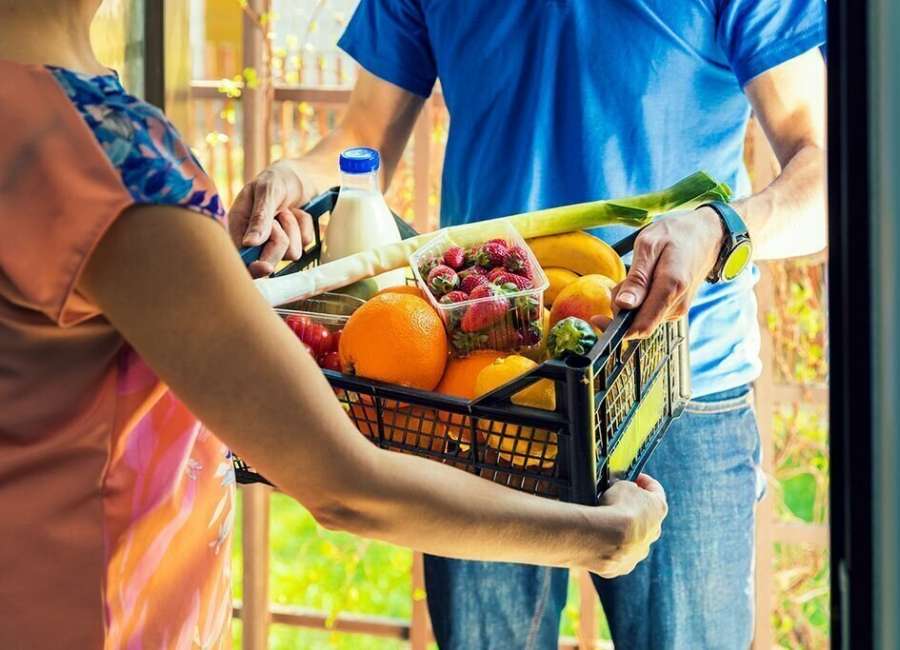 The COVID-19 pandemic across the country has temporarily changed life as we know it, and technology is becoming more and more essential for everyday life, even when it comes to grocery shopping.

U.S., grocery delivery apps have begun seeing record numbers of daily downloads, according to new data from app store intelligence firm Apptopia. Popular grocery delivery apps and pick-up services in Coweta County include Instacart, Walmart Grocery (pick-up), Shipt, Target pick-up and Kroger's ClickList (pick-up).
Earlier this month, online grocery apps — , including Instacart, Walmart Grocery and Shipt — , hit yet another new record for daily downloads for their respective apps, the firm says.
Comparing the average daily downloads in February to Sunday, March 15,. Instacart, Walmart Grocery and Shipt have seen their daily downloads surge by 218 percent, 160 percent and 124 percent, respectively, according to www.techcrunch.com .
Social distancing means higher demand
With government mandates to practice "social distancing," U.S. consumers have been stocking up for long weeks to be spent at home. Stores were cleared of key supplies, like toilet paper, and several also saw long lines and crowds as panic-buying set in. Grocery delivery and pickup, meanwhile, presents an easier option — as well as one where you could limit your exposure to other people, according to www.techcrunch.com .
With grocery pickup, consumers only have to interact with a single store employee from their curbside parking space. And with grocery delivery, most orders can simply be left on the doorstep with no person-to-person contact required.
"For older people and those with underlying health conditions, the group that the Centers for Disease Control and Prevention recommends stay home, I would highly recommend using a grocery delivery service," said Jim Rogers, Consumer Report's director of food safety research and testing on its website, www.consumerreports.com .
Grocery apps/services
Instacart
Instacart lets you shop from local grocery stores online. A personal shopper is senteent to fulfill and deliver your order to you the same day. Make your grocery list, and your personal shopper will pick up everything on the list, pending availability. Instacart recently added no-contact, "leave at my door" delivery," which allows customers to have an order left by their door during a designated time frame, according to its website. Instacart charges a delivery fee, and tips for shoppers are strongly encouraged. Grocery stores that participate include, but are not limited to, Publix, Aldi, Kroger and, CVS. Check www.instacart.com, for updated store availability. The Instacart app can also be downloaded on a smartphone. Instacart does not control pricing in stores.
Shipt
Shipt offers same-day delivery for groceries, baby, household cleaning supplies, alcohol*, or electronics, according to its website. Personal shoppers shop for items on the list. Delivery is available from Publix, Kroger, Target, CVS and, OfficeMaxOffice Max/Office Depot in the Coweta County area. A delivery fee is charged and tips are strongly encouraged. Order online at www.shipt.com or download the app tofrom a smartphone.
Kroger ClickList
Kroger ClickList is an online ordering service from Kroger. Orders can be placed online. Associatesd will bring the items to your car and load them up at the store.
You can either reserve a pickup time before adding items to your cart or while you're viewing your shopping cart, according to www.Kroger.com . First, select a pPickup store. Once you've selected your store, you will need to select a date and time to receive your order. Your time slot is a one-hour window in which you can arrive to pick up your groceries. Arrive in the middle of your time slot to beat the rush. Time slots for pickup can be selectedplaced up to three days in advance. Pickup orders accept credit or debit cards only. Tips are not required. A pickup fee is typically charged. The service fee is waived for your first three orders and fees vary by region for pickup, according to www.Kroger.com .
Target pickup
Order pickup allows you to order items from Target.com and pick them up at your local Target store, according to www.Target.com . To determine if an item is eligible for order pickup, find a "free ship to store" or "free order pickup" option when adding the item to your cart. Items eligible for pickup will be brought to youryou car at the designated pickup spot at Target.
Walmart pickup
Place your order online and pick it up for free as soon as today from a Walmart store or a Neighborhood Market, according to www.walmart.com . Choose store pickup when placing your order. Walmart will confirm your order by emailing you when it's ready.
Pick it up at your store's pickup desk and show a valid photo I.D. Items displaying "free pickup today" on the website will be available within four hours from the time you place your order. Orders placed after 44:00 p.m. will be available for pick up the next day.
Items available for "free pickup" (that do not display "today") will be shipped for free to your store. These items will typically be available for pickup within three to five days days from when your order was placed. Heavy or oversized items shipped via freight may take longer.
Publix curbside pickup
Place your order online at www. publix.com/curbside. Once the order is complete, you will be prompted to select a time to pick up your order, according to www.publix.com. Select a Publix location and time. When it's time to pick up your order, park in the designated Publix Curbside parking space, and call the store using the number on the sign. A Publix associate will bring out your order and load it into your car. Tips are not required.
Tips for grocery shopping in-store
A key way to prevent the virus's spread is to stay 6six feet away from other people. The CDC notes that's generally the distance within which people pick up coronavirus droplets through the air from a cough or sneeze. Such "social distancing" is a good strategy in any situation outside the home, Rogers says. Other ideas:
Go shopping at a time that's less busy. If you type in the store's name and location in Google search, a box often will pop up showing when foot traffic there is highest.
Take germicide with you. Use it to wipe your hands and the cart before and after you shop.
Use a credit or debit card. That way, you don't have to hand over bills or receive change. Also, use your own pen to sign receipts. If you can, use a virtual payment system like Apple Pay so that you don't have to open your wallet at all.
Tips courtesy of www.consumerreports.org.