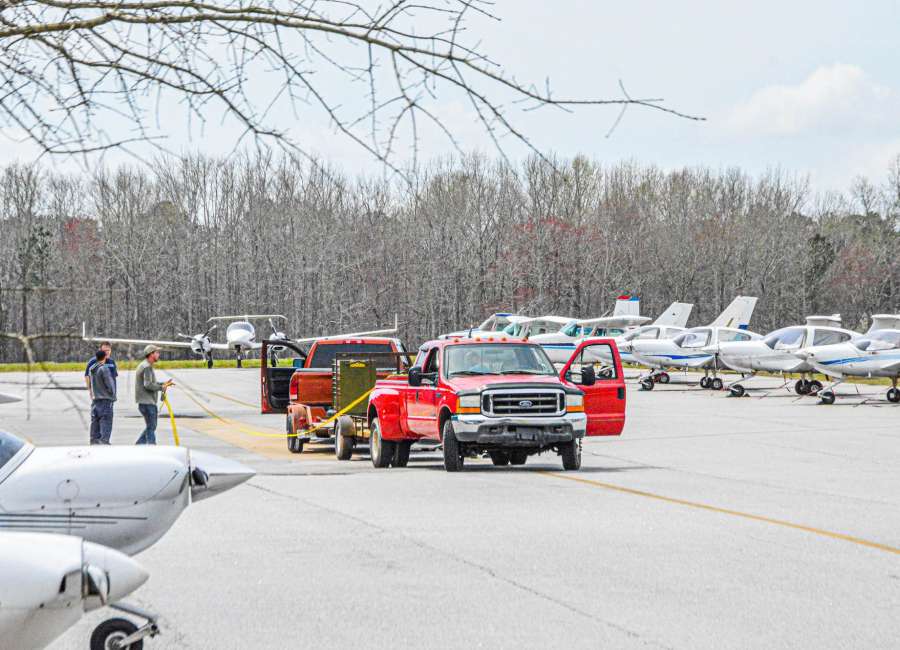 Two weeks after shutting down the majority of its operations, Falcon Aviation has officially closed for good.

In a letter sent to employees Wednesday night, the company cited the inability to find a buyer for the assets that would have allowed the Newnan facility to continue operations.
The company says it will begin liquidating its assets and closing down operations immediately.
In the letter, the company stated final payroll would be issued on March 20. All health, dental and vision insurance will cease on March 31.
Employees will receive severance pay equal to two weeks of base salary, paid in a lump sum "as soon as administratively feasible," according to the letter.
"We understand the stress these circumstances may cause you and your loved ones," the letter stated. "For the abrupt change in course we are truly sorry…we are informing you as soon as we could do so."
On Thursday afternoon, employees were allowed to return to collect personal belongings and return all company property.
Last month, the company suspended most of its operations at the Newnan-Coweta County Airport, while its Peachtree City and Athens programs were shut down entirely.
The flight school primarily trained Chinese aviation students, in partnership with Chinese airlines.
Though the Chinese training program constituted the majority of Falcon's operations, the company also trained domestic students, and it was the Chinese training program that ended abruptly Feb. 26.
At the time of the initial shutdown, unnamed Falcon Aviation officials stated the company was "now focused on investing our efforts in continuing to build a more robust domestic flight training operation," and that all operations would be moving to their Newnan location.
The company directed Chinese students to remain at their apartments and await further communications. Questions regarding the current status of the Chinese students had not been answered by Falcon staff as of Thursday afternoon.
On Feb. 28, Falcon Aviation representatives stated the decision to end the Chinese program was made because of "external economic factors" and "after exploring every possible avenue that would allow us to continue the program; however, we were unfortunately unable to reach any feasible solution."
The Feb. 28 statement from the company said that Falcon was coordinating with each of the Chinese airlines, "regarding either the return of their students to China or their transfer to another Civil Aviation Administration of China /FAA-approved training school within the United States. It is our intent to ensure that all our students are kept safe and managed properly during this transition period."
In a letter sent to employees about the Feb. 26 shut down, Human Resources Manager Jennifer Reid said the company was forced to reduce staff because of the suspension of the Chinese program.
When contacted Feb. 14 ago about the potential impact of the COVID-19 outbreak on the Chinese training program, Reid said it was too early to provide a fair assessment.
Falcon Aviation has had some struggles in recent months.
Retired president and board member Raymond Sluk was killed Feb. 8 in a plane crash, and there is some indication the company may be having financial difficulties.
According to Coweta County tax records, the company has not paid 2019 property taxes totaling more than $130,000 on Falcon school property and equipment, including more than $27,000 on a former motel that was purchased for use as a student dormitory.
That motel has been vacant since before Christmas, according to Coweta County Community Development officials. The company never received the proper permits or certificate of occupancy for the motel, and after extensive renovations were begun in 2019, residents were moved to local apartments.