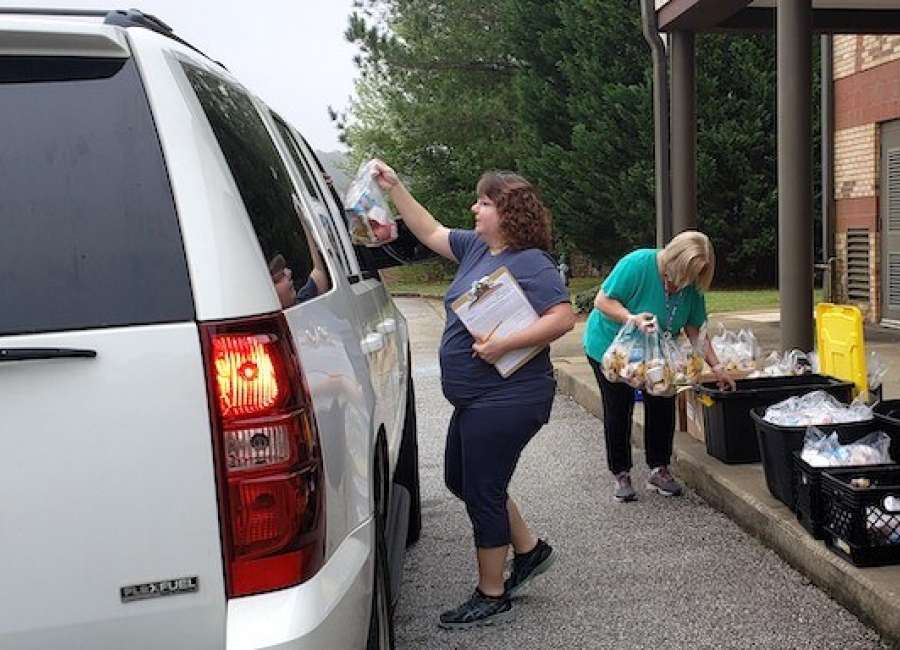 The Coweta County School System provided 5832 free meals last week for children in the county.
Breakfast and lunch will continue to be provided for children ages 0-18 and up to age 21 for youths with special needs. Meals will be provided each weekday, while supplies last, through the school closure, which currently extends through March 31.
"We're continuing to watch that and take guidance from state and local officials," said Dean Jackson, public information officer for the school system. "We will continue to provide meals through the school closure."
Meal distribution operates as a drive-through system, where drivers remain in their vehicles and receive bags containing a breakfast and a lunch for each child present in the vehicle. No food is consumed on-site.
Families can pick up meals from 11 a.m. to noon each weekday at sites located throughout the county. They include:
Newnan High School (pick up at bus loading zone, Armory Road)
Arnco-Sargent Elementary School (pick up at car-rider zone, Highway 16)
Ruth Hill Elementary School (pick up in car-rider zone, Sunset Lane)
Jefferson Parkway Elementary School (pick up in car-rider zone, Farmer Industrial Boulevard)
Smokey Road Middle School (pick up in bus-loading zone, Smokey Road)
Winston Dowdell Academy (pick up in car-rider zone, Dowdell Street)
East Coweta High School (pick up in car-rider loop, near front office, Highway 154).
The sites were selected to make meals accessible to as many students as possible in communities throughout Coweta, and meal service isn't limited to students who attend the host schools.
"Students don't have to be students at those schools," Jackson said. "These are sites that are central to a good bit of our population, and any child who comes to these sites can get meals as long as supplies last on a given day."
Students who currently have documented Special Diet Meal Accommodation through the School Nutrition Program are also eligible for the meals. Parents should notify the school system if a child who requires a special diet will participate, so modified meals can be made available.
Director of School Nutrition Keshia Williams will coordinate the implementation of the meal accommodation. For information regarding special diets, call Williams at 404-971-5198.
In addition to the meals, Backpack Buddies coordinated with the school system to distribute 1,200 bags containing food for the weekend on Friday. Program Coordinator Lori Burnett said they will also be distributing bags this Friday.
Each Friday during the school year, Backpack Buddies provides students who may need extra food on weekends with a bag of easy-to-eat food.
Backpack Buddies is a nonprofit that relies on donations. Donation items needed include granola bars, individual cereal boxes, individual fruit cups or applesauce, individual snack items, boxed macaroni and cheese, oatmeal or grits packets, pop-top ravioli or any small "meal-type" pop-top cans, pudding cups, ramen noodle packets, sandwich crackers and water bottles.
Burnett said their greatest needs are cans of ravioli and soup, and boxes of macaroni and cheese.
Backpack Buddies is accepting donations each weekday from 9 a.m. to noon and 6-8 p.m. Wednesday at 96 Werz Industrial Blvd. Program Coordinator Lori Burnett said those donating items can drive around to the back of the building, and volunteers will unload the items for them.