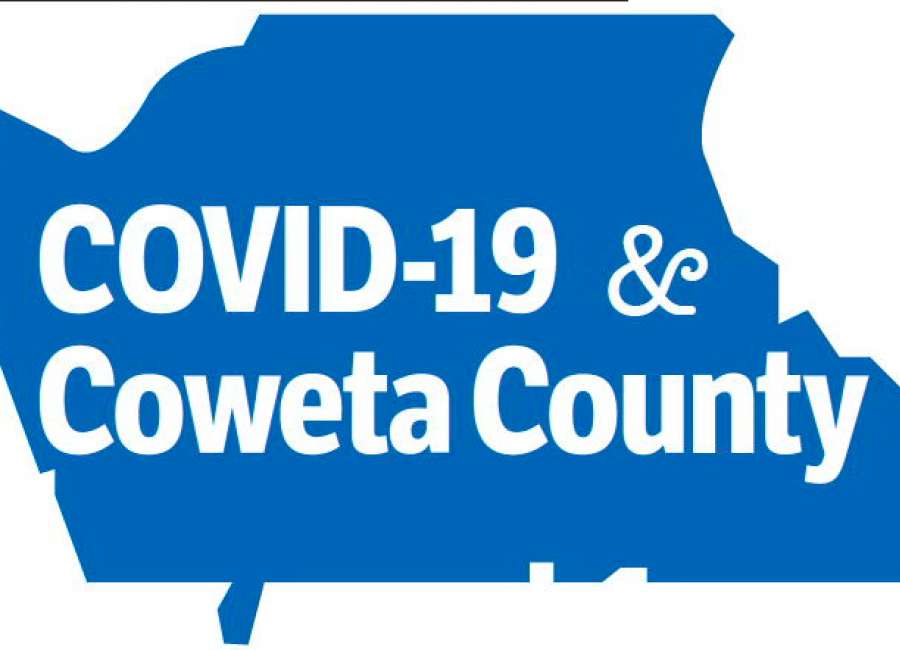 An ongoing list of updates from around our community concerning the ongoing COVID-19 pandemic.
If you have a question, we have an answer. Just email us: news@newnan.com or call our office 678-253-1576
If you or a family member are sick and need help finding a medical professional to see or just have questions, there are several numbers available to get help.
COVID-19 GA State Hotline - 1-844-442-2681
Public Health Emergency Management - 1-800-847-4262
Piedmont Healthcare Public Hotline - 1-866-460-1119 (7am - 7pm)
****
Updated March 27, 11:06 p.m.
Because of the recent temporary emergency declarations within the State of Georgia and Coweta County, the Sheriff's Office is temporarily suspending all on-site video visitations with inmates incarcerated within the jail.

****
The Nixon Centre for Performing and Visual Arts has canceled its scheduled Bee Gees Gold performance. The venue is working with the group to reschedule the event during its 2020-2021 season. Email questions to info@thenixoncentre.net .
****
Coweta County schools will reopen no sooner than April 24. According to a release from the Coweta County School System, evaluation and monitoring of the COVID-19 health event and contact with state and local officials will determine whether the closure will extend beyond April 24.
Updates will be provided to parents, employees and the community as the situation unfolds.
****
Atlanta's Texas Roadhouse locations are converting their dining rooms to full-service takeout. Every Atlanta location is open daily, for Curbside To-Go service and Family Packs, which allow guests to pick up food, without leaving their cars. Orders can be placed online, through the website or app, or by phone.
****
For people trying to report their place of business as violating the Governor's Executive Order, please use the link below and include the following information your report:
Business Name
Address
County
Telephone Number
Specific details for the complaint
https://gov.georgia.gov/contact-us/constituent-services
****
The Coweta County School System was able to provide 5832 free meals last week for children in the county. Read more here.
****
The Georgia Department of Public Health is accepting offers from medical professionals and other individuals looking for ways to help with the COVID-19 response. Read how
****
Georgia's Secretary of State Raffensperger announced steps to protect the public health of Georgia voters while upholding the integrity of the vote for the May 19, 2020 Primary Election.
Raffensperger will send absentee ballot request forms to the Georgia's 6.9 million active voters in an effort to allow as many Georgia voters as possible to exercise their right to vote without leaving their homes. Voters will simply have to fill out and return the application to vote by mail in the upcoming elections with no in-person risk of exposure to COVID-19.
While Secretary Raffensperger is encouraging as many voters as possible to vote by mail, some rely on in-person voting to exercise their right to vote privately and securely. In-person voters who show up to vote at their polling places will be instructed to maintain a safe distance when waiting to vote and number of voters allowed inside at one time will be limited to limitations in place as of election day. There will be supplies at each location to allow extra cleaning of all surfaces throughout the day.
Jane Scoggins, Coweta County Elections Director asks that those opting to use the absentee ballots being supplied by the Secretary of State make sure they include their phone number, verify the address the ballot will be mailed to and indicate which party primary they want to vote (you can only vote in one primary). The application can be mailed to 22 East Broad Street, faxed to 770-683-2800 or emailed to the new Absentee Ballot Application email – absenteevoter@coweta.ga.us
At this time, the date of the mailing has not been set. Once the date is known, there will be additional notification.
****
The Georgia Public Service Commission has added to the main page of its website a link to the Georgia Emergency Management Agency's compiled list of utilities and other services that have said they will not cut off services due to nonpayment while Georgia is reacting to the COVID-19 pandemic.
Please follow this link to the PSC: https://psc.ga.gov/
****
****
Gov. Brian Kemp has called on Georgia businesses to help the state provide, produce, distribute or store critical health care items needed to fight the spread of COVID-19.
Critical items include: N-95 masks or equivalent; air purifying machines; face shields; hair covers; hand sanitizer; hospital beds; gloves (various sizes – nitrile or latex-free); negative pressure machines; no-touch or regular thermometers; safety goggles; sanitation units; sanitizing spray; sanitizing wipes; shoe covers; surgical masks; Tyvek suits; and ventilators.
****
The Georgia Department of Public Health is accepting offers from medical professionals and other individuals looking for ways to help with the COVID-19 response.
Medical volunteers may be used to answer medical questions coming into the COVID-19 hotline or assist at test specimen collection sites. Non-medical volunteers may be used in administrative roles at either the call center or test collection sites, or provide interpretation or other skills as needed.
****
Georgia Bone and Joint remain open for immediate orthopedic needs at their Newnan Location, 1755 Highway 34E, Suite 2200, Newnan, Georgia. They are open Monday through Friday, with availabilities on Saturdays.
They also offer TeleMedicine, virtual medical visits, allowing patients to see a doctor or a physician's assistant from the privacy and safety of their home or office.
Call 770-502-2175 to schedule an appointment. Learn more at GeorgiaBoneandJoint.org.
****
In an effort to serve customers, protect employees and support our communities amid concerns over the spread of COVID-19, all United Community Bank branches will shift to a drive-thru and appointment-only service model, effective Tuesday, March 24. In-branch services such as loan closings, access to safe deposit boxes and wire transfers will be available via a scheduled in-person appointment, and customers are encouraged to call their local branch to schedule a convenient time during normal business hours.
United encourages customers to utilize the variety of digital banking options available, which can be found on ucbi.com and using the United Mobile App. The bank is also taking steps to increase mobile deposit limits for added convenience and temporarily removing the ATM transaction/balance inquiry fee charged by United for customers using a non-United or Publix Presto! ATM.
****
The Masterworks Spring Concert, scheduled for March 29 at the Nixon Centre for Performing and Visual Arts, has been cancelled. For more information, email info@thenixoncentre.net .
****
All Best Buy stores are now offering contactless curbside service, with only employees allowed in stores. The chain also has suspended installations, haul-aways and repairs for large items like refrigerators, freezers, washers, dryers and TVs. Instead, Best Buy is offering free doorstep delivery.
****
This week, Piedmont Newnan Hospital will begin utilizing a mobile assessment unit that will expand its emergency department during the COVID-19 pandemic.
The mobile assessment unit, which will be located outside of the Emergency Department, is not a COVID-19 testing center.
****
Georgia reported 772 cases of COVID-19 and 25 related deaths as of noon Monday.
According to the Department of Public Health's coronavirus daily status report, that's up from 620 cases and 25 deaths at 7 p.m. Sunday.
Cases have spread across nearly 70 Georgia counties.
The Georgia State Public Health Lab has conducted 1,245 tests, with 164 positive results.
****
Musicology will be offering online/video lessons from all instructors in lieu of traditional lessons at their studio. Students will be contacted by their instructor to confirm lesson times and we will continue providing musical instruction this way until they can safely resume meeting in person.
****
The Atlanta Air Show will be postponed until next spring. Tickets that have already been purchased or issued for the event, originally scheduled for May 22-23 at Falcon Field in Peachtree City, will be honored on the rescheduled date. For more information, visit www.airshowatlanta.com .
****
Pat McKee's book launch for "Ariel's Island" has been postponed at the Nixon Centre for Performing and Visual Arts. For more information, email info@thenixoncentre.net .
****
Dollar General will hire up to 50,000 workers by the end of April as people ordered to stay home clear the bargain chain's shelves and stock up pantries. Dollar General said Monday that most of the jobs will be temporary, but that some may be long term.
Papa John's is hiring up to 20,000 people with demand for pizza elevated. The need for new workers is so great, the company said Monday that interviews can turn into punching the clock on the same day. Domino's already announced additional hiring.
CVS Health also announced Monday that it is looking to fill 50,000 full-time, part-time and temporary roles across the country. Positions include store associates, prescription delivery drivers, distribution center employees and member/customer service professionals. The company is also giving employee bonuses ranging from $150 to $500 to workers required to be at its facilities.
Instacart is looking to add 300,000 gig workers to its platform over the next three months, more than doubling the number of people it has picking and delivering groceries for customers. Online retailers have seen demand for orders surge as more people are stuck at home and shopping online. Instacart said it will focus on bringing on more personal shoppers in 10 states where demand is the highest: California, Florida, Georgia, Illinois, New Jersey, New York, Ohio, Pennsylvania, Texas and Virginia.
****
The regularly scheduled Newnan City Council meeting scheduled for Tuesday, March 24, 2020, at 6:30 p.m. is CANCELLED.
Please be advised that all city Boards, Commissions, and Authority meetings scheduled during the period of Friday, March 13, 2020, through Tuesday, March 31, 2020, have been CANCELLED.

City of Newnan Operations

As of Friday, March 13, 2020 (through Tuesday, March 31, 2020) the following measures related to emergency response were immediately taken in response to the city's actions regarding COVID-19:

All city events are SUSPENDED
All city programs (both public and private) taking place within the city's facilities are SUSPENDED
Suspension of Municipal Court
Suspension of City meetings, including Boards and Commissions and Authorities
City Trolley operations are SUSPENDED
Closure and no public access to the following city facilities:

Carnegie Library
Municipal Complex (not including Fire Services)
Business Development, Main Street, Keep Newnan Beautiful offices
Public Restrooms located in Parks

Restricted public access to the following City facilities:

Newnan Police Department
Newnan Fire Department
Newnan City Hall
Public Works

Public Safety: All Public Safety operations, including Police and Fire, will continue to remain at full capacity. However, public safety personnel will be using cautionary procedures.
Sanitation Services: All city sanitation services will continue to operate on a typical schedule.
Building/Permits: The city's Building, Planning & Zoning, and Engineering will operate on a typical schedule, utilizing cautionary procedures.
****
The Georgia Department of Driver Services has announced they're closing all 67 Customer Service Centers in the state out of an abundance of caution due to coronavirus concerns.
The department says all centers will remain closed until March 31. Online services are still available. Click here for more.
All valid GA driver's licenses and ID cards with an expiration date between now and June 30, 2020 will receive an extension by a period of 60 days
****
Following an announcement from the U.S. Department of Education inviting states to request waivers from federal assessment requirements, State School Superintendent Richard Woods affirmed that the Georgia Department of Education will immediately apply for a waiver from assessment requirements in 2020.
Educators, parents, and students can expect that no state testing – to include Georgia Milestones, GAA 2.0, and GKIDS – will be administered in Georgia this year.
****
Governor Brian P. Kemp issued Executive Order 03.20.20.01 and Executive Order 03.20.20.02 authorizing a transfer of $19,552,646 from the Governor's Emergency Fund and reducing regulations to assist in the state's response to COVID-19.
The Georgia Emergency Management and Homeland Security Agency and Georgia Department of Public Health have purchased $19,552,646 in medical supplies and equipment.
****
TRANSFER STATION REMAINS CLOSED
The Coweta County Transfer Station Remains CLOSED due to a fire that destroyed the building. Sorry for the inconvenience.
Here are the best options we have found so far for disposal.
This list will be amended as needed.
Carroll County Transfer Station (former landfill)
439 Simonton Mill Road Carrollton GA
770-832-1233
$20 minimum
Open Monday-Saturday
8:00 AM – 4:00PM
Scale & Gate Closes at 3:45PM
All forms of payment accepted
Waste Management Turkey Run Landfill
7144 Lone Oak Rd Hogansville, GA
1-800-963-4776
$ 45 minimum
No Tires, No Appliance, No Paint
Monday thru Friday 5 am – 3:30 pm
Saturday 7 am – 12 pm
Check and Debit cards only
****
The Georgia Power Foundation, Inc. is investing $1 million to support Georgia's recovery from the COVID-19 pandemic.
Georgia Power officials say they recognize the strain the global health crisis has put on many families and individuals across the communities served by the company. Funds will be focused on food insecurity, homelessness and displaced workers assistance.
****
The Newnan Salvation Army, which remains open to help serve people in need, is asking for donations of food and goods for the store. Donations are accepted Monday through Saturday from 9 a.m. to 4:30 p.m. at the store, located at 670 Jefferson Street.
For those in need, a food pantry operates on Tuesdays and Thursdays from 9:30 a.m. to noon. For more information, call 770-251-8181.
****
The Newnan-Coweta Habitat for Humanity ReStore has closed to mitigate the transmission of COVID-19.
The administrative staff will continue to work remotely as the organization prepares to break ground on a seven-home Habitat Development located less than a mile from downtown Newnan.
****
Newnan Utilities has suspended all non-payment disconnections until further notice, according to a statement released Thursday.
However, customers are encouraged to continue to make payments to avoid large balance due amounts when the suspension ends.
****
Public access to the Administration Office Complex (22 East Broad Street/37 Perry Street/21 East Washington Street) will be limited beginning Thursday, March 19, 2020 at 8AM until further notice in an abundance of caution due to COVID-19.
If you need to conduct business with any of the offices housed within the admin complex you will need to do so either online, via phone/fax/email or by appointment if needed.
Offices located in the Admin Complex include:
• Administration
• Commissioners
• Community Development (Alcohol/Business License/Building Department /Zoning/ Development Review)
• CR
• Finance
• GIS
• HR
• IT
• Tag Office
• Tax Commissioner
• Tax Assessor
• Transportation/Engineering
• Veteran Services
• Voter Registration/Elections
Visit www.coweta.ga.us for additional information
****
The Georgia Department of Driver Services has suspended all road testing, non-commercial and commercial, until further notice. Additionally, some DDS Customer Service Centers have closed due to workforce shortages.
You can visit their online services, www.dds.georgia.gov, or download their mobile app, DDS 2 GO to handle most of your licensing needs.
****
Relief is on the way for Georgia workers temporarily laid off because of COVID-19-related cutbacks and closings.
Employers will now be required to electronically file partial unemployment claims on behalf of their employees whenever it is necessary to temporarily lay workers off.
Filing partial claims results in employees receiving unemployment insurance benefit payments faster, usually within 48 hours for claims filed electronically.
****
Not everyone who has flu-like symptoms needs to be tested for COVID-19, health officials say.
According to Piedmont Newnan Hospital, coronavirus tests are available in Coweta County but for now, they are only being administered to patients with a physician order and to those who meet certain criteria. Those criteria are set by the Centers for Disease Control and the Georgia Department of Public Health.
****
JigJam, which was scheduled to perform April 2 at the Nixon Centre for Performing and Visual Arts, has cancelled its spring tour. Nixon Centre staff members are working with the group to reschedule the event for the 2020-2021 season. For questions, email info@thenixoncentre.net .
****
The Newnan Parkinson's Support Group has cancelled its April 14 meeting.
****
Coweta County movie theaters closed this week in response to the COVID-19 health event. That includes AMC Classic 10 on Newnan Station Drive, Regal Georgian in Ashley Park and NCG Cinema at Fischer Crossing.
****
Georgia Power announced last week that it would temporarily suspend residential disconnections beginning Saturday, March 14, 2020, for 30 days, and will reevaluate the decision and timeframe as the situation develops. Georgia Power highly encourages all customers to continue to make payments and practice energy efficiency to avoid large balance due amounts when the suspension ends.
****
Senoia City Hall is now closed to the public except by appointment.
City Hall hours of operation will be limited to Tuesdays and Thursday from 9 a.m. to noon, and anyone wishing to conduct business at that time will also need to make an appointment. City Manager Harold Simmons made the announcement at Monday night's Senoia City Council meeting. Bills can be paid online, over the phone or through the drop-box, or by appointment.. Additionally, Senoia Public Works is operating on an on-call basis, and the Senoia Police Department is closed to the public. For City Hall, call 770-599-3679. For the non-emergency police matters, call 770-599-3256. For emergencies, call 911.
****
Target stores are reducing hours and closing by 9 p.m. each day to replenish stock and deep-clean stores. The chain also will increase staffing for in-demand services that support social distancing, like Order Pickup and Drive Up.
Target also will be reserving the first hour of shopping each Wednesday to support vulnerable guests, including the elderly and those with underlying health concerns. Limits also are being placed on in-demand items, and stores are fast-tracking the flow of food, medicine and other essentials.
****
Dollar General is dedicating its first hour of operations each day for the shopping needs of senior customers, who are one of the groups most vulnerable to the COVID-19 coronavirus. In keeping with the Company's mission of Serving Others, Dollar General wants to provide these at-risk customers with the ability to purchase the items they need and want at the beginning of each day to avoid busier and more crowded shopping periods.
Other customers are encouraged to plan their shopping trips around this window of time to allow the most susceptible customers the ability to shop during the first hour that stores are open.
Additionally, all stores plan to close one hour earlier than current close times to allow employees to clean and restock store shelves, as well as for their health and wellbeing. Stores will continue to maintain current opening hours. Normal operating hours by individual store locations are available here.
****
Coweta County Environmental Health Department 28 E. Washington Street, Newnan is closed to public access. If you need to deal with Environmental Health, they remain operational via phone and email:
To reach Environmental Health, call 770-683-7345 or email Stephanie.Mapp @dph.ga.gov .
****
The State of Georgia has a new COVID-19 hotline. If you believe that you are experiencing symptoms of COVID-19 or have been exposed to the novel coronavirus, please contact your primary care doctor, an urgent care clinic, or your local federally qualified healthcare center. Please do not show up unannounced at an emergency room or health care facility.
Hotline: 844-442-2681
****
The Coweta County School System is providing free breakfast and lunch for children.
Families will be able to pick up meals from 11 a.m. to noon each weekday at Newnan High School, Arnco-Sargent Elementary School, Ruth Hill Elementary School, Jefferson Parkway Elementary School, Smokey Road Middle School and Winston Dowdell Academy. On Wednesday, East Coweta High School will begin serving meals as well.
The meal program will operate as a drive-through service only, and those picking up meals will remain in their vehicles. Meals will be available for ages 0-18, and through age 21 for youths with special needs.
Meals will be available, while supplies last, every weekday. Students with special dietary needs also are eligible. Accommodations can be arranged by calling Keshia Williams at 404-971-5198.
****
Newnan's is among several Kaiser facilities that are immediately closing amidst the COVID-19 pandemic.
An email to members said Kaiser is also preparing for an increase in cases. Appointments at affected locations are being converted to a phone appointmentor moved to a different location, according to the email from Kaiser. Appointments over the phone will be with the same provider. Providers will call members at or as close as possible to their scheduled appointment time. This process is expected to continue throughout the week or coming weeks as the situation is triaged, according to the email.
In addition to Newnan facility, the following facilities will also be closed effective immediately:
• Forsyth
• Sandy Springs
• Holly Springs
• Douglasville
• Conyers
• Stonecrest
• Fayette
• Decatur
• Brookwood
• Lawrenceville
• West Cobb
If members have questions, please have them call 1-800-611-1811 to talk to an advice nurse 24/7.
For more information, visit https://healthy.kaiserpermanente.org/georgia/health-wellness/coronavirus-information.
****
Non-hospital events at Piedmont Newnan cancelled until further notice
In order to protect patients, visitors, and staff, and to preserve resources during the COVID-19 outbreak, the hospital is cancelling all non-hospital events. This includes classes at Thomas F. Chapman Family Cancer Wellness, as well as meetings of various support groups.
The hospital has also closed the Piedmont Newnan Fitness Center in downtown Newnan for the next two weeks, starting March 17, to protect the health and wellness of our fitness center members.
"The safety of our patients, visitors, and staff is our top priority at Piedmont Newnan," said Mike Robertson, CEO of Piedmont Newnan. "At a time when the CDC requests social distancing, which means remaining out of congregate settings, avoiding mass gatherings, and maintaining a distance of six feet when possible, we felt it was in the best interest to cancel these events for the time being."
There is no need for the public to avoid the hospital if they have scheduled appointments or are having a medical emergency.
"If a patient with an infectious disease presents at any Piedmont location, we have the staff, facilities, and proper processes and protocols in place to take care of them and keep everyone safe. Each Piedmont facility has rooms that isolate infectious patients and feature ventilation systems that do not allow the exchange of air with other areas of the hospital," said Robertson. "Our staff has all of the personal protection equipment, and the necessary training, to care for all of our patients, regardless of their ailment. There is no need to cancel or reschedule an appointment."
****
As the COVID-19 outbreak continues and many public schools are closed to ensure the safety of students and staff, State School Superintendent Richard Woods is suspending state-mandated testing, teacher evaluation and attendance requirements until further notice.
That includes:
• State assessment window/administration including Georgia Milestones EOGs and EOCs, the Georgia Alternate Assessment/GAA 2.0, and all other required testing
• Teacher and leader evaluation (TKES/LKES) requirements and reporting
• State-level attendance-related consequences including CCRPI, TKES/LKES, School Climate Star Rating, and make-up day requirements
****
ACT has rescheduled the April 4 national test date to June 13 in response to concerns over the spread of COVID-19.
ACT will communicate directly with all students currently registered for the April 4 test. All students registered for the April 4 test date will receive an email from ACT in the next few days informing them of the postponement and instructions for next steps.
To access up-to-date information, additional national test date options, and other frequently asked questions, visit www.ACT.org .
****
In accordance with government protocol, Southern Arc Dance Center is closed. Classes are expected to resume on March 28
****
City of Newnan Municipal Court has been cancelled for the following dates:
Wednesday March 18, 25, and 26, 2020.
****
The Coweta County Transfer Station on Essie Mae Walker Road will be closed until further notice due to an early morning fire at the facility.
****
COUNTY PROBATE CHANGES
On March 14, 2020, Chief Justice Harold Melton of the Georgia Supreme Court issued an Order Declaring a Statewide Judicial Emergency in the State of Georgia pursuant to O.C.G.A. § 38-3-60 et. seq. due to the spread of the Coronavirus/COVID-19. This Order directs courts to endeavor to remain open to address essential functions, and suspends, tolls, extends, and otherwise grants relief from certain deadlines. The order terminates on April 13, 2020, at 11:59 p.m., unless otherwise extended.
As a result, please be advised that there will be temporary changes in the probate delivery of services. EFFECTIVE IMMEDIATELY, PROBATE WILL BE SUSPENDING ITS "WALK-IN" POLICY AND WILL ACCEPT ESSENTIAL MATTERS BY APPOINTMENT ONLY. Essential matters include, but are not limited to:
• Emergency Petitions for Guardianship or Conservatorship
• Permanent Petitions for Guardianship or Conservatorship with accusations of abuse, neglect, or harm
• Other legitimate emergency petitions or motions
• Medical consent guardianships
• Involuntary treatment/mental health hearings
• Orders to Apprehend
• Disposition of remains permits
• An urgent need for a vital record
• Issuance of new marriage licenses
Issuance of vital records should be accomplished by written request via US Mail if possible.
If you are currently a Coweta County Weapons Carry License holder and your permit is set to expire during this time period, please be advised that licenses that expire on their face during the emergency period will remain in effect during the emergency period.
Probate will continue to accept court filings via U.S. Mail and accept court filings via the mail slot located on the west side of their building. Their website: www.coweta.ga.us/government/courts/probate-2020 provides access to standard filing forms.
****
ELECTION CHANGES
Because of the governor calling for a state of emergency in Georgia, the secretary of state has postponed the Presidential Preference Primary until May 19.
Coweta County Elections will continue mailing absentee ballots for the Presidential Preference Primary (PPP) until March 20, 2020 and will process any applications that come in until that date.
• If you vote in the March 24, 2020, Presidential Preference Primary, your vote will be counted – it is in a separate database. You will receive the regular Primary/Nonpartisan ballot for the May 19, 2020, Primary. • If you do not vote in the March 24, 2020, PPP, you will receive a combined ballot for the May 19, 2020, Primary/Nonpartisan Election.
****
SUPERIOR COURT CHANGES
The latest changes related to Juvenile Court can be found at https://www.coweta.ga.us/gover...
The Honorable Harold D. Melton, Chief Justice of the Supreme Court of Georgia, has declared a Statewide Judicial Emergency in the State of Georgia because of continued transmission of Coronavirus/COVID-19 throughout the State and the potential infection of those who work in or are required to appear in the courts.
• Judge Emory Palmer's Civil Non-Jury Calendars for March 16, 2020 and April 2, 2020 are continued to April 20, 2020.
• Coweta Superior Court remains open and will address any matters necessary to protect the health, safety, and liberty of individuals, or any other matters that the court deems essential, on a case-by-case basis.
• Any attorney or party seeking such relief for any case assigned to Judge Palmer should contact Debra Taylor at 770-683-0491 to arrange any telephonic or other proceeding.
• As part of this Judicial Emergency, the court suspends, tolls, extends, and otherwise grants relief from any deadlines or other time schedules or filing requirements imposed by otherwise applicable statutes, rules, regulations, or court orders, whether in civil, criminal or administrative matters including but not limited to the deadlines enumerated in O.C.G.A.§38-3-62.
****
STATE COURT CHANGES
State Court does have a calendar for Monday, March 16 and Tuesday, March 17 which remains in effect.
Judge Cranford has rescheduled the following calendars.
• Jury Trials for April 6th, 2020 have been rescheduled to July 6th, 2020
• Jury Trials for April 20th, 2020 have been rescheduled to July 13th, 2020
• Arraignment March 18th, 2020 at 9 a.m. to May 19th, 2020 at 9 a.m.
• Arraignment April 1st, 2020 at 9 a.m. to May 21st, 2020 at 9 a.m.
• Arraignment April 2nd, 2020 at 1:30 to 5/21/20 at 1:30 p.m.
• Arraignment April 15th, 2020 at 9 a.m. to June 2nd, 2020 at 9 a.m.
• Arraignment April 29th, 2020 at 9 a.m. to June 30th, 2020 at 9 a.m.
Judge Poulakos has updated calendars to reflect the following:
Monday, March 16th, 2020 Criminal Motions are rescheduled to June 22nd, 2020 at 9 a.m.
March 16, 2020 @ 9:00 am CR Motions to June 22, 2020 @ 9:00 am
March 23, 2020 @ 9:00 am CR BT to May 11, 2020 @ 9:00 am
March 24, 2020 @ 9:00 am CR BT to May 12, 2020 @ 9:00 am
March 25, 2020 @ 9:00 am ARR to May 6, 2020 @ 9:00 am
April 8, 2020 @ 9:00 am ARR to May 20, 2020 @ 9:00 am
April 9, 2020 @ 1:30 pm Interpretation ARR to June 4, 2020 @ 1:30 pm
April 13, 2020 @ 9:00 am CR JT to July 6, 2020 @ 9:00 am
April 22, 2020 @ 9:00 am ARR to June 3, 2020 @ 9:00 am
April 27, 20220 @ 9:00 am CV/CR JT to July 20, 2020 @ 9:00 am
Coweta County Traffic Violations Bureau Operational Changes:
Arraignment March 18th, 2020 at 8:30 a.m. to May 19th, 2020 at 8:30 a.m.
Arraignment March 25th, 2020 8:30 a.m. to May 6th, 2020 at 8:30 a.m.
Arraignment April 1st, 2020 at 8:30 a.m. to May 21st, 2020 at 8:30 a.m.
Arraignment April 8th, 2020 8:30 a.m. to May 20th, 2020 at 8:30 a.m.
Arraignment April 15th, 2020 at 8:30 a.m. to June 2nd, 2020 at 8:30 a.m.
Arraignment April 22nd, 2020 at 8:30 a.m. to June 3rd, 2020 at 8:30 a.m.
Arraignment April 29th, 2020 at 8:30 a.m. to June 30th, 2020 at 8:30 a.m.
NOTE: Traffic Violations Bureau cases can be paid online or by telephone at the following website and number:
https://www.payyourtix.com/coweta/default.aspx 1-866-339-0646
Coweta County State Court Pretrial Diversion Calendar Call changes:
• March 31st, 2020 CC PTD 2:00 p.m. to May 26th, 2020 CC PTD at 2:00 p.m. • April 7th, 2020 CC PTD 2:00 p.m. to June 9th, 2020 CC PTD at 2:00 p.m.
****
JUVENILE COURT CHANGES
The latest changes related to Juvenile Court can be found at https://www.coweta.ga.us/.../courts/juvenile-court/covid-19