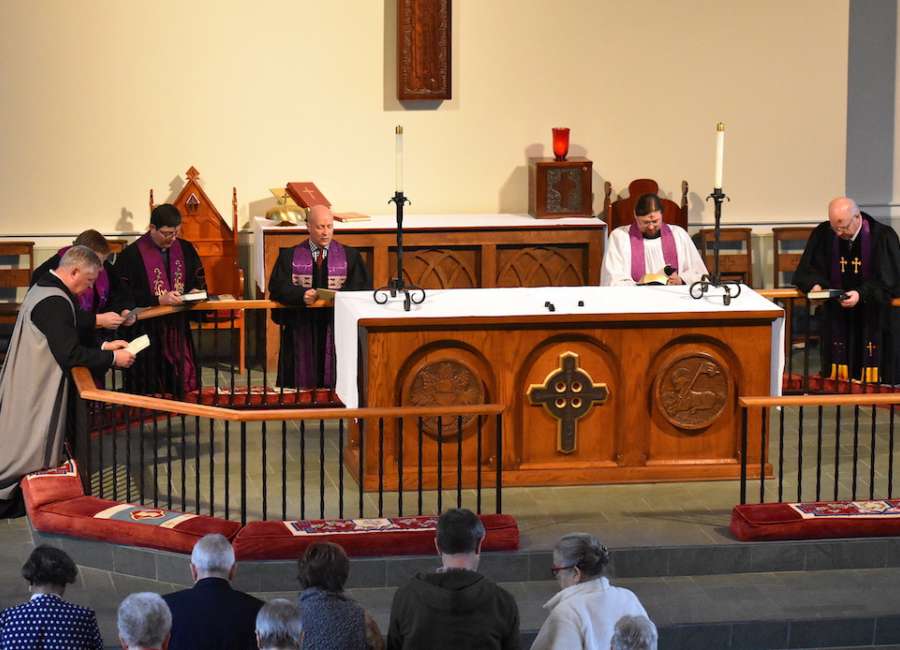 Despite the way circumstances may look, there is beauty in the ashes.
That was the central point of the message Dr. Jimmy Patterson of First Baptist Church in Newnan brought at the ecumenical Ash Wednesday service at St. Paul's Episcopal Church.
Several dozen people were present for a lineup of local clergy to make signs of the cross out of ashes on worshippers's foreheads – reminding them of their mortality in a ritual dating back many centuries.
Lent is a 40-day period of prayer, reflection and self-denial that is observed by many Christians. Lent begins with Ash Wednesday and continues through Easter, when Christians celebrate the resurrection of Jesus.
Patterson's message focused on the tragic deaths of a Newnan mother and four children who were killed in a house fire in April of 2013.
The fire killed Alonna T. McCrary, 27, as well as her 5-year-old daughter, Eriel McCrary, and 2-year-old daughter, Nikia White. Two other children – Messiah White, 3, and McKenzie Florence, 2 – also died. Alonna died trying to save the young children. A fifth child, 11-year-old Nautica McCrary, survived.
Patterson said he returned to the site of where the home once stood at 2 Midland Court in Newnan, in the Westgate community. He spoke of how the structure once occupied the now-empty lot.
"I saw the makeshift memorial that had been made," Patterson said.
Patterson then went on to speak about how donations from parishioners who attend Lenten services made it possible to help rebuild a home in the same area, creating beauty from the ashes. The recipient of the home was in attendance at the service Wednesday.
"You gave," Patterson said to the congregation. "You helped build that beautiful house. I was invited to pray over the home. I prayed over each nail, each shingle. There is beauty from the ashes. He can do the same for you today. Humble yourself under the mighty hands of God."
The ecumenical Ash Wednesday service is part of a series of Lenten services that has been held in Newnan for several years. Each service is held at a different church with a pastor from another church bringing the message. The offering this year will be given to Coweta County Samaritan Clinic.
Each is also followed by a $5 lunch. Services begin at noon.
The remaining service locations are: March 4, St. George Catholic Church, Newnan; March 11, First Baptist Church; March 18, Cornerstone United Methodist Church; March 25, Central Baptist Church; April 1, First United Methodist Church (no lunch); and April 8, Newnan Presbyterian Church.