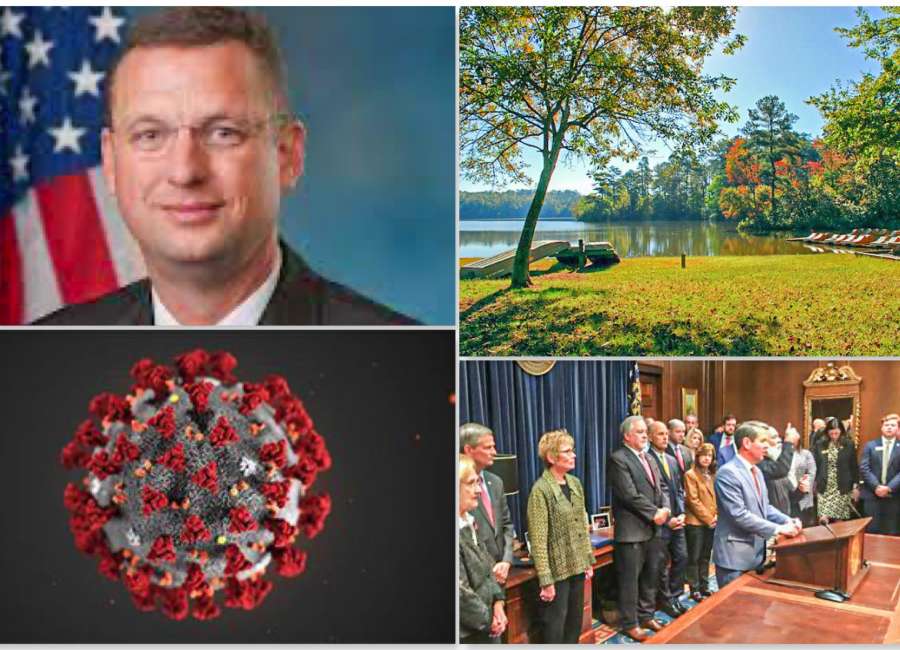 By Andy Miller - Georgia Health News
State officials said Monday that there are six Georgians with confirmed cases of the new coronavirus and six others who are presumed to have the disease.
Later Monday evening, Georgia officials raised the number of presumed coronavirus cases to 11. All of those people reside in metro Atlanta.
Gov. Brian Kemp announced earlier Monday that the state is preparing Hard Labor Creek State Park, about 50 miles east of Atlanta, for the possible isolation and monitoring of patients who may have been exposed to the coronavirus, known as COVID-19.
"We're definitely going to see more cases in Georgia,'' Kemp told reporters Monday at a news conference. Based on state preparations, he said, "We are ready.''
The governor's announcements were part of a flurry of major developments Monday related to the coronavirus crisis in Georgia.
They included Fulton County Schools announcing that all schools and offices would be closed Tuesday after a teacher was diagnosed with coronavirus.
U.S. Rep. Doug Collins, a Georgia Republican who is running for a Senate seat, said he is self-quarantining at home because he was in contact with someone with the virus at the recent Conservative Political Action Conference in Washington, D.C. Collins joins two fellow Republicans, Sen. Ted Cruz of Texas and Rep. Paul Gosar of Arizona, in taking such action after the conference.
Collins met with President Trump, Kemp and other officials last Friday during the president's trip to the CDC. But state officials said Collins has not exhibited symptoms, and as such does not pose a health risk. Kemp said at a Monday news conference on coronavirus that he's not worried about contracting the disease from Collins.
Kemp also said federal officials were looking into the case of a South Korean individual who exhibited symptoms consistent with COVID-19 after arriving at Hartsfield-Jackson Atlanta International Airport. The person was quarantined there and then hospitalized. There was no further information given about the health condition of other passengers of that weekend flight.
Later Monday evening, state officials said that the South Korean passenger tested negative for the coronavirus.
The whirlwind of developments occurred on the same day that U.S. stocks and bonds tumbled, partly because of the coronavirus and partly because of an international energy dispute that caused oil prices to plummet.
The pace of positive COVID-19 tests have accelerated since last week, when testing for coronavirus, after weeks of delays, finally ramped up here and nationally.
Nationally, more than 600 Americans have been diagnosed with COVID-19, which has killed at least 26 people, most of them in Washington state.
Dr. Kathleen Toomey, commissioner of the state Department of Public Health, said the state Public Health Lab has tested 50 to 60 individuals since launching testing Thursday. She said there is "person-to-person'' transmission of the virus here but that it's not widespread.
Toomey said Georgia has requested more testing materials. The CDC has not yet given the state clearance to confirm cases of COVID-19, so the confirmations for the time being will still be done by the CDC itself.
The disease is hitting older people and those with chronic health conditions hardest, she added.
Getting a potential haven ready
Kemp's office said the state park preparation is being done "out of an abundance of caution.''
"Officials have already delivered and installed seven emergency trailers at the park, and related materials are en route for future use,'' the Governor's Office said. Officials are using an isolated section of Hard Labor Creek park, where emergency trailers and operations will be separated from the rest of the property.
Homer Bryson, director of the Georgia Emergency Management Agency, said the park was chosen because of its location and layout. He told GHN that a Cherokee County patient may be going to the park location because while he is not ill enough to be hospitalized, he does not have a residence suitable for "self-isolation.''
Teacher case in Fulton
The Fulton County school district said students at potentially affected schools were released early Monday after it found out about the employee, who is being treated at a local hospital. District Superintendent Mike Looney said the teacher started getting sick at the school and called 911, 11Alive reported.
"The teacher felt ill at work. 911 was called. This particular teacher was transported from the school campus," Looney said.
The sick teacher works at two schools, Bear Creek Middle School in Fairburn and Woodland Middle School in East Point. Creekside High School released students early because of its close proximity to Bear Creek Middle School and because many families have students in both schools, the district said.
On Monday evening, 34 Georgia passengers from the Grand Princess cruise ship, along with others on board, were expected to head to Dobbins Air Reserve Base in Marietta. The ship had been held off the coast of California after 21 people onboard tested positive for the coronavirus, known as COVID-19.
Toomey said the Georgians will be transported to their homes, where they will be monitored. The passengers who are not Georgians will be monitored at the base, she said.
The unfolding coronavirus situation has unnerved many Georgians.
Charitable clinics in Georgia "are getting a lot of calls from people wanting to be tested,'' said Donna Looper, executive director of the Georgia Charitable Care Network, which has dozens of such clinics across the state.
Kemp and Toomey reiterated their call for Georgians to practice good hygiene and be vigilant. They urged residents to wash their hands thoroughly and frequently, avoid touching their faces and stay home if they're sick.
Meanwhile, state Insurance Commissioner John King issued a directive Monday to health insurers encouraging them to provide smooth access to care for their customers.
"Now that there have been confirmed cases of coronavirus in Georgia, it is essential that we are doing everything we can to remove any potential barriers to care for our citizens," King said in a statement. "The directive we issued this morning is meant to ensure that no Georgian is denied access to testing or treatment for this disease."
King urged insurers to waive cost-sharing for visits to network physician offices, urgent care centers or emergency rooms when testing for COVID-19, "particularly for those individuals with high-deductible plans."
The directive instructs insurers to verify their provider networks are adequate to handle a potential increase in the volume of COVID-19 cases and calls on them to provide access to out-of-network providers at an in-network rate if they are not.
Anthem, parent company of Blue Cross and Blue Shield of Georgia, announced last week that it's providing coverage of the coronavirus screening test at no out-of-pocket cost. The companies also confirmed that prior authorization is not required for diagnostic services related to COVID-19 testing.
An industry group, America's Health Insurance Plans, says that many other insurers are taking the same steps.