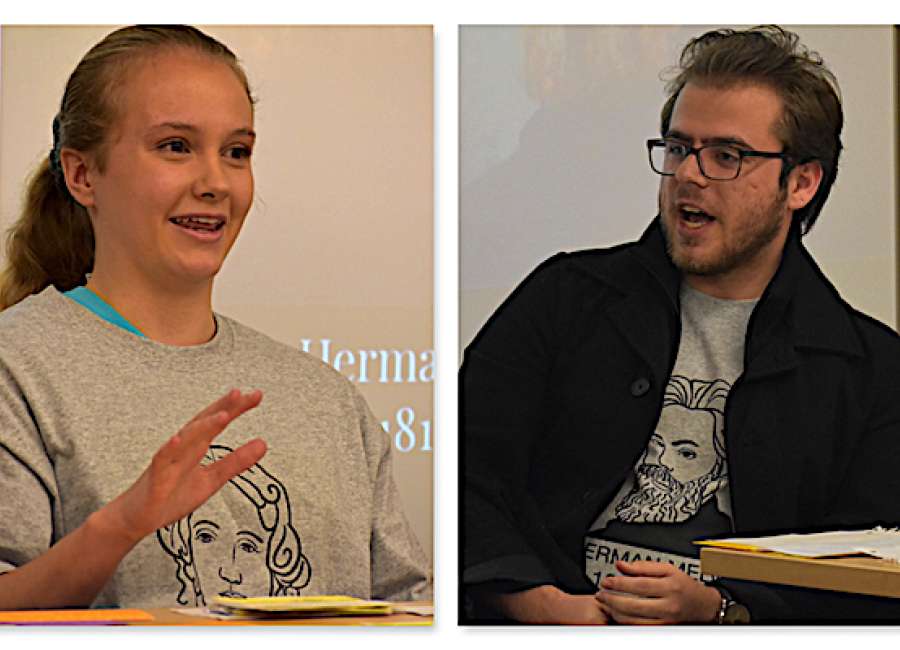 Many writers dream of penning a novel so important that it ends up on a class syllabus.

If Harriet Beecher Stowe and Herman Melville shared that sentiment, they likely would be pleased that "Uncle Tom's Cabin" and "Moby Dick" are still the subject of a fiercely contested student debate, 169 years after their publication.
Instructor Melissa Jackson incorporated the debate into her class at the University of West Georgia-Newnan last year, assigning a team to represent each book and a team to research U.S. history and culture of 1851 – the year both novels were published – so they can ask relevant questions to fuel the debate. She also invites community members to attend and ask questions, make comments and, ultimately, vote on a winner.
"Students are more engaged and interested if there's a little sense of competition," said Jackson, who makes the debate part of her sophomore-level "Ideas in American Literature: Free Will" class.
Debating in front of an audience is also a useful learning tool, Jackson said.
"I think it's motivating for them to see that grownups that are out in the workforce are still interested in this conversation," she said. "It's nice for them to have that audience that asks questions and responds to what they have to say. That extends conversation in some way, and that's just powerful."
As an instructor, Jackson said she always enjoyed pointing out that "Moby Dick" was considered a literary failure in its time, while "Uncle Tom's Cabin" was a huge hit.
"For the first few years I left it at that, but last semester it occurred to me that the 1851 correspondence really offered students an opportunity to talk about big issues with an interdisciplinary angle," she said. "They could think about history, religion, race, gender … so I tried it out and it was spectacular."
Surprisingly, Jackson does not require her students to read either novel before the debate. Instead, they research the material around it. Debating which is the superior novel doesn't depend on which they like better, but on their understanding of the circumstances under which they were published, the author's intent, the way the novels were received at the time and how they are viewed in modern times.
"From my point of view, you should decide for yourself whether you want to read them," she said.
Last year, Team Melville won the debate. This year, it was Team Stowe. Regardless of which side they were on, students who were part of Tuesday's debate say it was a useful and fun exercise.
"Through research, I gained a better insight on the history of the time and a greater appreciation and understanding of both pieces of literature, but through the debate is where my peers and I were able to bring both books back to life," said Mackenzie Farmer of Team Stowe. "I honestly do not think I could ask for a better way of understanding literature, philosophy and history and applying it in a meaningful way."
Dominic Grimalidi of Team Melville said the debate altered his perception of "Moby Dick," which was required reading for him in high school.
"I thought it was a terrible book, and so I understood why it didn't sell well initially," he said. "Now, I can't believe I – and everyone of Melville's generation – was so short-sighted. It is a true masterpiece of American literature."
Tory McClain, one of two members of the neutral history team, said she appreciated Jackson's unique instructional approach.
"We didn't just do a simple test – we got the opportunity to actually learn," McClain said. "We studied and researched and shared our thoughts on two different books and times in history through the in-class debate. This assisted us in our research skills, along with being able to think quickly when speaking publicly."
Parks Avery, who was a student in Jackson's class and a member of the winning Team Melville last year, returned to join the audience this year.
"It was great to be in the back of the room as a judge instead of in the front of the room worrying about all of the potential questions that might be asked (and had I researched enough!)," Avery said. "I thought the students did a great job in their midterm debate. That format of Mrs. Jackson's is a tremendous way to have the students 'deep-think' on their authors and the time period."
Cynthia Bennett, vice-president of the Newnan-Coweta Chamber of Commerce, said she was delighted to see business leaders interact at the event with the students.
"It was an excellent way to see the successes of UWG Newnan," Bennett said.
One of those successes is the ability of dual-enrolled students to thrive in university-level classes despite what Jackson calls "a substantial syllabus." Half of her class has yet to graduate from high school.
"I was especially interested in the opportunity for dual-enrolled high school students and traditional university students to be part of a significant debate about ideas gained from important American literary works," said Mark Whitlock, CEO of the Coweta County School System's Central Educational Center. "The students did a great job, in my opinion, of dissecting the timeless ideas in works by Melville and Stowe. I continue to be struck by the capacity available in our community for students to move farther, faster in their own educational journeys."
Pat McKee, a local attorney and author of "Ariel's Island," said exercises like the debate demonstrate the value of humanities-based curriculum, particularly literature, in higher education.
"The students were challenged to assimilate a large amount of information – literary, historical, philosophical, social – judge it critically, and transmit it to others in a persuasive and informative manner," he said. "These are the essential tools of an active citizen in our culture, and they are the foundation for a life of learning."