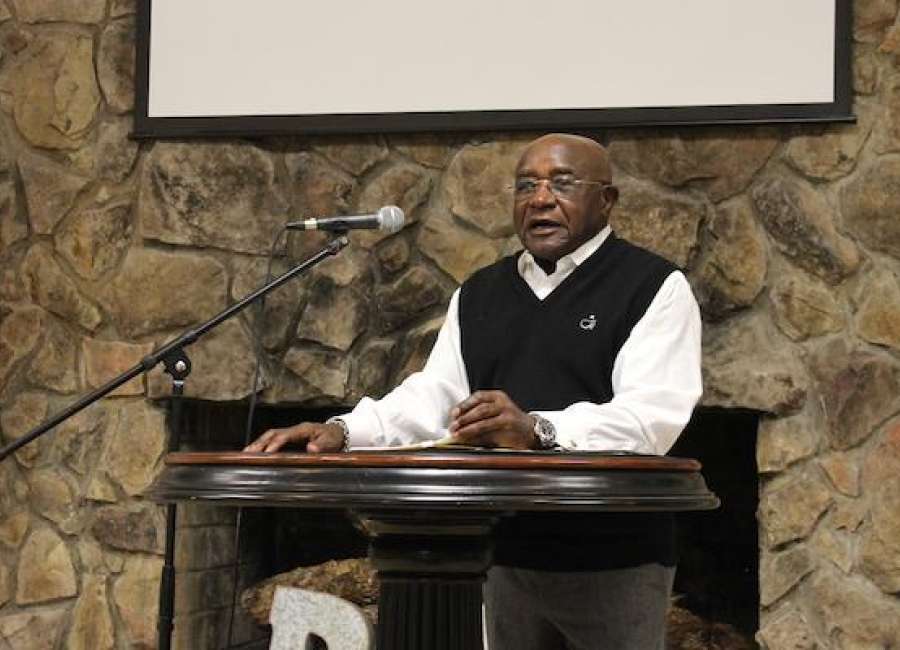 Coweta native Carl Ware talked about his new book "Portrait of an American Businessman" at the monthly Pastors and Leaders Luncheon Monday.
Ware grew up in Coweta County and resides here now. Among his accomplishments include being the highest-ranked African American executive at The Coca-Cola Company, and he was the first black president of the Atlanta City Council, said Newnan City Councilwoman Cynthia Jenkins, who introduced Ware.
Ware said his book has been nominated for two awards so far — Author of the Year for Georgia and the Pushcart Prize, which is given to works published by small presses.
"It's an honor just to be nominated for those prestigious prizes," Ware said.
He said he wrote the book to create an accurate record of his life for his family. Ware said he also has been close to events that made Atlanta the city it is today and wanted to share how he has been involved in the changes.
In addition to Atlanta, Ware has also had a pivotal role on the world stage, having relationships with distinguished leaders who have made global impacts.
"My friends convinced me that I have a unique story to tell about how I rose from the cotton fields to the corporate boardrooms of America, and how that played out throughout my life here and why I'm back in Newnan," Ware said.
Newnan roots
Ware said that although he has lived all over the world, he always considered Newnan his home. He said whenever he got off the plane from traveling internationally, he would stop by his Atlanta home and then head to Newnan to his family's farm.
"I always knew, regardless of where I'm living — and I've lived in London, Johannesburg, Cape Town, Shanghai — I always knew I would build my home right here in Coweta County," he said.
Ware said the same place where his family sharecropped is where they live today.
He grew up with 11 siblings, five brothers and six sisters, in the Jim Crow South. His family were sharecroppers, picking cotton and peaches.
"These were difficult times of hard work. Circumstances made even more difficult by segregation, intimidation and violence in rural Coweta County at the time," Ware said.
He recalled walking 2.5 miles to school on a muddy country road, while white students threw rocks at him out of the school bus window. Ware remembered being so angry that he wanted to pick up a rock and throw it back at the bus.
"Frankly, ladies and gentlemen, if I had done that, I probably wouldn't be standing here today," he said.
Ware said he was fortunate to have three strong people in his life at that time, his parents and his fourth grade teacher, that taught him values he would carry through his life.
"I learned early in life what it means to control your own destiny," he said.
Instead of fleeing the south, his parents used the money they had made sharecropping to buy 50 acres of land to farm food and cash crops, and his family still lives on that land today.
Ware said his father was the first African American to vote in the 5th Congressional District of Georgia since Reconstruction. Because of threats on his life, he was escorted by Sheriff Lamar Potts to the Coweta County Courthouse to vote on Oct. 1, 1949.
His family also taught him how to give back through a vegetable garden they tended on their property. After canning the vegetables for winter and selling a few bags for money, they would take the rest of the vegetables and distribute them to families who needed them in the community.
"That was their brand of philanthropy. They didn't call it that back in the day, but I have no doubt that Mama and Daddy's habit of giving back touched me and planted a seed," Ware said.
He said when Clark Atlanta University reached out to him needing a classroom building, he contributed 15 percent of his wealth to the building. He said after it was built, alumni and philanthropic giving at the university skyrocketed.
"Giving to others leverages more gifts. It's not just the money, it's the spirit and the purpose," Ware said.
Coca-Cola and the Atlanta City Council
Ware said Martin Luther King, Jr.'s death inspired him to enter politics, and he was elected to the Atlanta City Council, where he became the first African American president of the council.
He said he worked alongside the first African American Mayor of Atlanta, Maynard Jackson, and they both took office in 1974.
While he was at The Coca-Cola Company, he was charged with creating a culture of diversity in the company. At the time, Coca-Cola had 750 bottlers, and none were owned by African Americans.
Ware led the team to create an African-American bottler, and it was called the Philadelphia Coca-Cola Bottling Company.
Internationally, Ware said he worked alongside Archbishop Desmond Tutu of South Africa, who wrote the foreword of his book. Ware led the Coca-Cola Company to reinvest in South Africa after Nelson Mandela was elected president in 1994.
"Tutu and Mandela had a profound influence on my life, especially in the last 10 years of my career at Coca-Cola," he said.
Ware said he met Mandela 30 days after he got out of prison, and he recalled how regal, but also down to earth he was.
"He embraced me as though he had known me all his life, and I never went to South Africa under his insistence without first stopping by his home without having a cup of coffee or a cup of tea," he said.
Ware said his book uncovers over 30 stories of his life, and he said while it is a book about struggle, it's also a book about leadership.
"The book was a long journey for me; I hope you read it and find some meaning in it," he said. "It's my humble wish that the book will provide inspiration to future generations of leaders."
The Pastors and Leaders Luncheon is an opportunity for people in the community to discuss community issues and get to know each other. The monthly event is based on Carroll County's Pastors Luncheon.