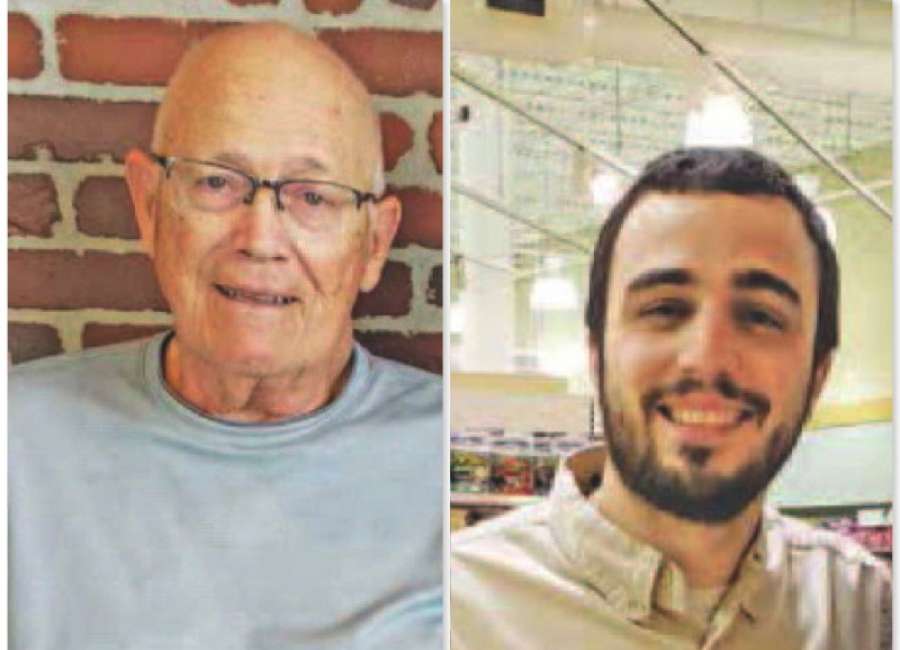 By William J. Poole
Special to the NTH
Two men have been awarded for their support and courage in regards to kidney dialysis patients in Coweta and Fayette Counties.

Roger Harkins was awarded the inaugural Courage to Come Back Award and Bret Hopkins was awarded the inaugural Man of the Year Award during a dinner held at Longhorn Steakhouse in Peachtree City Saturday, Feb. 15.
Roger Harkins — Courage to Come Back Award
The Courage to Come Back Award recognizes abilities, celebrates differences and gives center stage to kidney dialysis patients everywhere who have overcome tremendous challenges, yet reach out to help others in our community. They are our loved ones, our neighbors and our friends that have faced seemingly insurmountable odds and have come through with courage, strength, and have a determination and will to succeed.
Harkins was born Feb. 16, 1941 and married Patti Brown Sept. 16, 1962. They've been happily married for over 50 years. He said he attributes two words, "yes ma'am," to the longevity of his marriage. They have three children, Darlene, Alan and Robbie, who is the Peachtree City fire chief. They have seven grandchildren, one of whom is deceased.
Harkins started as a floorwalker at the local S.S. Kresge's in his hometown of Chillicothe, Ohio. He has held many positions with what is now the Kmart company over the past 38 years. He finally retired March 1, 1995 as the merchandise manager of the Kmart store in Newnan.
Harkins has spent the last eight years of his life on the kidney transplant list. Finally, in September 2019, good things began to happen.
He received his first call on Sept. 1 to be at the University of Alabama Transplant Center in Birmingham, Alabama in five hours, ready to receive his new kidney. After his arrival and being prepped, he was informed the doctor rejected the kidney, as it was not good enough. Harkins said he was frustrated and discouraged, but he was still hopeful.
The second call came three days later for the same process – be at the hospital in five hours, prepped and ready. But this time, his kidney was given to another hospital.
He was disappointed and wondered if he was going to receive a transplant, but he was still hopeful, hanging in there and never giving up.
He received the third call on Sept. 24 at 5 a.m. He was to be at the University of Alabama at Birmingham at 10 a.m. sharp.
After his arrival and being prepped and wheeled up to the kidney transplant floor at 5 p.m., He finally received his successful kidney transplant.
He addressed the crowd at Saturday's event, mainly speaking of his faith which kept him going.
Brett Hopkins — Man of the Year Award
The Man of the Year Award recognizes someone in the community, who through their personal commitment, generosity and support of kidney dialysis patients, their families and friends, has provided a way of making their days a little brighter.
Hopkins has contributed significant time, energy and spirit to the kidney dialysis patient programs of Coweta and Fayette Counties, without regard to his personal gain. His support and contributions to kidney dialysis patients go beyond normal responsibilities, creating a lasting and beneficial impact to the patients.
Hopkins is the produce manager of Publix – Peachtree City East. He graduated from Creekside Highschool in 2007 and began his career with Publix in 2005 as a grocery bagger. He is married to his wife Ashley, and they have two beautiful children, Carter Blake, six, and Payton Elizabeth, three.
Mike Butler, Publix general manager, said he was impressed with Brett from the very beginning.
"He impressed me with his people skills and work ethic," he said. There was no job too small or large or no task so great that he was not willing to take on. He welcomed the opportunity to succeed. In my opinion, Brett is a model for Publix employees to emulate.
As I presented the award, I remember this quote by former President John F. Kennedy.
"As we express our gratitude, we must never forget that the highest form of appreciation is not to utter words, but to live by them."
"Brett, through your donation of flowers every week, Publix gift certificates and loyal support, you have found a way of making hearts a little happier and problems seem a whole lot smaller and life more enjoyable," I continued. "On behalf of kidney dialysis patients, their families and friends of Coweta and Fayette Counties, it is with great pleasure and honor that I present to you the 2019 Man of the Year Award."
William J. Poole is a patient advocate with DaVita Kidney Care.