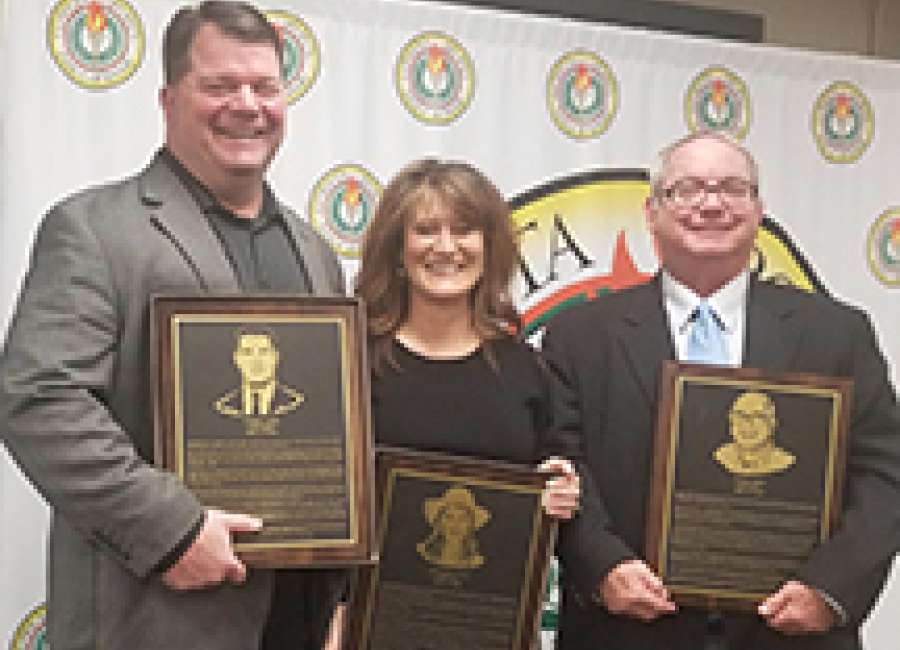 The Coweta County Sports Hall of Fame inducted three new members Saturday night at the 18th annual banquet held at the Coweta County Fairgrounds.

Former Olympian Robin Byrd Goad, former Newnan teacher and coach Terrell Reed and longtime sports trainer at East Coweta High Lloyd Knott were honored at the event.
Goad, who attended Newnan and West Georgia, helped put women's weightlifting on the map and became an international champion in the sport, competing in the 2000 Olympics, the first Olympic women's weightlifting team ever.
Goad was a USA Team member every year from 1987-2006 and held national records in several weight divisions from 1987-1998.
She also served on several boards that help promote the sport of weightlifting.
In high school she was a cheerleader and named Homecoming Queen as a Senior at Newnan.
She is married to Dean Goad and the mother of Sydney, Dean Jr and Robin.
Her husband was also a successful weightlifter on the international scene.
Her children have also set their own athletic paths.
Reed served as a teacher and coach at Newnan for 15 years.
He passed away in 2009 at the age of 65. He was represented at the banquet by his wife Fran, daughter Tonya and son Todd.
His goal of being a teacher and coach took a detour early when he was shot in the knee during a hunting accident back in high school, requiring several surgeries and rehabilitation.
He finally realized his dream, however, when he went back to school at Georgia Southwestern and graduated with a degree in education in 1978.
Reed was hired by former Newnan head football coach Max Bass. Reed served as basketball coach and an assistant football coach during his days with the Cougars.
Reed won more than 200 games on the basketball court and sent more than 40 players to college.
The former defensive line coach for the Cougars was named the Assistant Coach of the Year in 1992 by the Georgia Athletic Coaches Association.
Knott has been a fixture around the East Coweta athletic department since 1983, helping tend to the school's athletes for decades.
Knott officially retired after 36 years.
Knott got his start as a sports trainer when he was still in high school when as an undersized football player who weighed less than 100 pounds he didn't make the team and became its manager.
After high school, Knott went to Mississippi State where as a sophomore he earned a full scholarship and a college letter thanks to his dedication as a trainer.
Once he graduated, he worked various jobs, including at a family hardware business.
Knott eventually answered a job posting for a trainer and physical education teacher at East Coweta, and he became part of the EC school community.
In 2018, he was honored by the Georgia Athletic Trainers Association. In 1996, he was named Trainer of the Year by the Southeast Athletic Trainers Association.
He is married to Lisa who retired from East Coweta after 30 years in the classroom. They have a grown daughter, Christina Porter, son in-law Michael and granddaughter Everly, and a son, William Lloyd Knott, Jr.