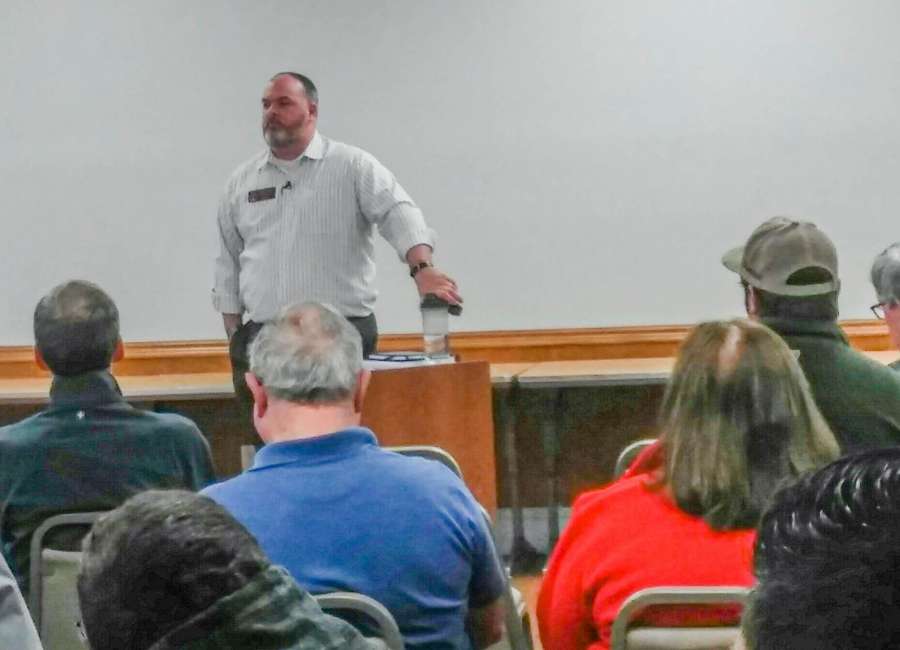 By Rachel Adams - news@newnan.com
State bills concerning criminal illegal immigrants and gender identities were among the topics covered during a town hall meeting hosted by State Representative Philip Singleton.
Singleton (R-District 71) discussed his work on a bill aiming to reduce the number of criminal illegal immigrants in Georgia as well as another concerning gender identities in the state's athletic associations, among other topics.
During Saturday's meeting held in Sharpsburg, Singleton discussed many bills that he has been working on during his campaign, all of which he believes would be beneficial to the state of Georgia if passed.
Singleton cited bills pertaining to tax policy, including House Bill 773, which improves real estate license reciprocity for people moving to Georgia; House Bill 327, which allows military personnel access to lifetime game and fishing licenses without additional fees; and House Bill 3, which is a state excise tax, which removes an additional $5 tax to hotels and hotel rentals.
Singleton spent a majority of the meeting discussing the two bills he considered to be the most complicated and controversial.
The first was House Bill 747, which, if passed, will be enacted as the "Student Athlete Protection Act."
The bill would disallow public educational programs (i.e. high school sports programs) to participate in athletic events conducted by any athletic association which permits the participation in said events exclusively for males by any person who is not biologically male, or participation in said events exclusively for females by any person who is not biologically female.
The bill would not apply to events in which both males and females are allowed to participate.
"The intent of [this] bill is to set for the state of Georgia a common understanding of what language means," Singleton. "My bill does not tell athletic institutions what they have to do. I do not think the government should be social engineering."
Singleton said that, under his bill, the definition of "girls-only" and "boys-only" sports would be exclusive to biological sex only.
Under the bill, no county, municipality, or local government entity would allow athletic facilities owned by that entity to be utilized by athletic associations that allowed any person who is not a biological male to participate in male-exclusive athletic events, or any person who is not a biological female to participate in female-exclusive athletic events.
"The intent of my bill is not to punish [these organizations]," Singleton said. "My bill will make sure that every single student, regardless of how they identify, can participate in athletic events."
The second bill Singleton considered to be one of the most controversial was House Bill 915, which, if passed, will be enacted as the "Georgia Anti-Sanctuary Act." The bill would end the protection of "criminal illegal aliens"--illegal immigrants with criminal records--in sanctuary cities in Georgia.
"There are over three million [criminal illegal aliens] in the United States," Singleton said, "most of whom have been convicted of felony crimes, or have been arrested and arraigned and fled, or released on bond and fled."
According to Singleton, the bill would assist the federal government in the enforcement of federal immigration laws within the state of Georgia, including their compliance with federal immigration detainers.
Illegal immigrants who have committed violent crimes would not be allowed to remain in their communities within the United States, but rather would be deported immediately upon release from imprisonment.
Singleton also mentioned that the bill provided fairness to both U.S. citizens and legal immigrants, as a new addition allowed victims of crimes by illegal immigrants to sue sanctuaries for monetary damages as well as granting them a right to jury trials in such lawsuits.
The passing of House Bill 915 would also make it a misdemeanor for law enforcement officers to willfully ignore a legal federal immigration detainer, as there would no longer be a sanctuary law in effect.
House Bill 915 would also enact a civil penalty upon any city that ignored a legal federal immigration detainer and was reported.
Singleton said that at that time, the Attorney General of the state of Georgia would be able to assess a fee from said city, and that fee would not go to the state's general fund, but rather to a fund to assist victims of violent crimes in Georgia.
The fee would be $1,500 for the first offense and $25,000 for every subsequent offense.
"[This bill] does not target a specific minority group," Singleton said. "We are targeting criminal illegal aliens."
Singleton then invited attendees to ask questions about any issues they wanted to discuss.
Cindy Pursely, a Coweta resident, voiced her concerns about "Anti-Red Flag laws", which would make it illegal for judges to allow law enforcement officers to remove guns from individuals deemed a threat to themselves or others.
"Under a proper due process, whose liberty is being protected by letting that person threatening [someone] with a gun keep the gun?" She asked.
"In this case, it would be protecting the person who is threatening [with the gun]," Singleton said. "You can say things, you can do things that other people don't like, but unless you have committed a crime, we're not going to punish you."
Another Coweta resident voiced her own concerns about mental health and what the government is doing for those who are mentally ill.
"If there is anything you are trying to take away from mental health, I ask you to stop it," she said. "Mental health is critical in this country. There is no other country that has so much mental health and nobody to care for them."
After hearing concerns that funding for mental health in Georgia was being cut, Singleton said that he had not seen anything to suggest that that was happening.
There was also some concern that, without Red Flag laws, it would be more difficult to prevent those in crisis from hurting themselves or others. Singleton said under the Anti-Red Flag laws, those people would still be helped, but they would not be stripped of their rights to bear arms.
"You can treat them, but you can't punish them," he said.
After answering questions, Singleton thanked everyone for attending the meeting and encouraged any additional questions to be directed toward his Facebook.