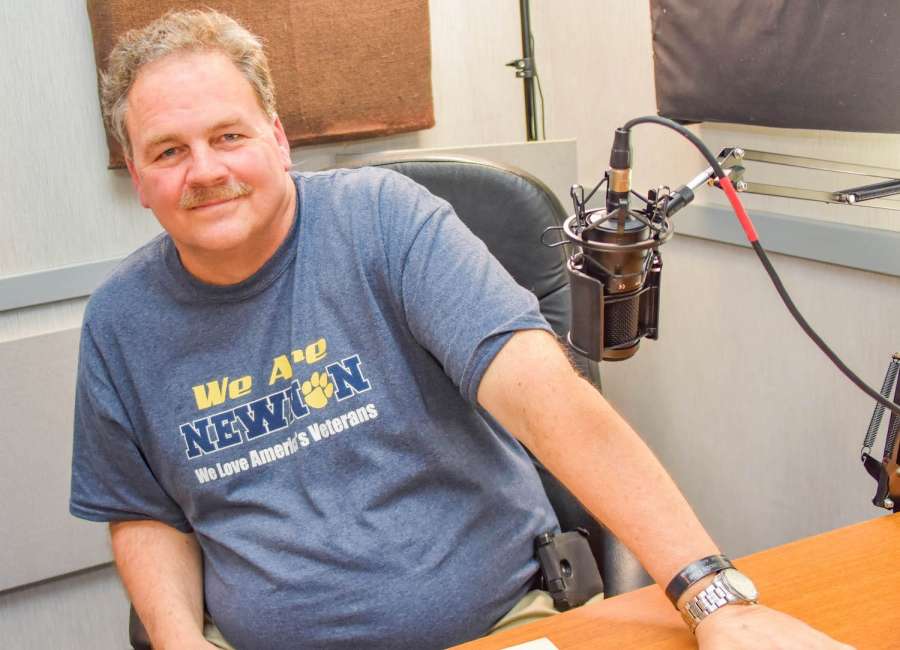 Steve Quesinberry, head of the NHS history department, has spent nearly a decade attempting to preserve the memories of the 23 local men who were lost to the Vietnam War.

He began the project in 2011 when the traveling wall visited Newnan. The Wall That Heals exhibit features a three-quarter scale replica of the Vietnam Veterans Memorial in Washington, D.C. The replica is 375 feet in length and stands 7.5 feet high at its tallest point.
During that week of activities honoring those killed in Vietnam, he tracked down family members of the casualties for the purposes of sharing their stories.
"It was fascinating – there are no books written about them, but to their family and friends, they're still important 50 years later," Quesinberry said.
Once the wall passed through town, Quesinberry spent some time thinking about the project and decided to go for it the following spring.
"I felt that if I didn't do something, they would be forgotten as family members gradually passed away from that time period," he said.
He used The Newnan Times-Herald for assisting with his research, referencing previous articles about those killed in action and reaching out to family members to contact him for the project.
"Some were really well-known around our community, like Tim "Skip" Cole or Donald Lowery, whose brother goes to my church," he said.
Other veterans would help Steve connect with families. Momentum picked up in the summertime when Quesinberry had time to dedicate to the project, but things slowed down upon his return to school.
Over the last eight years, Quesinberry was able to make contact with many family members of the fallen, but others have been more challenging. Regardless, he's still hoping to make contact with several remaining friends and family members.
"I've been doing this alone, without any research staff," he said. "There's not a lot written about these guys, and most things I find out about them is through oral history."
One avenue Quesinberry utilized for leads was the Vietnam virtual wall, where people can post remembrances. He was able to reach out and contact those who had left an email address.
Aside from the persistence of time, Quesinberry's other big challenge is getting a well-rounded account of the fallen. Many family members aren't prone to giving up many memories other than positive ones.
"It can slant the picture," he said. "No one's perfect, but I'm not looking for dirt either."
He recalled one soldier who was known for enjoying a fistfight or two after school.
"One liked to get into fights, and one would meet at the bottom of Armory Road after school and watch him fight someone," he said. "But he was also a great roller skater."
And other tales might not be earth-shattering revelations, but no matter what, they help paint the picture of someone with details that would otherwise have been lost to time.
"One told me about how they dammed up a creek and made a swimming hole with a rope swing," Quesinberry said. "Sure, that's not that big of a deal, but it's something specific about them that I wouldn't have known otherwise."
Quesinberry asks that anyone who would like to share a memory about one of the 23 of Coweta's Killed In Action to please contact him: stephen.quesinberry@cowetaschools.net
Click Here for a comprehensive list compiled by Quesinberry
To hear more about Quesinberry's project, listen to the latest episode of "Movers, Shakers, and History Makers" on NTHPodcasts.com
Coweta Vietnam Casualties:

Terry Allen
Johnny Calhoun
Jessie Cofield
Tim Cole
Eddie Couch
John T. Dozier
Grady Elder
Bobby Freeman
Arthur Hines
Thomas Huddleston
Warner Hughie
James Kerr
Donald Lowery
Larry Pinson
Daniel Post
Edgar "Stevan" Pittman
Jerry Smith
Leavy Solomon
William "Bill" Thomas
Wayne Vessel
Charles Walthall
Joseph "Mike" Watson
Robert Webb