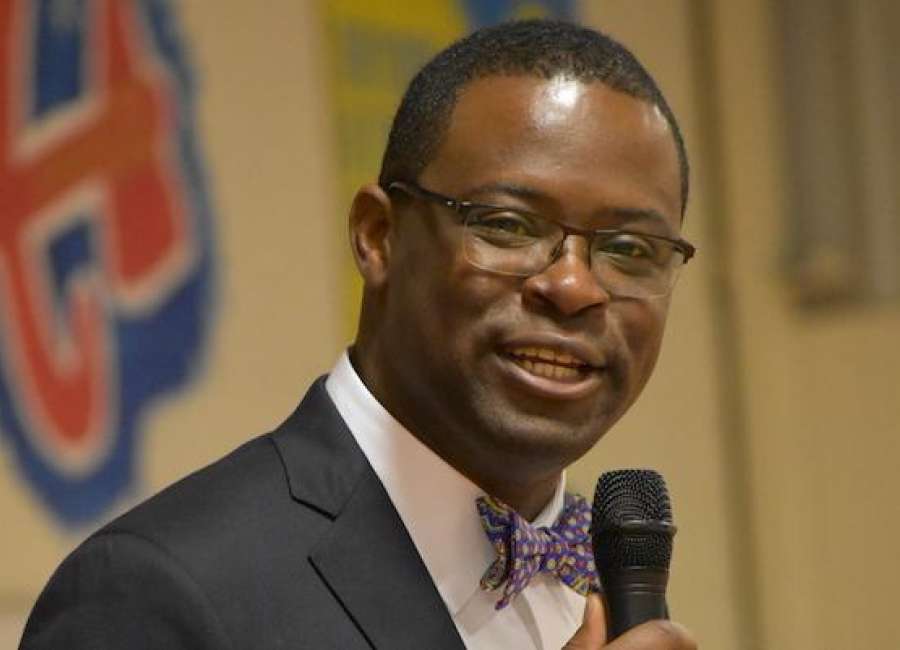 Ruth Hill Elementary School students paid their respects to Ruby Bridges, Michael Jackson, Rosa Parks and many other black Americans during the school's Black History Month celebration Friday.

"Today we honor, recognize and celebrate the many accomplishments of African Americans and their significant impact on our nation's history and culture," Principal Aaron Corley said as he opened the student-led program, which featured music, skits and dance.
Guest speaker was Andrew Copeland, who represents District 5 – where Ruth Hill is located – on the Coweta County Board of Education. Copeland, who was appointed to the board in December to fill the unexpired term of longtime Coweta educator Winston Dowdell, talked about the importance of education.
"We are so fortunate to live in a community that understands the importance of educating you all for the future, and are ready and willing to put in the resources necessary to ensure just that," Copeland said.
Copeland, along with his brother and sister, is a product of the Coweta County School System, and his mother is a teacher at Newnan High School. After earning a management degree from the University of Mississippi, Copeland returned to Coweta County, where he works as a dispute manager for a vehicle auction company.
He told students that while he doesn't remember everything he ever learned in school, his education gave him the adaptability and problem-solving skills he uses every day in his career.
"Whether you are a businessperson or car mechanic, teacher or doctor, welder or banker, having a foundation of education will help you succeed in life," Copeland said. "If it were not for the education I received, I would not be able to function."
He said working hard is more important than "being smart," and told students pushing themselves will help them achieve their dreams. The most important thing people can do, Copeland said, is to treat each other with respect.
"It does not matter what you look like, who your family is, what your situation is, or your background, everybody deserves respect," he said. "Simply having respect for one another does not cost anything and will take you very far in life.
"At the end of the day, though we may not all look the same, we are all more alike than we are different, and it does not matter if you have the education or work ethic if you do not treat others with respect," Copeland added.
The program included music from the Ruth Hill Chorus, directed by Tiffany White. Members performed "Lift Every Voice and Sing," "Rock-A My Soul" and "The Struggle is Over," featuring soloist Victoria Mason-Adams.
Mason-Adams also served as emcee for the program, which featured skits and dances by fourth- and fifth-grade students. She also paid tribute to Michael Jackson by singing "Man in the Mirror." Second-grader Kaleb Arnold brought down the house with his mini-MJ dance to "Beat It."
Staff and faculty closed out the program by singing along to "We Are the World."